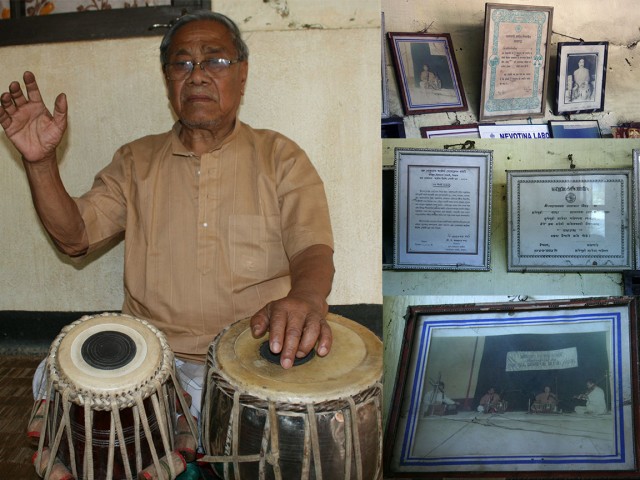 Nongthombam Nongthon, 80 years is a prominent veteran percussionist and master of Tabla musical instrument of the state. Despite elderly age and physical weakness, the veteran Tabla master's passion for the art never gets exhausted till now.  Presently, he is teaching Tabla to around 10 students under his own Institute Guru Nongthon Music Akademy which had earlier produced as many as 200 talented Tabla players including Tayenjam Samacharan, Dr Tondon, Hamom Kumar, Gokul Sharma, Loitam Hoilaoba. A book based on Tabla entitled Mridanga tabla Khutkhat has also been penned by the percussionist for the budding Tabla aspirants.
 Beginning of his Artistic Journey
Born on February 2, 1935 to late Nongthombam Modon and Nongthombam ongbi Rajani Devi of Keishampat Top Leirak as third son among seven siblings, 80 years old Nongthombam Nongthon had a great passion for percussion instruments, the Tabla musical instrument in particular. His father was a renowned story teller (particularly Ramayan, Mahabharat, Kathawachak) in the royal court of Maharaj Churachand Singh. His father passed away when he was only 12 years.  As such, he was brought up in a poor family background run by a widow mother with meager income. Nongthon passed matriculation from Ram Lal Paul high school.
Regarding how he got motivated in the table musical instrument,  Nongthon recalled, "when I was only seven years old, my grandfather used to take me to many religious ceremonies like Sharda, marriage ceremonies etc. at which I used to see Meetei Pung performances. The sight of Meetei Pung performance in such religious occasions embedded me with a deep impression to become a percussionist in life that I even urged my mother for buying a Pung. I cried several times when she refused to do so. On seeing my passion for Pung (drum), grandfather bought a small pung for me from the market and sent me to many Pung masters like Potshangbam Manibabu, RK Tomalsana for learning Meetei Pung. After learning the art from such Gurus, I began presenting pung performance in many occasions like Saraswati Puja, Durga Puja etc.
After this, I was impressed by the typical Meetei Pung called Khon played by a local uncle Keisham Bishwarup of Keishampat Top Leirak. Seeing his instrument, I learnt playing of the particular drum under the feet of various teachers like Nogmaithem Brajabidhu, Gopalmacha, Sanahanbi, Rajb and Sangai. The sight of Dholok playing during Yaoshang Holy d=festival also motivated me to learn the playing of the instrument.
In fact, Nongthon is a real percussionist who likes to play all instruments. His passion for percussion was not limited to Meetei Pung and Dholok. He also felt a great passion for playing Tabla which finally made him a noted Tabla maestro in the state with the popular tag Tabla Nongthon.
He duped his widow mother for learning Tabla in Lucknow
Recalling how he learnt Tabla from Lucknow, he said, "In early days, parents did not like their children to be a percussionist since the then Manipur society generally considered the profession as low standard and not helpful for leading a comfortable living. My widow mother was dead against me when I revealed her about my passion to leave home for learning Tabla at Lucknow. Once my classmate Sagolshem Mithai from Uripok (now a retired principal of Governemnt Music College, Imphal) suggested me to go to Lucknow for learning Tabla in Bhatkhande Hindustani Music College, Lucknow. Compelled by our passion, we both decided to leave home for Lucknow. Both of us tricked our parents. Mithai tricked his father saying that he was going to Lucknow for learning IA while I cheated my mother saying I was going there for a two or three day's Tabla performance in a programme. My mother at first refused me to leave home since I was newly married, but she relented. In 1959, they left home for Lucknow to learn Tabla on a MSRTC run passenger which charged only Rs 4.50 as fare from Imphal to Dimapur.
He was lucky to learn Tabla under the then noted prominent Tabla master Ustad Ahamadjan Thrikua sahib of Bhatkhande Hindustani Music College, Lucknow. He also received intensive training in Pakhawaj from Pandit Sakharam of Nana sahib Panse Gharana during his stay in Lucknow from 1959 to 1963.  During a music concert held as part of Gandhi Jayanti, he got the opportunity to shake hands with first Prime Minister of India Pandit Jawaharlal Nehru. In 1963, he passed Vadya Visharad Tabla from the Bhatkhande Sangit Vidyapith, Lucknow in first class. Compelled by family problems, he could not complete his tabla course "Nipun".
He was the first Manipuri who passed audition of AIR, New Delhi as a Hindustani classical music artiste. When back home from Lucknow, he again passed AIR Imphal audition and joined as an approved B-high grade tabla player in 1968. He got regularized in 1970 and retired from service in 1998 as programme supervisor.
His popularity as a percussionist reached its highest peak during his 30 years service in AIR Imphal.
Tabla performances across the country
He presented his solo tabla performance at Lucknow in 1962, 1963; at Kolkata in 1962, Darbhanga (Bihar) in 1978, 1979; at Silchar in 1989; and numerous times in Imphal. He also gave Tabla accompaniment (Sangat) with renown Indian musicians like Pandit Bhimsen Joshi (Vocal); Pandit Jasraj (Vocal); Pandit Basav raj Rajguru (Vocal); Praveen Sultana (Vocal); Sunanda Patnaik (Vocal); Ustad Sarafat Hussain Khan (Vocal) etc.
Awards & Achievement
In recognition of his contribution in music as a Tabla player, Manipur state level committee Republic day celebration conferred him certificate of honour on 26th January, 1991, Badya Ratna by Manipur Sahitya Parishad on May 4, 2003, Certificate of Honor by AMMIK, Guru Thokchom Angouba Award 2010 by Guru Thokchom Angouba celebration committee.
Message to budding Artistes
Those who like to be a prominent percussionist in life should undergo training systematically under a well expertise teacher who would share whatever he knows in the field. Tabla musical instrument which is believed to have originated from India was widely used as percussion instrument to accompany merriments like song, dances, Kawali, Gajal etc. during the reign of Muslim emperor Allauddin Khilji. Tabla is regarded as the queen of drums and percussion instruments and is the most popular Indian rhythm instrument. It consists of two drums, the Bayan (big bass drum) and the Dayan. The two of them are almost always played together. Both the two drums as a pair and also the Dayan on its own – as opposed to the Bayan – are called Tabla.
The playing technique requires a differentiated fingering in connection with the complex composition of the skin membranes. The combination of the two drums produces an incredible fullness and details of different rhythm structures and this fullness of expression is unmatched by any other rhythm instrument, he said.