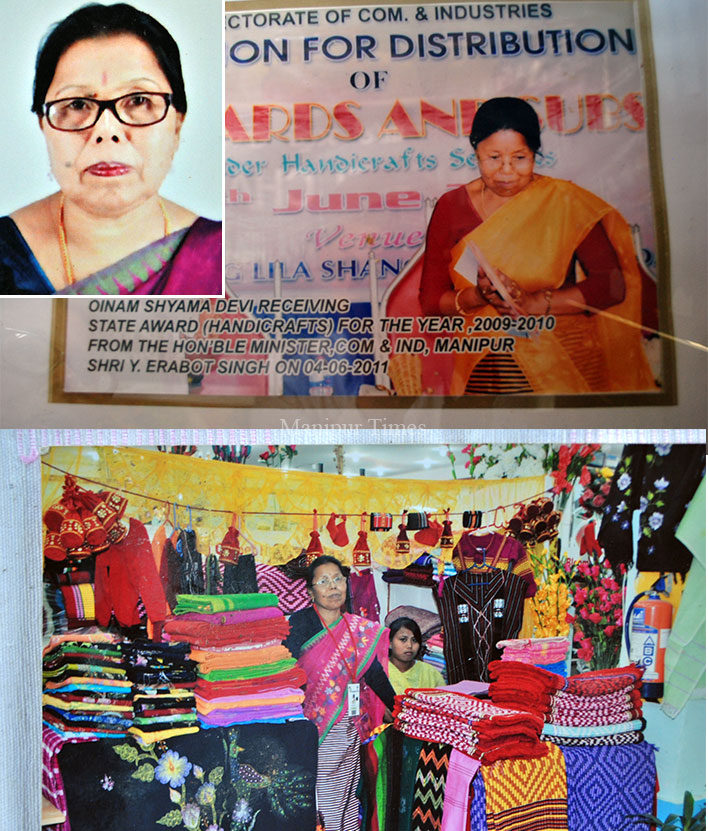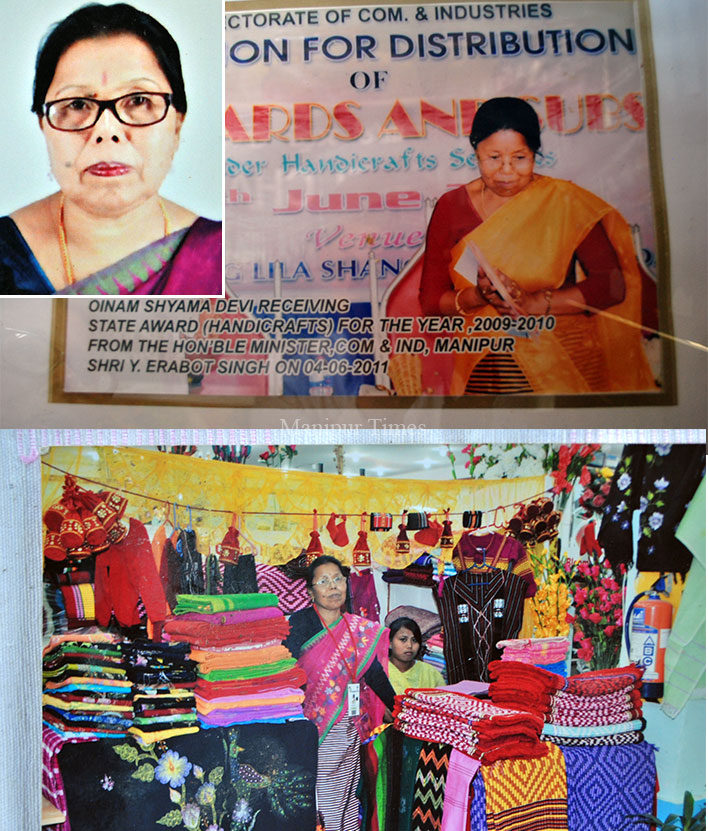 The traditional technique of weaving cotton using the loom is slowly dying. Oinam Shyama Devi spearheaded the revival of this technique by forming an organisation called 'Unique Manipur Women Association'. The organisation is led by women with a vision to bring back to the state this long lost heritage of weaving.
"I love our age-old traditional vocational culture of weaving which has been continuing since our childhood and this vocation of weaving were common amongst women in each household."
She ventured into this area as she felt that it is a dying tradition and that it was necessary to revive cotton weaving.
Oinam Shyama Devi, who is now 60-year-old from Kwakeithel Moirang Purel, is well recognised and has been honoured with awards and recognition from the state for her initiatives and efforts for developing a model of this long lost traditional pure cotton-made costumes. She now markets a wide array of products of various design in Manipur and other states.
Awards: She received the merit award in 2009. And again in 2010, she was honoured with state awards in from the Manipur State Commerce and Industry. Her devotion in this chosen path have enabled her to received a grant of Rs. 2 lakhs from'Guru Shiksha Scheme' of Union Ministry of Textile, GOI to implement training programmes.  This scheme is granted  to only those personalities and enterprising people who received state or national awards.
Before she ventured into it, she worked as a Lower Division Clerk in state  veterinary department but took voluntarily retirement during 1986. Her ambitions were more than her own life. She  wanted to work towards providing something useful to the people." 
Providing livelihood to others: Now, her enterprise has not only helped in restoring women's vocation of making cotton-cloth through local looming-machine, she has also provided employments to  nearly 150 unemployed women from the state. An individual earn around three to fifteen thousand per month according to their performace. where she said, "I paid a wages of around Rs. 150 per day, in which an individual spend for 8 hours (10am -4:30pm)
Oinam Syama has branched out and outsourced her work in different areas in the state at Kakching, Heyangthan, Nabol Sabal Leikai, Thoubal, Awang khunou, Samurou and Kwakeithel Laisharma leikai, Lilong for successful operation.  
Her Challenges, Success  and Future :
Before starting the 'Unique Manipur Women Association', she had a shop for costumes of both local and non-local made Item.  She closed down due to some ill health and later turned her focus by starting the group with like-minded women."
"I started this venture only from one machine. I soon added more  machines and  mobilised many others individual to team-up with me for the enterprise."
She took a loan of one lakh rupees the from Institute of Co-operative Management, Imphal (ICM, Imphal) under the women cooperative project, Scheme of National Cooperative Union of India.
Oinam Syama doesn't open a show room or retailing point, but her enterprise has broaden its horizons, both the resources and markets. "Many people's from various parts, who knows our product come to my house to buy products".  She further added, "Now we have procured equipments of more than ten lakh rupees and earned and marketed products of around  of sixty thousand a month". "I m weak in accounting so, I couldn't accurately say how much profit have come from our investment after earmarking the amounts for procuring materials, works charges etc."    
" Our product has become are popular in other states  and we receive lot of orders but we have not been able to deliver due to lack of resources." Recounting one of her experience she said, "It was a delightful experience in Myanmar, where I sold for around fourty five thousand rupees and nearly fetched ninety thousand just in 2-days at the 'India Show Mandalay' which was held few month back."
The first order came from Gujarat forcotton . bags, textile. Orders from Delhi were for shirts and other part of the state but it becomes to meet all the orders through delivery.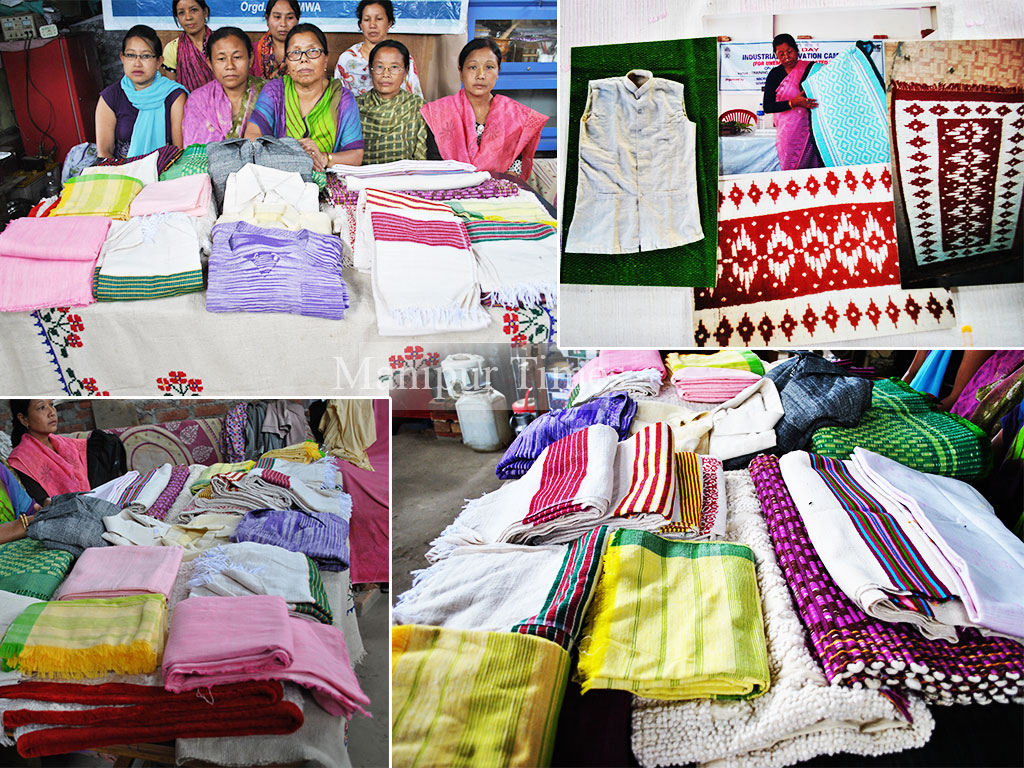 Her Items and end-products:
Oinam Syama's 'Unique Manipur Women Association' produces items ranging from handkerchief to various kinds of men and women wears priced between thirty to two thousand five hundred rupees.
It includes, 'Phibong Phumphi', a pure cotton carpet and is very smooth and soft made from raw cotton; Dari , simple carpet, length cotton mat; dinning-mat ; 'Doormat' which the price range of five hundred to four thousand rupees.
In the women wear category, her products include, 'Phanek' (traditional Wrapper) of various types and design for all season and occasion daily home use, for social gathering and  social events, etc; Thick and thin 'Enaphi'  and  thin silk-type stole for women. And for the men office and outdoor wears include shirts, pyjamas, etc
All the items have been designed by her team. She says that  but she hasn't gone to school for any design course but she learnt the art from internet, television channel and her son who also supported her in designing the products/material.
Childhood, family & future plans:
Oinam Syama was born in Mongshangei in 1958. She lost her parents at avery young age. She was brough up by her elder brother.  She has studied up to PUC, which is equivalent to 10+2.  She started to learn spun thread, entwining into spinning machine and weaving from her aunty.
She lives with her husband Oinam Jatiswar at Kwakeithel Moirang Purel and has been  an active supporter in her work.  She have a son and a daughter, and wishes that her son will take over from her when she plans to retire from the work. She also looks forwards to export her item outside the country.