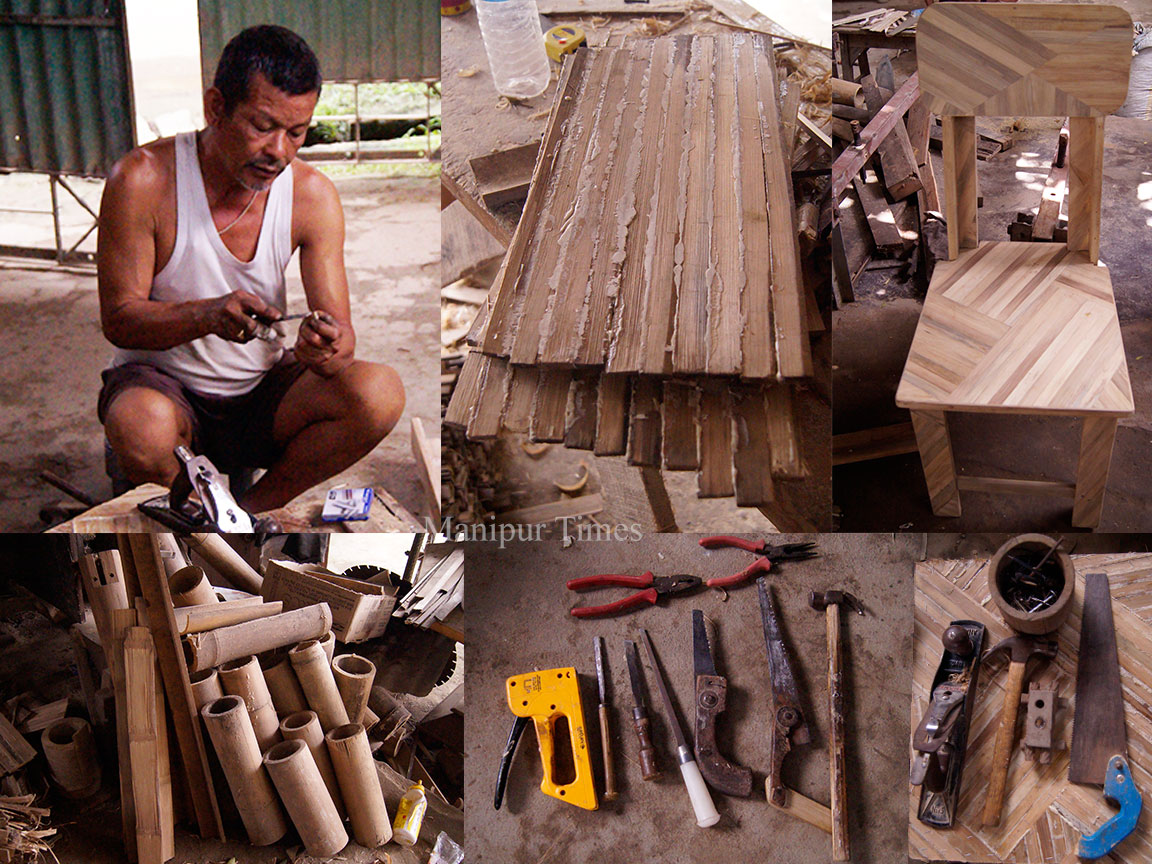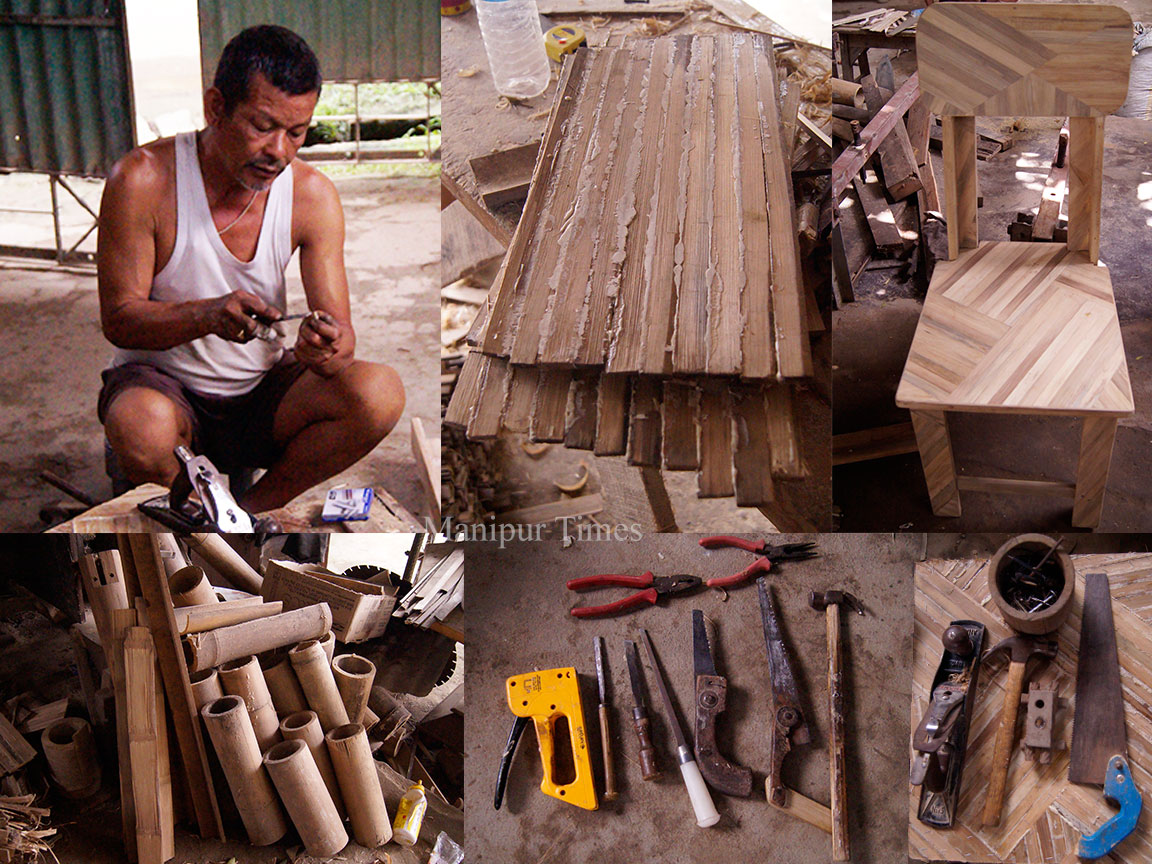 Fifteen years back I use to read Taiwan catalogue and magazine on Bamboo. One time president of All Manipur Entrepreneur Association Rishikumar gifted me the catalogue which was enriching. I kept on thinking of making Bamboo furniture but could not materialize. I recollected all my efforts and finally ventured to make Bamboo furniture which I am successfully doing.
Earlier I was researching on rock cutting to make tiles. Sandstone from Baruni Foothills were gathered and I use a diamond blade cutter to obtain uniform sandstone plates and try to sell it. But it was a huge lost to me. All my huge capital investment vanished in thin air.
At present I am into Bamboo furniture works since the lasts two years. My dream now is making more Bamboo products.
My bamboo products are seamless. In a chair I use eight nuts in the bottom area and 4 nuts in the upper part. It could be exported in any part of the world as it is built for easy transportation and could be assembled with the nuts when the furniture reaches the destined place of export. In the round table furniture he uses three nuts down and three nuts at the upper part. The furniture are quite strong and many have bought from him since the last two years. 
Bamboo Furnitures
Chair, Table, Portable Mirror Stand, Tray, Mementoes, in a seamless set up. All of them are folding and could be dismantled. A Round table and three chair set took one week to complete.
He is working on his latest design a chess board with colour pattern originally from the   Bamboo texture arranged in 64 squares with an eight by eight grid.
He is searching for craftsman who can Bamboo design the 16 pieces: one king, one queen, two rooks, two knights, two bishops, and eight pawns.
Why Bamboo furniture
Bamboo surface has shining property unlike woods. Khwairakpam Ibocha is trying to make furniture like doors and window. He has successfully fixed two bamboo surfaces together to thicken the board as doors needs to be thick. If his work shed is more mechanized it will be more productive. It is half manual and half machine as of now.
In Countries like Thailand and China Bamboo work sheds are mechanize so they have same size and uniform products. Cost of a Bamboo Board imported from China and marketed in Kolkata cost Rs250 per square feet. It is our dream to replace woods says Ibocha.
He is making bamboo hard boards with 2 inch: 2 inch thick bamboo boards joined together surface to surface. Thus a 4 inches thick bamboo board is ready to materialize in a grand and strong furniture.
He uses a Fevicol company glue Pur 'to join the surfaces together.  Pur saves time. Earlier a normal Fevicol glue took five hours to stick two bamboo pieces together. In 20 degree Celsius temperature it stick in 60 min, 40 degree Celsius took half an hour. If fixed in 60 degree Celsius temp it can be done in 10 minutes. Now I can stick two surfaces in 45 minutes with the new gum of Fevicol Company says Ibomcha who was working in his work shed when Manipur Times interacted him.
Hunt for Raw Bamboo
"During our childhood days bamboo was found aplenty. Now it is not. I use to get bamboo from Singda. Phayeng is a place where one gets all varieties of bamboo. I am using Marubob' as it is the biggest Bamboo variety found in Manipur. When we make the bamboo pulp into board the thickness at the feet of the Bamboo is an inch thick, in the middle it is half inch thick sometimes quarter inch thick.
If we buy in bulk, we can buy a plantation of bamboo. Why bamboo is costly when it reaches Imphal is the transportation. It is transported using bullock cart. Carrying Marubob' Bamboo for my furniture works is a big trouble as it is huge in size and quite long to fit a carriage. It is cumbersome even to carry in truck. I treated my bamboo at the place where I purchased my bamboo and use it to make boards for making furniture.
Saneibi Variety cost almost Rs 200 per full length piece. In Phayeng, it is cheap. It is the Labour and Transportation that adds up to its cost. When it reach Imphal. I fetch my raw material after it is being cut into easy to transport size", informed Ibocha when Manipur Times interacted him.
Bamboo treatment
" Bamboo are harvested in mera' season and dip in water for a month and dried in sun. This is indigenous method and time consuming.
Chemical treatment is modern as found in various newsletter. I use boric acid and borex in the ratio of one times of boric acid and one and half borex. In 200 litres of water 500 ml Boric acid is added and 750 mg of Borex in 200 liters of water. After the two samples are mixed I dip the bamboo for three hours.
Then I started using another method as when I dip the bamboo it consume time to dry the Bamboo in the sun and if there is no sunlight I found it hard as I do not have heating chamber.
So I innovated a method, I make water mixture and in a mobil drum I use steam bath method by boiling the mixture and treating with the steam. This is how I treat my Bamboo. And it is also highlighted that it is good as it takes away the water content in steam bath.  Thus the bamboo do not get shrink from the water content after long time", explained Khwairakpam Ibocha.
A Trainer
" I have officially trained 20 people under the sponsorship of Commerce and Industries Department Government of Manipur. They sanctioned Rupees one lakh and ninety thousand for the training when Nabakishore was the Principal Secretary of Commerce and Industries Department. Some of the trainees were very enthusiastic and learnt a lot and they have gained skill during the training", expressed Khwairakpam Ibocha.  
Machine
"It gives uniform thickness if I separate bamboos from the pulp in a machine. I designed a double blade cutter which has enhanced my speed. I have also designed a splitter that gives a uniform size 12 pieces to 8 pieces from a bamboo pulp. I got equal breadth and thickness with a cutting machine.
I have a drilling machine too. When I started it was very manual and time consuming. Slowly I have assembled and installed fitting machinery for some of my Bamboo works.
I welded iron in the workshop. It was a hard labour and took me lots of time to design the machines. I was working on nuts and bolt. I make iron thread at MSME workshop. Pressing machine to fix two surfaces for making thick bamboo board which I have develop would enable be to make hard board of door size (7 feet length and four feet width). However I have not made a bamboo door so far but planning to in the near future", an enthusiastic Ibocha revealed.
First Bamboo furniture I make.
"That was twenty years back I imagine bamboo to be shining when polish. I tried to think that it will be nice to make it into a board. I tried to stick one piece to another to make a bamboo board. The first furniture I made was a small table. I use screw to make it firm.
Before my machines were innovated the Bamboo pieces were rough so I use a planer to make a regular board. Then I innovated the machines at my work shed.
I was using small nails to bind bamboo together now I use stapler as it is fast and efficient", recalled Ibocha.
Market
"If I have a showroom and people order it will be a big sale.  There is lot of demand but I cannot supply, people come and ask to complete so that they can take away from my work shed. In craft fair organize from time to time I sold my items. People were amazed at the product some exclaimed as to it is bamboo. I felt the need of making more products", expressed Ibocha.
Finishing's.
Natural colour of bamboo is retained. If we try to polish bamboo with burnish it turn yellowish. So I put plastic coat. It is laminated so the natural colour is retained this is how I do finishing.
Employment
If I hire a carpenter it is difficult as they do not know how to make. They say I can't do. I hire skilled craftsman at Rs 250 a day with food. They are also learning through the process of making.
It is hard to find people who can work well on  bamboo furniture.
Fair
Sangai festival, World Bamboo Day, Zonal fairs held in Manipur where participants from Tripura asked if they can see the factory. They thought it was made in a big set up. Tripura also does many bamboo works but mine was seamless which is very different from them
Khwairakpam Ibocha is a resident of Sega Road Khwairakpam Leikai. He works in his work shed all day long. Nowadays electricity is becoming little regular and he is happy about that. He wishes that Baamboo furnitures could replace wooden furniture to make the world more environmentally friendlier.