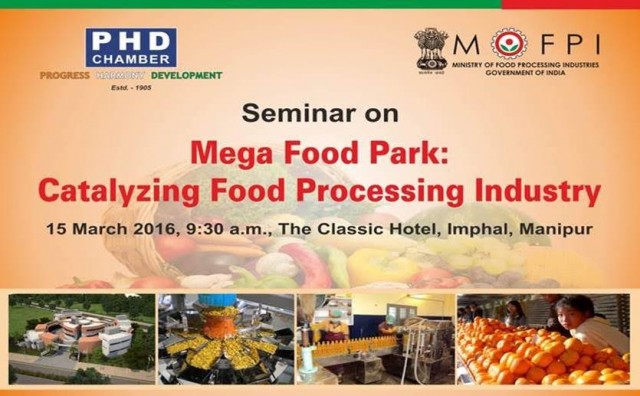 North East Region has range of agro-climatic conditions which is conducive for agricultural and horticultural crops. The total production of fruits, vegetables and spices increasing year by year as the number of farmers are moving towards cash-crops.
In Manipur, agriculture sector plays an important role in the State economy and is considered as the main occupation of majority of population in the state. It is blessed with suitable climatic conditions and is thus favorable to grow food, cash crops, fruits and vegetables. In Manipur, Pineapple, passion fruit and mushroom grow naturally while bamboo shoot, ginger and turmeric are available in plenty. Due to its rich potential in exports, various preparations of fruits and vegetables in the State have gained attraction in markets outside the State.
With abundant agri and horti produce, Government of India has already taken the initiatives to set up two Mega Food Parks in Manipur. These Mega Food Parks will help in utilizing the potential and creating employment opportunities.
To catalyze the growth and fully utilize the potential, PHD Chamber in association with Ministry of Food Processing Industries, Government of India is organizing a Seminar on Mega Food Park:Catalyzing Food Processing Industry on 15 March 2016 at 9.30 am, The Classic Hotel, Imphal, Manipur.
The objective of the seminar is to showcase the opportunities and potential available in the State and successfully implementation of various schemes of Ministry of Food Processing Industries in Manipur State.
We cordially invite you to join the event on 15 March 2016, 9.30 AM, The Classic Hotel, Imphal, Manipur.
THERE IS NO PARTICIPATION FEE FOR JOINING THE SEMINAR BUT PRIOR REGISTRATION IS MANDATORY.
Look forward to welcome you on 15 March 2016, 9.30 AM, The Classic Hotel, Imphal, Manipur.
Best Regards,
Dr. Ranjeet Mehta                                  Durgesh C Sharma
Director, PHD Chamber                           Director, PHD Chamber