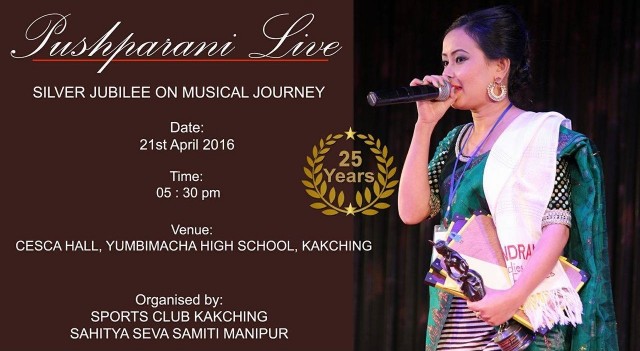 Pushparani Live – Silver Jubilee on Musical Journey, to be organised by Sports Club, Kakching and Sahitya Seva Samiti, Manipur will be conducted at CESCA Hall, Kakching at 5:30 pm of April 21, 2016.
Her academic qualification is graduate and Sangeet Nipun in Hindusthani Sangeet.
Born in 1987 at Wabagai Terapishak, P.O & P.S. Kakching, Thoubal District, Manipur, daughter of Huidrom Gogol Singh and Bishobhanu, Pushparani started her career in singing from 1991, at a very tender age of 2(two) years only and participated in a number of song competitions and won many positions & prizes. On February 1, 1991 she participated in the song competition jointly organized by NEZCE Dimapur, EZCC Calcutta and Department of Arts & Culture, Manipur in the name of Pandit Jawaharlal Nehnu and stood 1st position.
She won first prizes in the song competitions, viz, District Level Music Competition organized by Khonthang Musical Centre held on 1st February 1992, Shri Arambam Dayananda Singh Memorial Musical Competition on 1st September 1992, Nehru Yuva Kendra Thoubal in 1992, Geetmala Musical Centre Mayang Imphal in 1993, W.Y.C. Thoubal in 1994, etc. She also participated in the Annual State Level Arambam Dayananda Singh Memorial Musical Competition on 31st August 1994, 1st State Level Jananeta Irawat Manipur Song Competition organized by AIYF/MSC in 1994 and stood third position.
On 10th May, 1995 Manipur University honoured her with 'ECHO AWARD' for her activities in the field of singing at her tender age. She further achieved first position in the second State Level Junior Literary Meet on 19th August 1995 sponsored by Director of Education, Manipur, and Best Artiste in the Aheibam Shyam Nite organized by Naharol Thoudang Club, Borbil Cachar on16th February 1996.
One of the most remarkable achievements of Pushparani is that she achieved second position (first runners up) in the prestigious All India Mega Final of TVS Sa-Re-Ga-Ma organized by ZEE TV on 2nd May 1998.
Pushparani Huidrom Gallery
Among her other achievements, the following may be worth mentioning:
(i) Jana Neta Irawat Award for outstanding performance in the field of Music on 30th September, 1999.
(ii) Rajkumari Sanatombi Award for outstanding performance as best child artist singer in 1999 in presence of the then His Excellency, Governor of Manipur.
(iii) Best Female Singer in the Third Manipur State Film Festival organized by Manipur Film Development Corporation, Imphal on 21st April, 2001.
(iii) Special Participation in Festival of Manipur held in Calcutta on 19th January 2003.
(iv) Certificate of Appreciation in festival of peace organized by Prajapita Brahma Kumaris Ishwariya Vishva Vidyalaya on 31st August 2008.
(v) Certificate of Honour for her outstanding performance and contribution in Manipuri Cinema by R.K. Films Pvt. Ltd. Production in 2009.
(vi) Certificate of Honour for her outstanding performance and contribution in Manipuri Feature Film. '21st Century's Kunti' by SEUTI Films Production, Imphal on 15th February, 2010.
(vii) Best Playback Singer (Female) in the 1st SSS MANIFA 2012 and 5th SSS MANIFA 2016 organized by Sahitya Seva Samiti, Manipur in collaboration with Film Forum, Manipur.