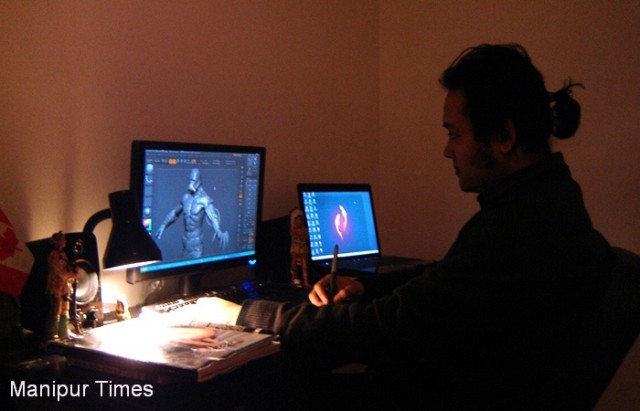 In Collaboration with FindingTheVoices.com
Vik Sorensangbam is a Full-time character artist at Gameloft, Montreal. Beside full-time job Vik is also a Freelance Character Artist for Mercenary Studios (www.Mercenary-studios.com ) US, Where he create Hi-resolution characters ( both organic and hard surface) for marketplace such as DAZ3d, Content Paradise and Renderosity.
People might have played video games and read comics just for hobby and leisure time but for Vik it's his source of inspiration and passion. He spent most of his early childhood days confining to such things. Movies like 'Vikram Betal' and comic's characters like Phantom and Superman used to stunt him. There was in his mind that he can also join in the big league which he has been striving from the day he fall love with the art. There, he had made decision that he should reach the set destiny at any cost and at any situation. For him, creating characters are not only meant for portrait or to be put in motion, he put lives into the different characters giving a unique identity to each character. His vast array design of 3D characters does the saying.
At Gameloft, Montreal, Vik was confined to standard and quality works of 3D Characters. Before moving to game department where it involves creating various high resolution Cinematic character's for iOS devices such as iphone and ipad, he was vastly exposed in creating cinematic 3D characters for around one year. In the game department, he used to create and cropped different 3D characters after minutely considering the liable criteria of designing it. There after creating the 3D characters which took around 6-7 months, the respective different characters used to tag in the game format. In doing this, he made sure that he maintain and adjust the game's environment, lighting and other related properties.
As success and recognition does not come in an easy way, Vik also had faced utmost challenges and hurdles. During the process of achieving his goal and dream, there was many times where he used to feel dejected due to lack of financial and proper guidance. At one instances, he was fired from job, an animation studio, based in New Delhi, India without giving prior notice to him on why it does so.
But his firm determination and clarity of goal never let him down and shy away from his target which is to excel in 3D modeling world. Even on the day of firing from the job, he would draw and create new character knowing that rejection would make him even stronger and pave way for success.
"There was in my mind that the unrelenting effort which I have put on in running after my goal would not go in vain. Those failure and rejection have made me a stronger man. I do not regret for losing the job instead I want to thank the studio for firing me. If this has not happened then I would not have been working in Gameloft, Montreal which is a is a leading global publisher of digital and social games.", says Vik who always love to follow after his dreams.
Regarding his engagement of work, earlier he used to create cinematic characters which are meant for incorporating in movies. After 3-4 years he is now busy molding and creating different 3D Game characters for iOS devices.
 "Nowadays, learning 3D and mastering is no more a big deal.  However mastering only to create Characters for cinema or games is no longer enough to survive in the 3d industry. It is important that one also has to acquire the knowledge of creating environment art, props etc because throughout the process of developing a game we not only create characters but also look after characters' background and other elements", he narrates saying that a 3D artist needs to update his portfolio for every six month as the expectation from the industry has been increasing from time to time.
Taking into account the cut-throat competition in 3D world, Vik is of the belief that if one is to become an able and competent 3D artist then doing certain extracurricular activities like playing new games, finding new games in the market, watching movies which have special effects etc can be the right practices to enhance ones' caliber.
He also opines that, Freelancing is also a huge advantage for a 3D artist where one can always work from anywhere. If capable people are there in Manipur especially in the area 3d modeling and 3d animation, one can start like a regular job hunt through various contacts and 3d communities where prospective clients are looking for the right people. Young artist should start joining 3D communities and post their artworks and interact with other artist. There could be lots of scope of such works to capable Manipuri 3D Artist if they exposed their artworks as much as possible to many 3D communities. That's how one can catch the eyes of a potential client. An Artist has to find his own freelance work rather than to wait for people to outsource. As the saying goes, "If opportunity doesn't knock, built more doors".
Anyone who is passionate of character art can become a professional 3d character artist. Choosing the right institute will be open more doors to the 3D world. Due to the cost involved in such professional courses and the number of schools and institutes mushrooming in India and elsewhere it becomes crucial to do a background check, have conversation with alumni and personnel. There is a word of caution that there are many institutes founded by members with various foreign stints some of which cannot even be validated. Not choosing the right institute might lead to disappointment, one might go off with the wrong idea or be totally disillusioned.
"The scope of such job profile in the future of Manipur is in abundant. With the huge growth of digital movies in Manipur, the needs of the character art will be highly demanding sooner or later in the near future. There are certain shots which are risky and impossible for real actors and stunts to perform. In such cases, 3d character can be replaced to fulfill such shots using techniques such as green screen shots or blue screen shots. And also for the crowd simulation, where one can use such amazing techniques to reduce movie's budget by replacing with 3d generated characters.
As for instance a war movie, we could entirely replace hundred of army/soldiers using characters leaving the frontlines which are closest to the cameras as real actors.
Last not the least, 3D school can be open in Manipur too, not just to be considered as a business inception but most importantly to share right knowledge to the passionate young people at affordable tuition through qualified mentors and faculties." he added.
Vik loves to give different expression to characters. In creating certain characters, he would conduct in-depth research on the character's nature and background so that each character tells a story of its own. He also closely monitors the character's anatomy to make it a successful character and used to observe and expresses himself in front of mirror with the mind that it is the best way to grasp ones' character and expression.
"I had the privilege of working with "Hero of Sparta", Gameloft's exclusive cinematic trailer as a Character Artist. My responsibilities include Sculpting and Texturing for the Lead character "Hero" and Sculpting and Texturing for the "Zombie" he explained.
He considered these creations as one of his favorite and most popular he have made so far.
In coming years, Vik wants to be an independent 3D character artist working for different potential clients where it provides space and artistic freedom so that he can add full artistic expression to any characters he creates. Apart from creating different 3d characters, he also wants to do 3D printing, a new technology of 3D ~ which makes possible to convert a 3D digital model to a 3D solid object, which he find very interesting. He is also planning to create 3D characters of State's rich folktale like of Khamba Thoibi, Polo rider etc using 3D printing technology.
From time to time, Vik Sorensangbam updates his works at Vik3D.com and Facebook page – The Art of Vik Sorensangbam