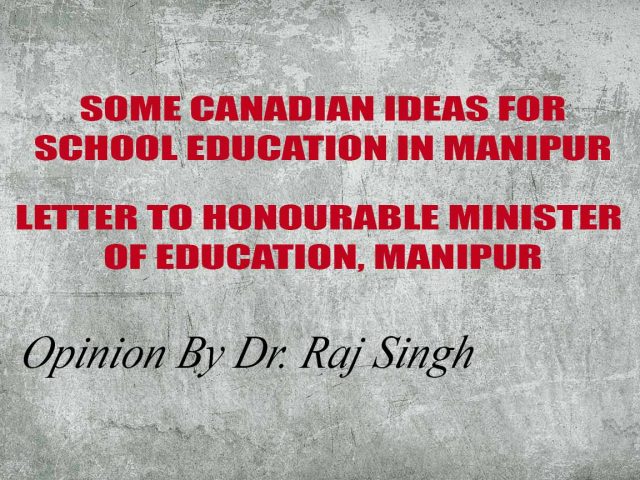 By Dr.Raj Singh
LETTER TO HONOURABLE MINISTER OF EDUCATION, MANIPUR
Honourable Shri Radheshyam,
When I met you last summer at your office, I could hardly fathom the depth of your vision when you, as a police officer, emphatically broached the idea of reforming education system in Manipur. It is God's will that you are the Minister for Education today and plans are already underway for reinvigorating the government schools in Manipur under your leadership.
I can imagine the quantum of support with excellent ideas you must be getting from the entire population of Manipur and among them, hordes of academic experts and social scientists to help you. I am writing this just to add a few implementable ideas of quality education from a well-placed system in Canada where I live.
Honourable Jim Flaherty, Finance Minister of Canada used to send his son to the same government (public) school in my neighbourhood where I sent my daughter. All ordinary citizens like me and all top executives and wealthy businessmen alike send their kids to government schools without looking beyond their neighbourhoods. In Canada, hardly 10% of the students go to the private schools. Most students study at government schools because the quality of education is not inferior to that of private schools. Canada always ranks the top three in school education among G7 countries.
When it is not possible or desirable to transfer all elements of the highly-structured education system of Canada to a differently advantaged Manipur, I can just propose three ideas implementation of which may not require large scale infrastructure or system overhaul.
Academic Council for each school
Every school has one Academic Council comprising member representatives from the teaching staff, school administrative staff, student representative, a few parent representatives, local citizen volunteers etc. The Academic Council periodically reviews the academic and administrative performance of the school to advice the school authority for improvement. Such Academic Councils at every school in Manipur will be highly effective in monitoring teacher attendance, proxy teaching, quality of teaching, delivery of mid-day meals, conditions of school building, laboratory and lavatory etc. and report to appropriate authority for improvements. Introduction of such a system does not need extra manpower, additional budgetary provision or infrastructure.
Mandatory Student Volunteering Program
In Canadian schools, students are given ample opportunities for earning life skills while they are in high and higher secondary school stage under the Mandatory Volunteering Program. Under this program, a student should have volunteered at designated work places for at least 40 hours during the four years from Grade 9 to 12 to be eligible for graduation at Grade 12. In this way, the students get real work experience at various host institutions like libraries, hospitals, research laboratories, government departments etc. A well-placed volunteer coordination system in schools and host institutions make the program a highly productive one in a win-win situation. The benefits are numerous – students get exposure to the real works of their choice of field which helps them in career designing; the host institutions benefit from free labour volunteered by thousands of students every year; work at host institutions gets more organized and disciplined. There is no maximum limit of volunteer hours. The 300 hours of volunteering at a regional hospital helped shaping my daughter into a medical student later.
The monetary benefits of the host institutions from engaging 30,000 (guestimate) eligible students in Grade 9-12 in Manipur every year for volunteering at an average rate of 20 hours/year will be tremendous. Students will be much smarter with their real work exposure during volunteering. Introduction of the volunteering program does not require additional infrastructure and large scale budgetary provision.
Regular Motivational Speech Program
Students are tremendously inspired by motivational speakers from outside their schools. Benefits are far reaching in breaking the monotony of routine classes. Such motivational speakers are people of outstanding performance in various fields of life to share their success stories. Some are specially trained in motivational speaking. Regular motivational speeches are conducted at Canadian schools with great benefits.
In Manipur, a pioneering work in motivation speaking has been started by an organization called Dynamic Manipur in their Inspiration Episode Series at centralised venues and some schools. The government can rope in the services of this organization for a statewide program of regular motivational speech program.
The few programs proposed here are time tested and highly successful programs in Canada and these can be considered for introducing to the reformed education system in Manipur. Details of the programs are all available at the websites of various District School Boards of Canada. The State government can even depute officers to visit Canada for first hand knowledge of the education system which is one of the best in the world.
The prolonged neglect of the school education in Manipur for decades drove the society to a chaotic situation seriously affecting equitability, quality, purpose and value of education. Your dedication with reformist fervour will greatly help bring back Manipur from anarchy. And, I strongly believe we can find some implementable ideas in the Canadian education system to supplement those generated locally.