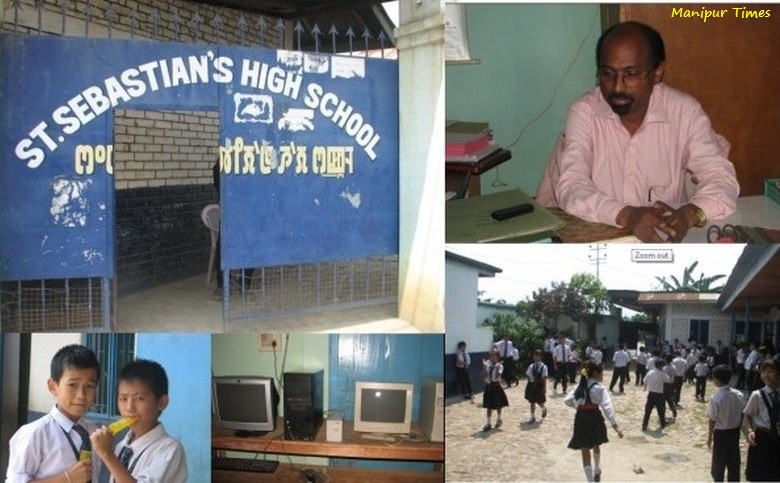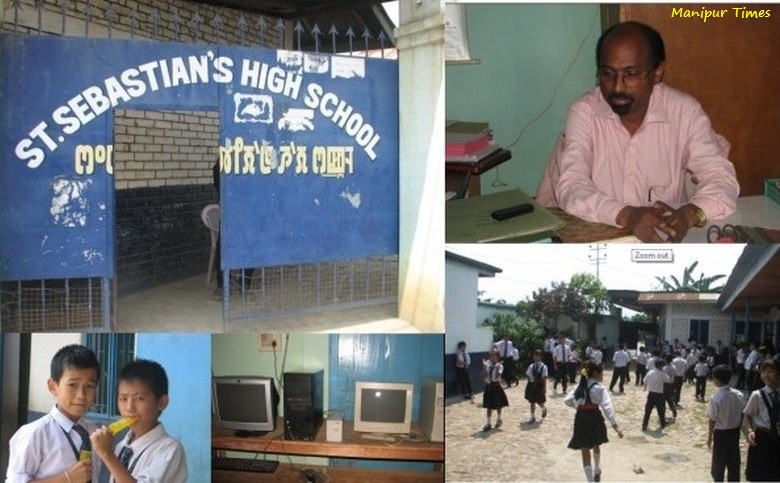 "After deducting the number of days which are crippled by bandhs and general strikes, it is hard to get 150 working days out of 365 days in a year in Manipur. Without having maximum learning days, how can quality education be brought in Manipur? At least, education sector, considering its importance to the society,  need to be treated as an essential service and relaxed during bandhs, general strikes like other essential services such as electricity, media, water supply, religious ceremonies. We need more working days to educate our children who are the pillar of the nation".
In a recent interview with Manipur Times, PP John, Principal-cum-Founder of the St. Sebastian High School, Wangkhei, Imphal East shared his views regarding the impact of frequent bandh or general strike. 
Recalling the journey of how the school was set up, he said, in 1992, he was working as an Assistant Teacher in St. George High School, Wangkhei, a popular private school in Manipur. The school paid him a salary of Rs.2100 per month at that time. 
He became a teacher of that school as one of his friends who was working in the same school told him to join them. St. George School, which was earlier a co-educational institute, decided to stop taking admission of boys in 1993. It disappointed many guardians and parents. At that juncture, he charted out a plan to set up a school of his own which could provide quality education. 
With only 24 boys and five teachers, he started his venture to run the school which had classes from nursery to Class II at Wangkhei. He borrowed about Rs 3 lakhs from his parents in Kerala to run the school. Moreover, after the time got over, he went here and there as a home tutor. It was a great challenge for him to manage the school with the fees received from the school and his private coaching. The school now has 650 students and 22 teachers including the Principal. 
Presently, the school has classes from Nursery to Class X and acquired Government recognition. Regarding his aim, he said, "I love teaching children very much and lead them in right path of life. I did not set up the school with the notion that I would earn profit from the school. Yes, some revenues will come from the school. However, I dream to dedicate it for more development and progress of the school." 
49-year-old PP John s/o Paulose PM hails from Kannur district of Kerala. He passed matriculation from St. Thomas High School, Kerala in 1979 and Bachelor of Science (Chemistry) and Masters Degree from Calicut University. 
Although the school is yet to produce a position holder in the HSLC exam conducted by Manipur Board, the school records a good pass percentage so far. For consecutive two years, the school has recorded a pass percentage of 100 percent. Since its affiliation to the Manipur Board, the school records a pass percentage of above 80 at the average. In the HSLC exam result 2013, the school could achieve a pass percentage of 86 with six 1st Divisioners securing letter marks in Science, English, Social Science and Maths. 
"If past records are considered, the school is in a state of gradual development. While making all the efforts to bring out many talented and quality students in the State, we are trying to improve moral education of the children. For this, strict discipline is taught in the school. Good morality is a priority in the school. Because we believe that a society without good morality will not develop. During summer and winter vacations, extra classes are conducted for the students", he said. 
The school is now well equipped with computer sets, library and science laboratory. Nonetheless, students cannot play comfortably due to absence of playground space.
To register protest against the government to fulfil a demand, calling bandh and general strike have been a fashion in the state. Such types of protest culture can be attributed to bad governance. It seems nobody cares how the frequent bandhs or general strikes disturb the academic atmosphere of the schools. As the schools hardly get maximum working days in a year, syllabus cannot be covered in time. Without teaching, students cannot be made well educated. 
Sometime back, some student organizations and civil society organizations came forward with a proposal that education sector should be made a disturbance 'free zone'. Educational institutes must be relaxed during public protests like bandh or general strike. The proposal of the organisations was appreciated by many, and schools were allowed to conduct normal classes during bandh. 
However, many of the organisations do not relax educational institutes during their protest nowadays. Education is the future of a society and the nation which takes the concern of importance of education will develop the most. From this point of view, it is the need of the hour to relax education sector during bandh treating it as an essential service, the Principal observed.