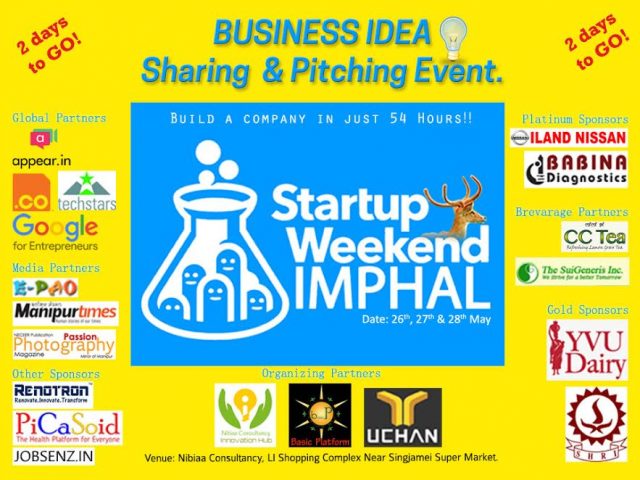 Startup Weekend is back! For the second time in Manipur, this event provides a solid foundation for all aspiring entrepreneurs.
Around 100 aspiring entrepreneurs are expected to take part in the 54-hour startup marathon. Startup Weekend is an adrenalin rush of epic levels from the first pitch through to the last presentation. Coming in alone with an idea on Friday night and leaving on Sunday evening with a startup company, and a bag full of new network contacts is a unique experience only found at a Startup Weekend.
Developers, designers and business development folks come together to pitch a raw idea, which could be in any vertical/theme like Technology, Education, Healthcare, Environment, Telecommunications, Petrochemicals Pharmaceuticals, Tourism, etc. and work on building a Minimum Viable Product (MVP) thus propelling them to take their ideas to the next stage of launching a business, all in one weekend.
The main objective for Startup Weekend Imphal is to build the startup ecosystem in Manipur. This will be an enriching and experiential learning platform for connecting and enhancing the startup culture of Imphal to the world. If you don't have a business idea and still want to participate , you are most Welcome to join a team !!!
What is Startup Weekend?
Startup Weekend is a non-profit global network of passionate leaders and entrepreneurs, based in Seattle, Washington who organizes 54-hour events across the globe on a mission to inspire, educate and empower individuals, teams and communities to share ideas, form teams and launch startups.
For more details, please contact Phone no. 8794188781 / 7085053812 / 8258082791
Please visit https://goo.gl/Em3rmO for Registration and other details.
Event tickets will also be available in the following locations: –
lily Paper Mart
Canchipur, Near MU Gate
Corner Stone Specialty Store
Konungmamang, Eastern Ground
Forage
Opposite Thau Ground,
Thangmeiband DM college Road
Julian Mobile Retailer and Whole Sale
Sagolband , Mabhoudou Mantri leikai
Sangai Enterprises
Singjamei Super Market
Sucheta Books and Publishing House
Polo ground Road, Imphal – 795001 Manipur
Chitama Enterprise
House of Books and Stationary
Awang BOC
Mangal Book House
Khurai Lamlong Bazar
E-World Internet Cafe
keishampat
Books & Coffee
Singjamei
Nibiaa Consultancy Pvt. Ltd.
L.I Shopping Complex,Singjamei
Basic Platform
Singjamei Thokchom Leikai,Opposite Yumnam Leikai Lairembi Lampak
Frys Restaurant
BT Road, Near Polo ground
L.I Dental Clinic
L.I. Shopping Complex, Singjamei