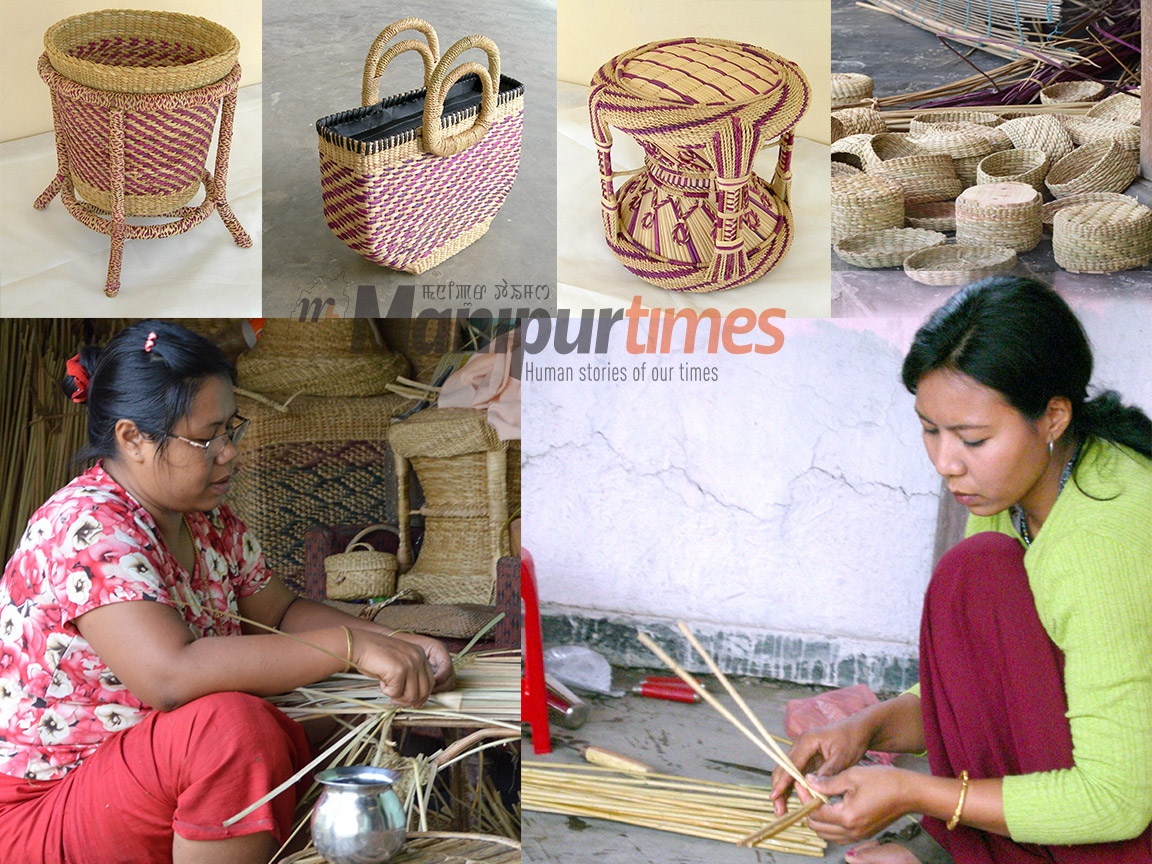 Espousing the ancestral vocation of art and craft, Irenbam Surbala and Renubala Devi, are two-industrious women artisan from the state, who have been struggling to reveal their mastery in field of 'Kouna-craft'. The two siblings are in their 30s, Surbala is now 36 years old and Renubala is 38. Both the sisters, with their other family members, have been travailing to place a mark in their field day and night, earning people's recognitions for their artistic production of various materials of both decorative and household, made from Tulle's stems "Schoenoplectus acutus." This reed is locally known as 'Kouna'– a thick, rounded green stem of 1 to 3 m (3 to 10 ft) tall; with long grass-like leaves; and radically symmetrical, and clustered with pale brownish flowers. 
While having an exclusive meet-up with the duo-sisters, in their work-shed cum residence located at Kawakeithel Konjeng Leikai-Imphal, they told the Manipur Times that this particular trade has been practising since decades back and the art thus carried down to them from their forefathers, and it is their main ancestral-vocation granting life-line, till now. And Surbala said, "Since after the demise of our father, our mother brought us all and lifted the family responsibilities through making Kouna's  Phak (mat) and Mora (stools)." They further said that they have not undergone any formal or specialised training in that field, but inherited the skills and experiences from their forefathers. But, their products have been appreciated and have buyers too, in both inside and outside the state. In fact the products hold a good space in the market.
Although their business is small and a family-led one with financial constraints, they have more than 30 artisans working as a groups in their work-shed producing a wide array of items like Jewellery box of various design; bags and purse dyed with colours; Kouna's Mat, mattress, stool, chair, table and table lamp etc. from time to time. 
Present & Family life 
The sisters now look forward to register formally as a firm, under the name 'Kouna-Craft Production Centre' the next year, they added. And wish if they could open a show-room to display and sells their products in their future, it would be the best gift they ever received and they hope so.
When MT enquires on their marketing process, they response, "get frequent orders from re-sellers and business peoples from major cities like Guwahati, Kolkata, Delhi, and Chandigarh;  and bulk demand of products specially jewellery boxes, bags, purse etc. with attractive designs are at large. We persist at our best to meet their demands if we could." The sisters further added, "we cannot neglect our local market and occasionally make delivery for individual orders but the sale volume and market is very throttled here."
While conversing with both the sister, they said, "Our peak-sales are made during trade fairs, festivals, exhibitions and related events outside Manipur which furnish huge profits too." They recount, "people outside Manipur likes such handicraft products and demands it more."
Currently Surbala and Renubala are still single and are looking after their family. They are in joint family with their mother, and a widow sister-in-law with her little son. Their father expired long time ago and the lone brother, I Somen Singh too in his 40s due to coronary failure in 2009.
All the family members are well-specialised in the making and production of Kouna's products. Their perished elder brother had earned recognitions for his contributions in that field and he was a 'National Award' holder, feted by Ministry of textile and industries in the year 1999 at Delhi. In the year 2010, Surbala was also awarded with 'Certificate of Appreciation' on her struggle and achievements on Kouna-Craft on Renewable Energy Day by MANIRENDA under the State Dept. of Science & Technology and IT.
Both the sisters, Surbala and Renubal, have participated in many fairs and expo events that have taken place at various part of the country, like Guwahati, Kolkata, Bangalore, Chandigarh etc and International Trade fair held yearly at Delhi for 3 times. They said, "such events not only able to make sales but also helps us expose the products to the other people and make develop new business contacts."
Challenges, Success and future vision
A tragic incidence brought a great blow to the family vibrant business that last a poignant pain to the entire family members was in 2009. It was so sudden and unexpected that, the lone son and the only brother of Surbala and Renu, Somen left his entire family untimely, including his young wife and little son. It was a great deprivation of the family as he used to take the main initiatives then for running the business and the family too.
The family could not cry over the spill milk for long, instead Surbala, with her elder sister Renubala, gustily shouldered the family's responsibility and grasped the nettles to continue their family business. Today, both of them work harder to run their business and to build their own small empire in this field. As said by them, they manage to build trade-contacts with many buyers and traders, both inside and outside the state.  They also supply ladies' fashionable items and interior designing products made from kouna, like multi-colour bags and jewellery boxes to Guwahati (IIE), Bangalore (in a showroom), and other parts of the NE states like Shillong and Dimapur etc. And they can earn 2-3 lakhs a years, they say.
Beside her usual routine work, Surbala has also facilitated many training programmes on Kouna-craft as an Instructor for few NGOs and Govt. Institutes. She had been doing the same for more than a year for an NGO named Women Income Generation Centre (WIGC) at different parts of the State through initiatives taken up by State government. She even spent a little of her time coaching artisans on Kouna-craft at Jaipur (IIC).
When MT enquires their current challenges, Renubala have stated, "due to financial problems, we cannot materialise what we wish to do to expand our business". Further Surbala added, "for making our business steady, we need to stock the raw material (Kouna) sufficiently to meet the market demand, but we cannot due to financial constraint". Besides this, they have also said to MT that they are less informed about government support provisions, grant and loans to uplifting such business and till now they haven't sought any loan, financial grant and supports from govt. Further they stated, "but, recently we applied for a small grant at State Khadi Broard, which we came across from an advertisement in newspaper. We have submitted the proposal form and the result is yet to declare."
When MT enquired about their future vision, they said, "we hoped to open a showroom at people's gathering places like main market, which will make our product more exposure to general population" and "if we get the grant, that was applied recently at Khadi Board, we will buy a machine and will develop a suitable work-shed to expand our work, and also we wish to procure raw material sufficiently with buffer stock to meet the buyers and traders demand'.