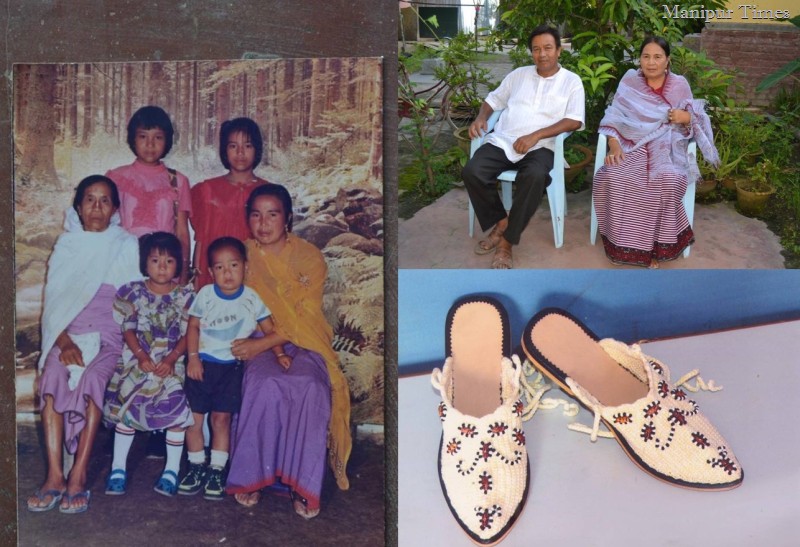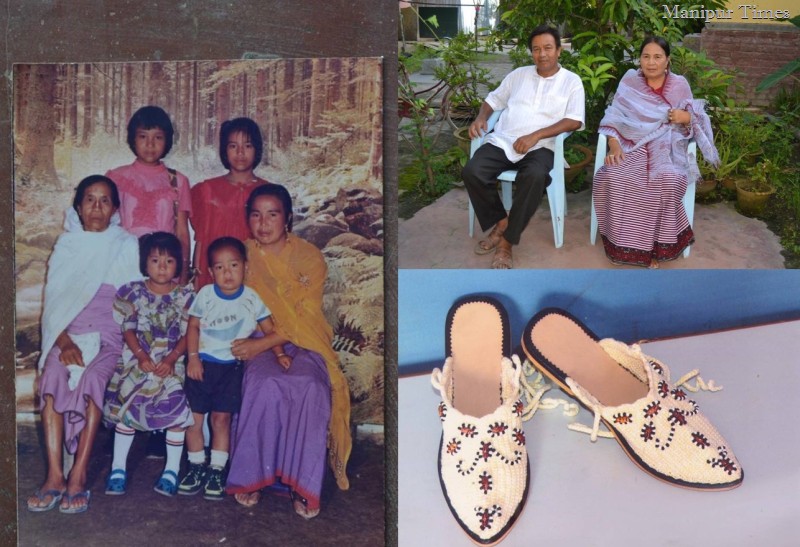 Moirangthem Muktamani Devi, a 54-year-old woman hailing from Kakching Moirangthem Leikai may be known to only few Manipuris but she is a National awardee on Micro, Small and Medium Enterprise and State awardee on handicraft. She was born in December 1958 and brought up by her widow mother as her father passed away when she was only six months old. She was married to Kshetrimayum Naran Singh, when she was only 17 years old, reading in Class X.
As she got married very young, she did face many hardships in starting a separate family of their own, going to field and working under scorching sun, which she did not experience such works at her parental home. Gradually she began learning how to work and earn a living and she did not have any option too. She worked day and night without any regret and now she is a mother of three daughters and a son, who conceals the hard days and persists to achieve the happiness of success.
EDUCATION WAS A BURDEN
Talking to Manipur Times, Muktamani said that she continued her study after her marriage as well. She passed X standard in 1984 from Kakching Girls' High School after giving birth her second daughter. She passed Pre. University College (PUC) from Kha Manipur College in 1986. Unfortunately, she could not complete BA due to her family problems. She used to go to field and worked there during day time and sold eatables when she was free. She knitted carry bags and hair bands at night and sold them to earn two meals a day. She was fortunate that she knew knitting from her parental home, especially from her sister-in-law, and it became a lifeline to her family at that time.
SUCCESS BY ACCIDENT
The accidental step that made her a success woman in the field of handicraft happened in 1989. As she could not afford to buy a new shoe for her daughter, she knitted on the sole of a torn Lee-shoe with woolen thread in the shape of a shoe. Her daughter was very happy seeing it and wore it on and off to school. However, she was afraid of getting punishment as the shoe was not a school uniform. During the school assembly, she started crying as one of the teachers noticed it. But the teacher asked her, "Who made it"? And he wanted the same for his daughter.
Muktamani even knitted for her eldest daughter with little innovation. Muktamani's experiment went on and slowly her creativity got enriched and thus getting requests from many people to knit shoes for them.
GAINING POPULARITY
In 1990-91, her small shoe industry, 'Mukta Shoes Industry' became popular and was registered in DIC, Thoubal under wool and knitting embroidery section. She then started promoting her products first at a 15-day fair, organized by DIC, Thoubal and AMEA (All Manipur Entrepreneurships' Association), Takyel Industrial Estate, Imphal from December 1990 to January 1991 at Mapal Kangjeibung in Imphal. She displayed only 18 pairs of shoes of different styles and sizes in the fair. Her work was appreciated by the then Industry Minister, Houkhumang Haokip. It was like a 'dream comes true' as visitors thronged at her stall to get a glance of her shoes. She was also encouraged by the chairman of the venture, Kh Binoy and even asked her to apply for loan to AMIDCO to expand her business.
AWARDS GALLORE
Since 1992, Muktamani began giving training to women of her locality. She first trained 10 individuals and gradually the number increased. It took 2 to 3 months to be well trained and in 4 months they started taking orders. In 1993, she received the winner's prize in All Manipur Industry Mela organized at Indira Park. She also won 16th position prize in Small Entrepreneurship in North East section. She then began applying for several state and national awards. In 1997 she attended Trade Fair at Pragati Maidan, New Delhi in which all her 1000 pairs of shoes were sold out within a few days. She was excited when national dailies carried the news that Mukta Shoes of Manipur became the best product and best selling item in the Trade Fair and she got the bronze medal in it. It drew the attention of the officials from Australia, Japan, Mexico and others. They wanted to have a link with her and proposed her if she could supply their demand in bulk. But being in a landlocked state, no investors from mainland India came forward to help her with exception to extending best wishes. And above all, she was not economically sound and she did not maintain a stock of her products to start business with foreign traders. So, she could not meet their demands.
Muktamani recounted that although she got many achievements at International level as well, she could not afford to go foreign countries to receive those citations and prizes of honour. Nevertheless she kept on attending fairs and melas in many places of Manipur. She also sold her products to Assam Rifles personnel and thus her products reached to several states of India.
In 2006 she received MSME Prize from Jayram Ramesh at Delhi and again in 2009, Prime Minister Dr. Manmohon Singh honoured her with the same prize at Vigyan Bhavan, New Delhi. In 2010 she received the state award on handicraft too.
Muktamani's shoes drew the attention of Governors of Manipur starting from Chintamani Panigrahi to Gurbachan Jagat and they gave incentives as a token of encouragement.
MEETING WITH ABDUL KALAM
In 2000, the Science and Technology Department, Chennai invited her for a venture business on wool and leather shoes, which was the first initiative of such kind. She never thought of it and so she was afraid of it, but, when she and her trainees were received with warmth welcome at Chennai Airport, she began to realize that it was a great opportunity for her. For continuous six days, the participants wove together to produce a new shoe made of wool thread and leather. During this time, the then President of India, APJ Abdul Kalam visited their work shed and he was overwhelmed on seeing the product. He even praised Kakching of being intelligent.
So far she had trained 1000 individuals without any help from the government. But she sometimes got grants in the form of stipend like Rs10,000 for 6 months from the state government for giving training in government sponsored training programmes. These training programmes were sponsored by MEFI, MSME, MEDCO, Nehru Yuva Kendra Sangathan and many others from time to time.
Many of her trainees have started their own micro shoe factories but not that succeeded like her. Muktamani said that success in business requires quality, persistence, hard labour, honesty, attentive, and should work hard without caring the result. It takes nearly three days to complete a pair of shoes by a worker in her industry and thus can produce 10 shoes per day by 10 workers. Now-a-days she cannot find shoe soles and thread of good quality in local markets. But to continue her work, she bought low quality raw materials from Kakhulong and other areas of Imphal. According to Muktamani good quality soles are available in Kolkata and thread in Guwahati but she doesn't have enough capital to invest to but the raw materials in bulk.
STILL DREAMING A LOT
Muktamani always wishes to write books on her art of making shoes and the know-how to pass the knowledge to the future generation. It is an inalienable trade for the poor people. The art has served as a way of living to many people as there are six units in Kakching, two in Wabagai and a unit in Imphal with 5 to 10 workers in each unit. She added that some of her trainees are still working in her main office since 1997, even after getting married and having children. Her products are available in the market at Rs200 to Rs800.
With a hope to expand her business throughout the state and sell the shoes in other states and abroad, she applied for government funding through MSME Ministry for cluster model of business but still waiting for a favorable result for long. She is worried that corruption and favouritism culture present in the state and central governments may hinder to get the required funding for business expansion with cluster model. Presently, she can't hold tight her workers with little salary all the time hence they go to do other odd jobs even though it is one of the best suited jobs for women.
[ecwid widgets="productbrowser search minicart" categories_per_row="3″ grid="10,3″ list="60″ table="60″ default_category_id="21230822″ category_view="grid" search_view="list" minicart_layout="MiniAttachToProductBrowser"]