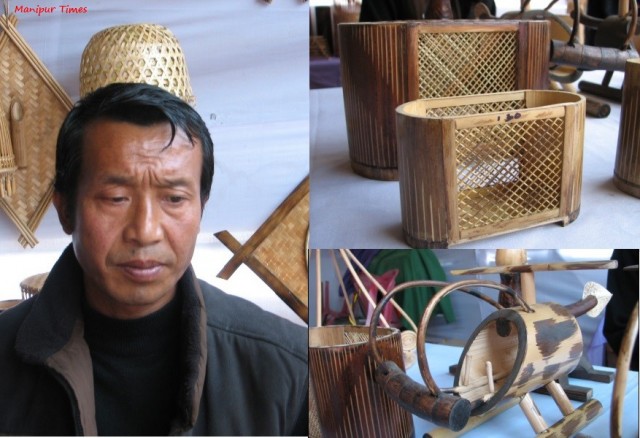 Costumers thronged the stall of Tinsubam Kennedy at the Handloom and Handicraft Exhibition 2013 held from 23rd January to 2nd February 2013. It was organised by the State Khadi and Village Industries at Sagolband Bijoy Govinda Ground, Imphal.  The exhibition had varieties of Cane and Bamboo products.
Interestingly, 42 year old Tinsubam Kennedy, son of T. Mani of Khurai Sajor Leikai,Imphal East is also a videographer by profession.
He crafts various cane and bamboo items for home decor, stationery, toys, traditional bamboo storage items, etc.  His stall is proof of the excellent skill and manual dexterity of this craftsman.
Since childhood, Tinsubam Kennedy loved videography and creating new things. He was not interested in studies while all his brothers were academically more inclined. He passed matriculation from New Chekon Standard English School in 1987 and Class XII from Kohima College, Nagaland. He is the 5th son among the 11 siblings of Konsam Mani. His father scolded him many times for not taking interest in studies. His father, a retired supervisor of Govt. printing and Stationery, told him to work in his department as a salaried employee but he rejected the suggestion. Instead, he requested his father to buy him a camera.
He got married in 2005 and has a 7 years old son. He has been running the family with his earning from videography and handicrafts. Presently, his videography studio is attached to the Green Parlour of one Ajit Macha located at Lamlong Bazar. He takes orders for photography and videography coverage for occasions like marriage ceremonies. Sometimes, he works as a cameraman in film shoots. He worked as cameraman In Manipuri digital films like ABC, Thabum Tara, Tele play titled Ima Lakhini and some albums,.
Kennedy acquired his skills of designing and making of cane and bamboo handicraft items from a month training held at Kangla village organised by an NGO. He also joined the handicraft training held at Tamenglong. Bubhon from Sagolband, Nungshitombi from Nambol, Mangi from Ningthoukhong were his great instructors who taught him the art of making handicraft items. After learning this art, he started making them at home. Local friends including his mother underestimated his job saying it wont do anything good to his career.
His earning was meagre earlier. His designs were not as good  as compared to those of others hence he sold less. However, he now has many NGOs, customers who buy his products.
The current price list of His Bamboo and Cane handicraft products- Table lamps Rs. 400 to Rs. 1500,  Sengga (tray)  Rs.500 to Rs. 1000 , Spoon stand  Rs. 330,  Flower  Rs. 200 to 300 , Pen stand Rs. 200 , Toy Helicopter  Rs. 200,Toy  Ship  Rs.200, disc box   Rs. 300,  Tea tray  Rs. 200  to  300,  hair Cliff Rs. 20. He can earn Rs. 15000 to Rs. 20000 a month from this handicraft.  
Locally available Bamboo species like uyee, khakwa, watangkhoi are mainly used for making these handicraft items. He also crafts arrow and bow out of a bamboo species called " Nonga ".  All the bamboo and Cane handicraft products are made at his workshop in his house.
He said that the current rate of his products are not expensive considering  the amount of labour put in and the time consumed in making an Item. For example, it takes a long time and heavy labour to make a Sengga (Tray). The bamboo will be divided into many chips/pieces called paya in Manipuri. The bamboo pieces are wrapped around several times to make a roll. Then the wood pulp is blended with glue which is applied to the roll so that it cane be tightened and left to dry in sunshine for 3 or 4 days.
Bamboos are collected between the months of December to March. Cutting them during rainy season or untimely season makes the bamboo susceptible to termite eating. Apparently,  a rare prescription, that of applying cow urine blended with salt  to the bamboo protectsthe bamboo from termite insect.
To colour the bamboo as black, shahi khuhi and pangkhokla will be boiled together and the solution is applied to the bamboo.
His handicraft products have been displayed in many handloom and handicraft melas. During the Manipur Sangai Festival, his items were displayed and purchased by many costumers including tourists.