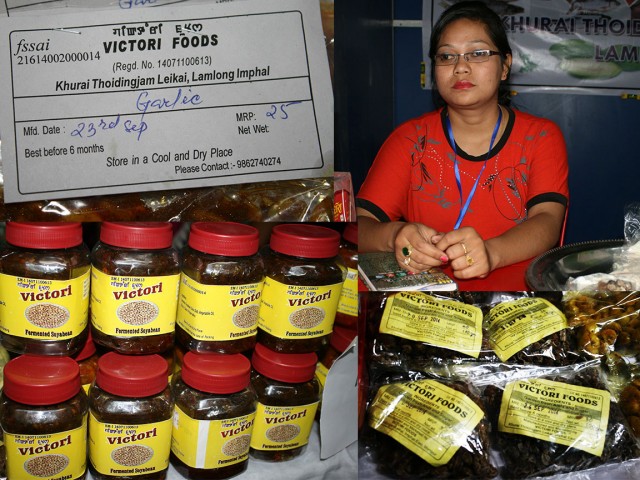 Since childhood, preparation of pickles and candy items with the locally available fresh fruits have been my passion. As a hobby, I started preparing pickles with fresh fruits like Mango, Amla (Indian gooseberry) purchased from the market after returning from school. I used to present the finished pickle products prepared by myself without any modern technical knowhow on food processing to my friends and family members to give a try out to it. I was so happy when they gave me good feedback about my work, said Potshangbam Victori, a promising girl entrepreneur in food processing.
24 years old Potshangbam Victory daughter of Potshangbam Mangi of Khurai Thoidingjam Leikai os preparing varied yummy pickle and candy products under the brand name 'Victori food'. She makes around 20 items of pickle and candy items. The Victori food is popular for its varied pickle items made of fish, chicken, ngari, thumyakpi and khajing, soyabin, garlic, amla candy, gooseberry, Khajing, Soibum, Umorok, Mushroom, Hawaijar Akangba, Hangam (Mustard), Olive, heimang makup, heitup, mange, heining, morok atekpa (fresh chilly). Candy items made of dried fruits like wild apple, pineapple, mango, amla (Indian gooseberry), olive (chorfon), plum (heikha), mange-Ball (Tamarind), heibung etc receive good demand of the costumers.
Victory passed her matriculation from Sacred higher secondary school, Porompat and Class XII from EK Higher secondary school, Sangakpham. Having completed her B. Sc degree in Zoology Honours from Biramangol Collge, Sawombung in 2011, she underwent one year course on Preservation of Fruits and vegetable course in ITI Imphal in 2011 and one month long training on Food processing industry from DIC Imphal East. A month long training, on fruit processing under the aegis of DIC, motivated the young girl to start her venture on preparation of pickles and candies with the locally available fruits.
The sight of various fruit varieties going waste due to lack of preservation clicked me the idea of initiating such a business venture on food processing sector. I thought about how to make use of the fruits into a profitable way. On the one hand, Manipur has good business prospects in agro based Industry since the state is endowed with rich natural resources. As such, I started collecting fresh fruits from the market to make pickles and candies considering of the viable business prospects. My vision comes true that I can now fetch a good turnover from the business, claimed Victory during a recent interview with Manipur Times.
Her father Potshangbam Mangi is an employee of Manipur Fire service while the brother a dealer of Dhara company. With full support from parents and brother, she runs her business successfully. With the demand of her products on the rise, she endeavors to meet the increasing costumers' demand by inducting some more local women workers and installation of a sealing machine for packaging of the finished products. So far, she has not received any financial support from the Government.
For packaging part, she procures the materials from a Guwahati based company. The raw materials for her food processing industry are collected from the woman fruit vendors coming from Ukhrul and Senapati who use to carry out their business at Imphal and Lamlong market.
With a view to create more employment in the industrially backward state like Manipur, I wish to expand my business with which I can create jobs for many. We need to look for other alternative ways which would provide us self employment rather than running after white collar jobs as the Government is not possible to provide jobs to lakhs of educated youths of the state increasing by leaps and bounds. Since childhood, entrepreneurship has been my passion of life and I want to help others through this profession, maintained she.
Replying to a query regarding how she manages to compete with other brands, she said that she always maintains quality and strives to give a unique taste to her products while preparing the food items to attract the costumers. Oil brand 'Refine' manufactured by Dhara company brand is mainly used for preparation of various food products because of its good quality.
The month long training on food processing under Economic development Programme of District Industry Centre was very useful to me. Credit of my success in the business goes to the expert instructors who guided me in the field. I along with my woman workers am busy in work till late night burning the midnight oil to meet the increasing demand from the costumers. Presently, the business gives me a good monthly turnover enabling me to support my parents to some extent, she said.
The products of Victori foods are made available at various retail outlets of Imphal, Lamlong Bazar, Konung Mamang Singjamei, RIMS road, Lilong, Porompat and so on. The products, sometimes, reach to other outside cities like Guwahati, Delhi and others. Demand comes from Manipuris living outside for study and professional job, she said.
With many rival brands of pickles and candies mushrooming up in the state, we are compelled to compete in a limited scope of market. At such a juncture, my farm is compelled to compete with the rival brands with quality products so as to attract the costumers' choice, she said.
People of the state are using various processed food items imported from Moreh and others. If the people encourage the local products, business of the local entrepreneurs will promote. Extending support to local entrepreneurs will improve the economic condition of the fruit farmers, apart from contributing to state economy and generating more employment opportunities in the state facing with severe unemployment problem, observed she.
[ecwid widgets="productbrowser search minicart" categories_per_row="3″ grid="10,3″ list="60″ table="60″ default_category_id="21294227″ category_view="grid" search_view="list" minicart_layout="MiniAttachToProductBrowser"]