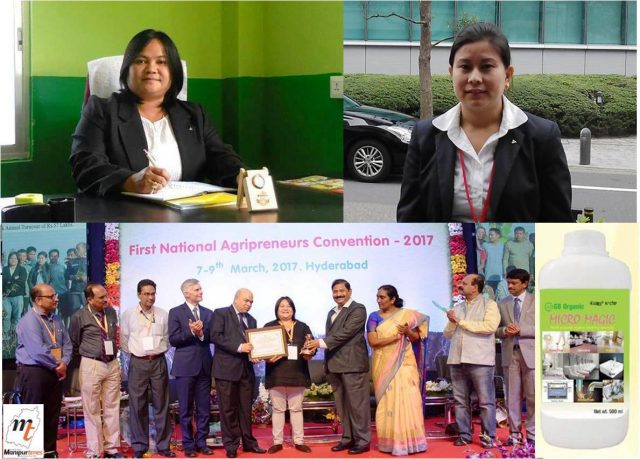 Ms. Geetashori Yumnam is one of the living examples a of 'woman on a mission' that we all should consider. Breaking free from blocks of this juxtaposing era of rapid globalization and clutch of existing outdated mindsets of gender biasness and travel insecurity in our society that a typical woman would face, she smoothly slides out and stands successful as a capable entrepreneur to inspire a lot to come. Ms. Geetashori Yumnam is Managing Director of Green Biotech Ecolutions Pvt. Ltd.
Her Achievement
Incepted as an ISO 0991:2008 certified, Pvt. Ltd. in 2015, GreenBiotech EcoSolutions is a bio fertilizer and bio pesticides manufacturing cum marketing company based at Imphal. The enterprise is focused on bio solutions for Crops, Soils, Animal husbandary, Aquaculture and Environment Management Inputs. Geetashori and her noble co-director Dr. Asem Sundari Devi could able to gather an average annual turn-over of Rs. 60 Lakh and generate jobs to at least 16 active employees. Linking up with reputed scholars and scientists of related fields the company takes part in intensive agrarian projects and research. It organizes awareness programs about the viability and utility of eco-friendly solution to most of the agrarian problems. Just in less than 2 years time the company has extended its heavy influence to almost every nooks of Manipur and even opened a branch in Assam. In recognition to the company's contribution to the society and improvement of farmers' economic condition and its fine impact to the environment  Ms. Geetashori Yumnam has been conferred with the  Best Agripreneur Award at the 1st National Agripreneur's Convention, Agri-start competition and Award ceremony 2017, organized by NIAEM, under Ministry of Agriculture and Farmer's Welfare, Govt. of India.
Partner, Award, Group and Exhibition Photos
Her Journey
Geetashori Yumnam, born as a third daughter to Yumnam Gambhir Singh of Naoremthong Bazaar, Imphal, started her career as a mediocre student in Nirmalabas High School, Imphal but finally completed M.Sc. Forestry from Kumaun University, Nainital  in 2007 as a University topper. She actually aspired to be in the academics and even got selected to the prestigious FRI as a Ph. D. research scholar. But due to hard crunch in the family's financial condition during that time she could not afford to be in the program. For about 6 months after M. Sc. she continued her career as a Research Scholar in Manipur University Life Science Department for the project entitled "In situ conservation of Medicinal Plants in Manipur". A short while after that she joined Reliable Reliance, a Mumbai based Bio fertilizer manufacturing company as a Zonal Manager. The job at Reliance required her to visit frequently the districts of Manipur to research and report about agrarian conditions and it provided her the brooding ground for her dream company establishment. While doing these on one side, the creative passion in her drove her to create her first authentic formulation of Organic Compost.  Though the job at Reliance paid her well and let her field experience fostered she somehow decided to quit and concentrate more on her idea of establishing a company. As a lady traveling frequently far from home by vehicle in the hills there was a sense of insecurity and she quit the job after 2 years. Her first product came around 2009 which she marketed at Rs. 10 per 500 gm packet in a crude candle sealed plastic packages which she went as a door to door saleswoman alone in grocery bags in Imphal markets. As it couldn't sustain the business, she with Dr. Asem Sundari, started a franchise business selling bio fertilizer from a Hyderabad supplier along with their compost. But due to highway blockades in Manipur, in the first attempt itself, the import got stuck for over 3 months on the way in Nagaland. The self-life of a bio-product is around 6-12 months, so when the imports finally reached Imphal they had to either sell them quickly or had to dump. 80 % of the investment went to dumping sites at Lamphel thereby incurring a huge loss. They had to shut the business. Totally disheartened, yet still determined they tried another shot. This time contacting the supplier directly and sharing all their remorse. Hopefully, the noble owner and the family of the supplier sympathized with them and assured to give their formulations if they could set up the technicalities in Imphal. As luck would have showered upon them they got their first investor from UBI Bank, Imphal and quickly set up all the necessary technicalities and went back again to meet the parent firm. Impressed with their work in such a short duration of time the parent firm disclosed their formulations at the lowest rate and made them establish their pioneer firm in Manipur. Thus, in 2012 their products had already got into the markets. Their small proprietorship firm in the name of Green Manure of 2009 slowly matured into partnership firm GreenBiotech by 2012 and finally got ISO 0991:2008 certified as GreenBiotech EcoSolutions Pvt. Ltd.  by 2015 and it continued with exponential development till today.
Our Inspiration
Geetashori's determination to become a successful Agripreneur is inspiring and remarkable. It is her self-motivation, confidence, alertness and perseverance to reach the dream destination not only at the mental level but also in the practical level that made her achieve this benchmark. She never skips a single workshop, training or seminar program that could be a help to her business development. Until now she has attended in more than 10 business workshops at state level, national level and international level, the recent one being the incubation from ICCO International after going through the pitching round and presenting her team's ideas in front of 15 jury at Delhi, Green Business Challenge in which they were in the top finalists.
Her Company's Mission
The company's mission is to establish a small scale yet standard and world class Organic Fertilizer Production Company that in its own capacity will favorably compete with leaders in the industry. It aims to build an organic fertilizer production business that will be listed amongst the top 10 organic fertilizer brands in India.
More details of the Company and its Products at www.greenbiotechecosolutions.com and Email: [email protected]
Facebook: www.facebook.com/Green-Biotech-Manipur-1588060018072559