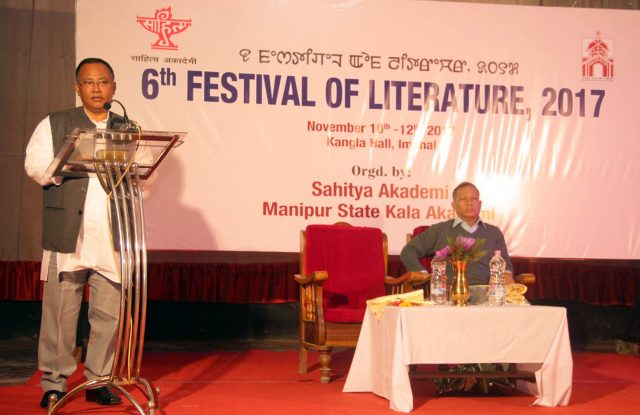 Imphal, November 10, 2017 (DIPR):-Art & Culture minister Shri L. Jayantakumar Singh inaugurated the 6th Festival of Literature at Kangla Hall, Kangla today.
Speaking at the occasion as Chief Guest, the Minister assured that all possible steps will be taken up to uplift the status of the State's  art and literature. He also invited opinions and suggestions from different   personalities who are working in the field.
Minister appreciated the contribution and enthusiasm being taken by the eminent writers of the State. He further maintained that during the tenure of the Government, maximum efforts will be put to give a different look to the status of the art and literature.
He also wished the writers present at the Function good luck and great success. A Souvenir was also released at the function.
Attending the function as President, Commissioner Art & Culture Manipur M. Lakshmikumar Singh (IAS) said that a programme of literature will be introduced to be showcased at the ensuing Manipur Sangai Festival, 2017 which will be commenced from 21st November. Writers from outside the state have also been communicated for participation in the festival, he added.
The opening function was also attended by Director Art & Culture Dr. K.Sushila Devi, Prof. N. Aruna, other eminent writers and theatre personalities of the state. The function continued with Poetry Reading by different writers. (DIPR)