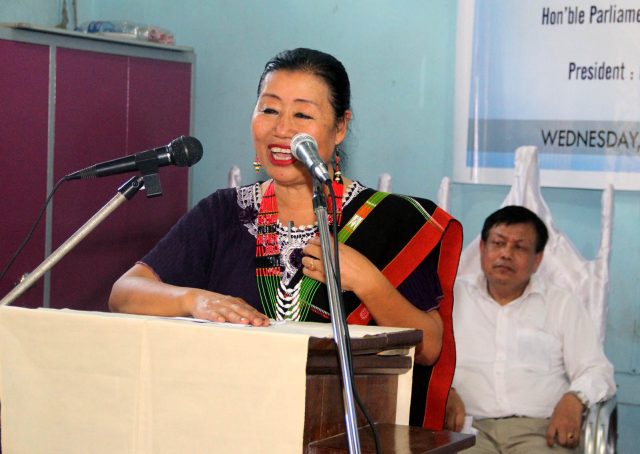 Imphal, October 11, 2017 (DIPR): A monthly Tangkhul magazine titled-"Aja Kachang" was released for the first time at Nagaram Community Hall today.
Still adding a feather in her cap by editing Aja Kachang, editor of Tangkhul bilingual newspaper Aja Daily, Mrs. Valley Rose Hungyo holds the tag for being the only lady editor of the State.
Hon'ble Parliamentary Secretary, Planning and Transport, Manipur, Shri Khashim Vashum; Hon'ble MLA,44-Ukhrul (ST) AC, Shri Alfred Kan-ngam Arthur; Pastor of MBC, Rev. L Simon Raumei; Director, Jesus Gospel Ministry, Ashang Kasar and IPR Director, Shri Meghachandra Kongbam graced the function as Chief Guest and Guests of Honour respectively.
Rev. L Simon Raumei opened the function with a prayer on the theme of maintaining peaceful co-existence and solidarity in the society stating that magazine releasing event is a milestone and worths celebration.
Addressing the gathering, Khashim Vashum appreciated the role of media and appealed the Tangkhul community to improve their reading habits of newspapers. He lauded the efforts of Valley Rose and her husband in keeping alive the Aja Daily to its current status from its initial formative days of scratch against all odds on the way. He also spoke focussing on avenues to include more informative items like appointment and interview notices in their daily and magazine.
In these days of yellow journalism where the news content comprises of only 10 % truth and the remaining merely superficial & little of well-researched news aimed with the sole objective to sell more papers, media based on the truth can touch our hearts and bridge the gap between valley & the hills , said Alfred Kan-ngam Arthur while giving his viewpoint on the need to read the truth and maintain media ethics. He also said that in a volatile state like Manipur, the role of media fraternity is important in bringing unity and harmony to the State.
Ex-Additional Director, IPR Shri N.G Woleng, who was also present at the function, said that the Tangkhuls should encourage literature and start reading Tangkhul dailies and magazines by increasing subscription instead of criticising articles written by others. Constructive suggestions will sow the seeds of development, he added.
It may be mentioned that the Aja Daily is the first ever Tangkhul daily newspaper in Manipur, established on December 3, 1992.
Aja Kachang magazine covers articles on legal matters, health, GST, MDS Scam & other issues. (DIPR)