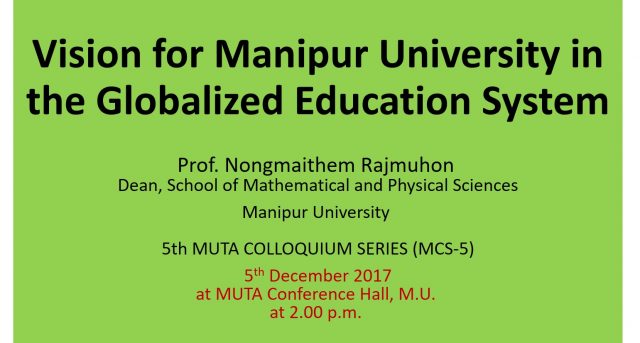 Fifth MUTA COLLOQUIUM SERIES (MCS-5), organized by Manipur University Teachers' Association (MUTA), which will be held on 5th December 2017 at MUTA Conference Hall, M.U. at 2.00 p.m. 
Topic: Vision for Manipur University in the Globalized Education System
By: Prof. Nongmaithem Rajmuhon, Dean, School of Mathematical and Physical Sciences, Manipur University
Abstract: Higher Education is an extremely crucial constituent of a nation's socio-economic development. Its performance has a direct impact on the future of the nation. The UNESCO World Conference on Higher Education (1998) proclaimed that, "Education is a fundamental pillar of human rights, democracy, sustainable development and peace." As James Duderstadt says in the book A University in the 21st century: "Our University must not only be repositories and transmitters of human knowledge but also be creators of knowledge. The mission of the university must be the glue that intimately binds our universities to our societies."
With the emergence of a globalized world, university needs to shift from the factory model of information delivery to knowledge age model of integrated, collaborative, networking, and lifelong learning. University should be a hub where all the critical thinking and creativity is cultured for dissemination to society.
In this colloquium, I would like to initiate a vision for Manipur University in the globalized education system for a fruitful discussion. It incorporates problems and prospects of higher education; financing higher education; enhancing quality of research; collaborative research; exchange programs, dreaming for world class higher education; academic ranking; etc.