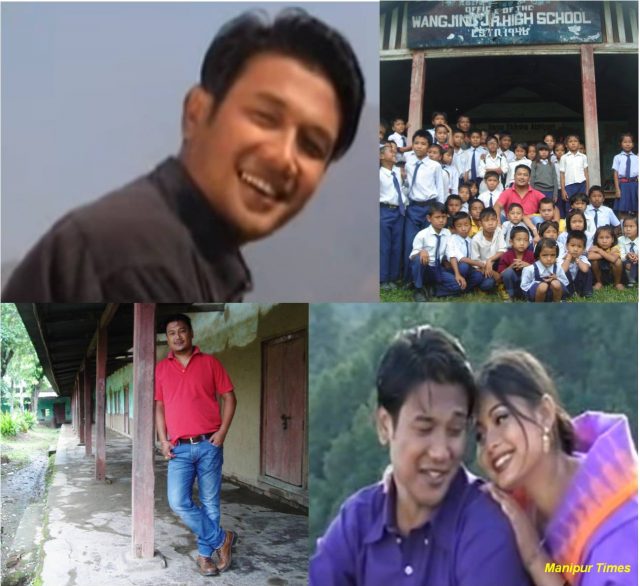 Nobody becomes a star overnight. Determination, hard work, discipline, patience, talent and luck are all needed to guide an aspiring artiste to become a star. Acclaimed film and Shumang Leela artiste Denny Likmabam is also no exception. Born on March 10, 1976 at Wangjing Wangkhei in Thoubal district, Denny worked hard with dedication. And it was his high respect for his mentors that made him a successful man in the field of acting.
However, he surprisingly revealed, "I never aspired to become an actor since childhood although I was born in an actors' family".
He was attracted more to music than acting. Although both his father Likmabam Shantikumar and mother Dameshori were the drama artistes of Manipur Sangeet Natak Academy, Wangjing, Denny grew up as an aspiring singer and a musician.
Since young age, he began to receive applause through his singing skills.
Young Denny used to sing Aribam Syam Sharma's 'Shamu macha ama leina leina jagoi sari' in most of the song competitions where he took part across Manipur. Not surprisingly, the child singer bagged first position in almost all the competitions.
Denny's connection with All Manipur Young Pioneers' Organisation (AMYPO) since Class VI made him easy to mingle with different people. And that probably helped him to get a chance to take part in a one-month International Children's Camp in erstwhile Czechoslovakia in 1988.
Denny said, "I was reading in Class VII at that time and I was the only child, officially selected for the memorable camp. I got the rare chance to interact with the children from different countries during the camp. Khamba dance which I presented at the camp was widely acclaimed."
His Czechoslovakia visit made Denny a popular child artist/singer in Thoubal district. He was elected as the music secretary of Wangjing Higher Secondary School Students' Union in 1989.
In 1994, he passed Class X from the same school under Board of Secondary Education Manipur. After Matriculation, he continued his education at YK College, Wangjing from Class XI till the completion of his BA (Geography) in 2001.
During his association with YK College, he served the college students' union as the music secretary in 1995-96.
Shumang Leela
Denny said, "In 1997, one of my friends who was a keyboard player of Shumang Leela group, Sanaleipak Nachom Artistes' Association asked me whether I could play side-drum for the group. As I was well versed in playing Dhol (drum) and side-drum at that time due to my long association with AMYPO, I readily accepted the offer and joined the Shumang Leela group as a part-time musician in the orchestra section".
However, after joining the group, it became a great challenge for young Denny who hailed from a small village to establish himself as a musician through a Shumang Leela group without any godfather in Imphal city.
Denny remembered, "In addition to stiff competitions, the negligible amount that I earned as a part-time musician could even barely fulfil my pocket money. I stayed months at Leela office during peak season, but I could not even change a pair of trousers. In such a situation, it was natural to pressure me by my parents to return home and look for alternative earnings."
However, Denny remained unmoved and kept on focussing to his goals. Slowly and steadily, senior artistes of his group began inviting music Gurus to give training to the junior musicians in 1999 and learning music was not that tough for him but interesting. Denny had completed the first year classical music course from Government Music College in 2001.
Turning Point
Even as he was gaining momentum in learning music, a pleasant surprise happened in 1999. Although it came as a pleasant surprise for Denny, it turned out to be a huge turning point in his life. Sanaleipak Nachom Artistes' Association was showing B Jugolchandra Sharma's 'Sajibugi Leihao' at that time. Senior artistes of the group felt that a slight change in the storyline might make the play better. So, they decided to add the character of a police officer in the play. This particular character had no dialogue and he had to simply appear in the last scene and arrest the villain of the play.
After rounds of discussion, the senior artistes asked Denny to play the role as he had negligible activity in the orchestra section as well.
It was a fine night of 1999, Denny who was clad in impressive uniform of a police officer appeared for the first time in the refined version of 'Sajibugi Leihao' at Nambol Kabowakching in Bishnupur district.
To the surprise of the senior artistes of the group, the audience did not leave the Leela venue for around an hour after the end of the play with sheer curiosity of the young handsome artiste who appeared in the closing scene of the play.
From that day, the senior artistes realized that a new actor was born in their group. The crowd went mayhem in all the Leela venues every time Denny came on the stage in the last scene.
After this play, Ibomcha Langpoklakpa's hit play, 'Mem Saheb Ki Sari' came in the year 2000. In this play as well, Denny portrayed the role of a Navy officer. Although, Denny had only three scenes, many overwhelmed audience jumped on the stage to greet and shake hands at most of the Leela venues.
Denny said, "Such moments will ever be remembered throughout my life. Audience is God for artistes. As long as their love persists, an artiste lives."
After Ranjit Ningthouja's 'Ningol Chakkouba', he parted ways with Sanaleipak Nachom Artiste's Association and joined Peacemaker Artiste's Association in 2002.
He began to take the lead roles in Shumang Leela plays after joining the group. He took the role of Arjun Singh in the first play of the group entitled, '21st Century gi Kunti – Part 1'. Written by Manaobi MM, the sequels of the play earned name, fame and money for Denny and Peacemaker Artiste's Association. The play continued to mesmerise the audience till 2005.
In 2006, he joined Lamjingba Artiste's Association. His association with the Leela group was not that consistent due to hectic film and other schedules and he remained 'on and off' with the group till June 2016.
Denny established a new Shumang Leela group known as Maami Artiste's Association in July 2016. The group is planning to start showing DB Laishram's 'Mantri gi Macha' and RK Imo's 'Atiyagi Makhasida' from September/October 2016.
Film Career
After his successful appearances in Shumang Leela plays like 'Sajibugi Leihao', 'Mem Saheb ki Sari' and 'Ningol Chakkouba', Shumang Leela artiste Iboyaima Khuman introduced Denny to Premjit Naoroibam of Kangla Films and film director Oken Amakcham in 2000. Denny got his break in films with taking the lead role opposite Kamala in a video film entitled, 'Echelsida' in 2000.
After the success of the film, Premjit and Oken did not hesitate to cast Denny as the lead role in Manipur's first digital film, 'Lamei'. And there was no looking back for Denny in films as well.
His hit films like 'Phairenthagi Angaoba Leichil', 'Eina Nungshibasu Nangtani' and 'Nungshi Hekta Hairage' came one after another. He actively worked in films taking different roles till 2007.
Later, he entered the field of direction. He directed films like 'Nongallamdai Likla' in 2013 and 'Hoo Chage' in 2014.
Other Activities
Apart from acting in films and Shumang Leela plays, he is an approved drama artiste of All India Radio, Imphal since 2008 and a casual anchor of Doordarshan Kendra Imphal. Moreover, he also compères many stage and TV shows. Despite his huge success in the field of acting, he still loves music and singing. He sometimes sings in concerts on audience's request.
Awards
Denny received B Kennedy Memorial Award in 2004 and Pafila Films and Artistes' Award in 2006 for his contribution in the field of acting.
Family Life
Denny married with Jeni Ngangom in 2002 and the couple have two kids – one daughter and one son. They are now settled at Naoremthong Takyel Khongbal, SAI Road in Imphal West.