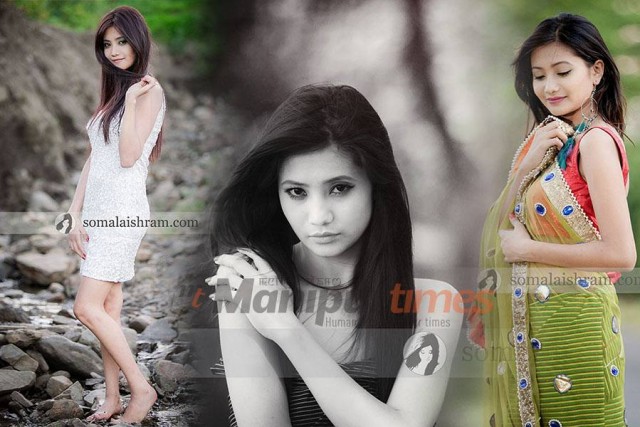 Started with a role where she acted as a medical student in her debut film Phijang  Marumda Soma Laishram rolls out her talent to fans expectation. She started taking the main role starting from the film Loiba Tare Ta Raju. So far she has acted in 27 films and signed four new contracts. Some of the films she acted are Pizza, Ang Tamo, Lanpham, Ani Ani Mari, Hangam Maru Pokhaibi,Thajagi Maihing,etc.
Childhood talents and Fashion achievements
Talent tapping programs in her localities at festive occasions caught the eye of a staffer in Doordharshan and she was enrolled as child artists where she appeared in teleplays, drama and performs as program presenter, till today she is associated with Doordarshan as program presenter.
At the age of six she started dancing. Took part in school function and when she grew up her cousin Takhellambam Neena who was a choreographer and model groomed her to be a model. Soma excelled and clinched the Runners up Title in the 8th Mega Miss North East Beauty Pageant held at Guwahati (2010). She got the title of Best Catwalk in Orange Queen Contest during the year 2009.
Her modeling career started just a month after she appeared in music Video Album. Recently a solo music album "Angaoba Malang" was also released where she sung in her own voice and acted. She wants to come up with a new song every turning year.
A Cine Star
Just as Soma started acting in video music album. Producers and directors approached her but she hold back as her father passed away in a stroke and she has to appear for council exam. It was only after she cleared her council exam she took up her film career.
Her debut film was experimental to her as one of her maternal aunt alerted Soma for a role. The producer of the film RK Tamphasana happens to be from the same locality of Soma's maternal home. She played an MBBS student at Sikkim Manipal. The character she played was a gentle and career oriented girl.
In an exclusive interview she expressed that she likes to be a part of trend changing and different style films. Her first video album carries some watermark of her thoughts as it was screened on the releasing day at Hotel Classic. Three designers were engaged for her solo album where she gave sketches to the designers for the costume designers.
Groomer
Soma is just 21 years old and she plans to do many things in the future. She also wishes to contribute to the growth of film industry in Manipur.
Favorites
Her favorite food is Chinese. She likes to take rest in a long ride and have street food. She loves to be with her special someone. She likes listening to soft music.
She prefers social cause scripts. Something she could reflect for the society and pass on a message. She continued saying her role in Pizza was a negative one but she took up the cast and tells the society of the negative impact through her acting.
Film industry in the next five year
"Experience director cameraman is there, even people studying outside and abroad has come down to the State.  But we are bounded as there is restriction. There might be positive aspect of certain restrictions but it has negative impact too. When we work out with a new concept we always worry about the limitations and we are unable to work freely" expressed Soma Laishram.
Soma attended training for traditional dance at a theatre in Keishampat under Oja Lata. She is the only artists in the family and her parents have supported her throughout her career. She completed her graduation and is trying to pursue for master's degree.
Success of a film
Viewer's choice is very much important in making a film success in Manipur. If viewer has the same taste the film trend is never going to change.  
Born on 5th January 1992 Soma has two brothers and one sister. She held from Sega Road, Imphal West.
Preference
'As long as my fans support I will try my best. I like glamour shots and there should be culture.
I prefer simple and innocent role with western looks and dressing style' – Soma.
Landscape
"I was really excited at Thanga Karang when we had a boat ride. I included a shot in my video album. I never felt that there is a place without road. People out there are much supportive. I click some snaps and show it to my cameraman and we worked on it" says Soma.
Holiday
Goa is my favorite holidaying place. Once in a year I use to visit and spend time there. 
Fashion Plus
Somaafter her successful appearance in beauty pageant became a jury at Miss Transgender North East.
I wish our designers to come up with distinct ethnic wear.
Models are less popular in Manipur. Perhaps lack of promotion for them who really work hard for their looks and vital statistics.
Some designers have worked well and I wish big companies to sponsor fashion event.
To become a model one should work on vital statistics, diet is important, looks, personality, good character and a commanding spirit.
Photo Courtesy : Soma Laishram
Message to the youth
Youth should freak out besides they need to think about the future. Everything should be good but you still have to enjoy life.
I expect transparency in the governance in political matters for a very good and well to do State.
Last but not the least a Drug free society
On photography
Photographers have worked well these days. In fashion photography the model and photographers needs to communicate.
Lots more to expect from the talented young lady in future. Our readers can also visit www.somalaishram.com  for more photos and time to time update.