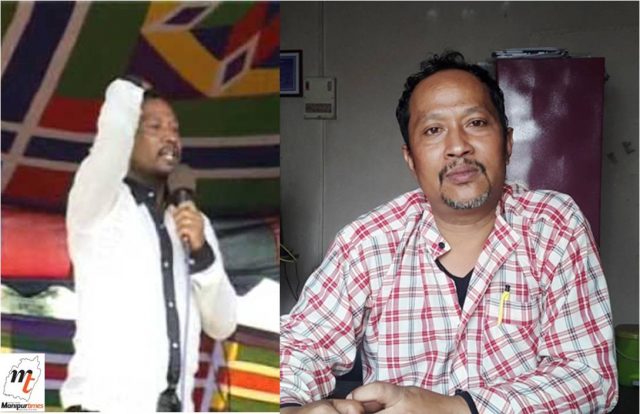 Thokchom Joseph is a multifaceted Manipuri comedian filled with many talents, who tickles the hearts of many through his funny acting in films, dramas and Shumang Leela plays. He is one of the prominent artistes of Nokphade, a Manipuri comedy series. Despite bringing laughter to thousands of Manipuri audience through his funny acting, the journey of artiste Joseph is engulfed with many tragedies as he was brought up in a broken and penury ridden family background.
"Life without challenges and tragedies is incomplete. Those who experience the most tragic incidents in life better know the real life value. I have experienced many untold miseries in life, but I want to keep the people laughing all the time through my funny acting, Joseph observed in a recent interview with Manipur Times.
His tragedies
Born in a penury ridden family, Joseph's childhood days were full of sufferings and frustrations. The family condition worsened after his mother was inflicted with the killer disease cancer since 2004.  His monthly salary of about Rs 5000 from LDA was not enough to afford the medical expense of the treatment of his mother. Rs 20, 000 to 25,000 was required for chemo treatment of his mother for 21 days.
With his income being not enough to afford his mother's medical treatment, he was compelled to actively work in films and Shumang Leelas to earn more income.
Born on February 21, 1970, Joseph is the son of (L) Thokchom Shyamkishore and Thokchom ongbi Tombi Devi of Ningthoukhong Mathak Leikai. His father was a carpenter and mother, a vegetable vendor by profession. He has nine brothers and sisters.
His father married to two women and Joseph is the son of the second wife. After a family squabble, Joseph's mother divorced her husband and stayed at her maternal home at Ningthoukhong where Joseph was brought up.
It was a big challenge for his mother to maintain the family and bring up her kids without her husband. His mother managed to maintain the family and send her kids to school with the income from selling fish, fruits and vegetables at a small plot at Ningthoukhong Bazar. Joseph continued to help her business till he became a noted artiste.
Joseph frustrates as lover betrays him  
He studied at Thambal English School upto class V and Ningthoukhong high school till class VIII. After completing class VIII, he got admitted at Johnstone higher secondary school.
Recalling his youthful days, Joseph said that he had a lover during his high school days. He got extremely frustrated when the girl rejected his proposal. Dejected Joseph started involving in boyish pranks like drinking, smoking. While doing so, he dropped his schooling for almost two years. Later on, he was again admitted in class IX at Keirap High School where he passed his matriculation with the help of his brother-in-law who worked as teacher there. He completed graduation from Ningthoukhong College amidst all odds and difficulties.
Joseph said that he was a brilliant student, but had to drop his studies due to financial constraints in the family. He joined the service of Loktak Development Authority.
Joseph got married with Rk Surnamala from Ningthoukhong and is now a father of one son and daughter – Job and Ziya.
Beginning the acting journey
Prior to opting for acting as a career, comedian Joseph was a black belt Kung-fu player when he was 14 years old under Oja Kiran of Ningthoukhong in 1982-83. Besides, he had a great passion for painting too. But he left it as his mother had no money enough even to buy pencil and other painting materials for him.
In 1985-86, he learned dance under Ningthoukhong cultural centre. He was always winning first position in every district level dance competitions. He, however, got frustrated when he failed to win any prize when he set his foot in the state level competition. Frustrated Joseph asked his teachers as to why he failed to win any prize in the state level competition. His teacher clarified that he failed as the manner he was dancing was wrong and suggested him to improve his skill.
His Association with Nokphade
It was in 1993 he met Thoudam Ruhinikumar, producer cum director of Nokphade comedy series. Naturally, Joseph loves jokes and making others laugh through his funny acting. He joined as an artiste of Ningthoukhong theatre centre. Once, he joined a media workshop at Hotel Excellency when Oja M. A. Singh of Kwakeithel suggested him about the workshop. In the workshop he came across Thoudam  Ruhinikumar. He also met Chongtham Kamala, Kapoor in first batch of the workshop.
During the workshop, every participant was compelled to show his or her talent. Joseph showed his talent 'mimicry' and cat meowing which made the audience burst of laughter at his acting. He also showcased his talent  during the talent show held at 1st MR. It was in 1987 he met Rangilal who was also from Ningthoukhong, another pillar of Nokphade when he joined district youth festival.
Ruhinikumar who was pleased with Joseph's talent suggested him to join his Nokphade series to which he readily agreed. He acted in Nokphade volume series 1 to 15 till date. Joseph is highly acclaimed for his funny dialogues in the role of Daku Sardar in the Nokphade audio series Laphoi Loushing.
Films
Acting talent of Joseph is not confined to Nokphade only. In 1995, he met Chand Heisnam of bright films Manipur and acted in the celluloid film Kanaga Hinghouni. He has acted in 8 celluloid films including Kanaga Hinghouni.
He has acted in more than 50 digital films including Hi Preety, Hello, Preety, Kangla Karbar. Ani Ani Mari and many others.  He said that he never recounts the number of films he acted. However, he receives assignments for 4 to 6 films in a year.
Joseph said that he wants to lead his life as an artiste. Some suggested him to work in the field if direction too. But he rejected it. Even the famous actor Amitabh Bachchan is still an actor and does not work as a director, he said.
Joining Shumang Leela
With his popularity in acting arena gaining momentum, some Shumang Leela groups started looking out for Joseph to join Shumang Leela.  In 2003, he joined Pakhangba artiste Association and made his debut in the Shumang Leela play Mandir da Mou Ahum wherein he acted the role of Malangba. Manaobi MM was the writer of the play. He left the party and joined Lamjingba Artiste Association in 2006. He is now working with Mami Artiste Association.
He said the play Mandir da Mou Ahum was one of his favourite plays as the play is still relevant with the existing social issues in Manipur. The play depicts the gradual disintegration, unity and love among the communities in the state. He was very active in Shumang Leela in 20003- 2004.
Message
"Most producers emphasized more on actor and actresses. Supporting roles like comedians are not given much priority. However, a film is like a human body consisting of several organs. Human body is not fit when one organ like kidney, heart gets defunct. Like the organs in body, other artistes like comedians also a play a vital role in films", he said.
He wants the Film Forum Manipur to fix a payment rate for the artistes.