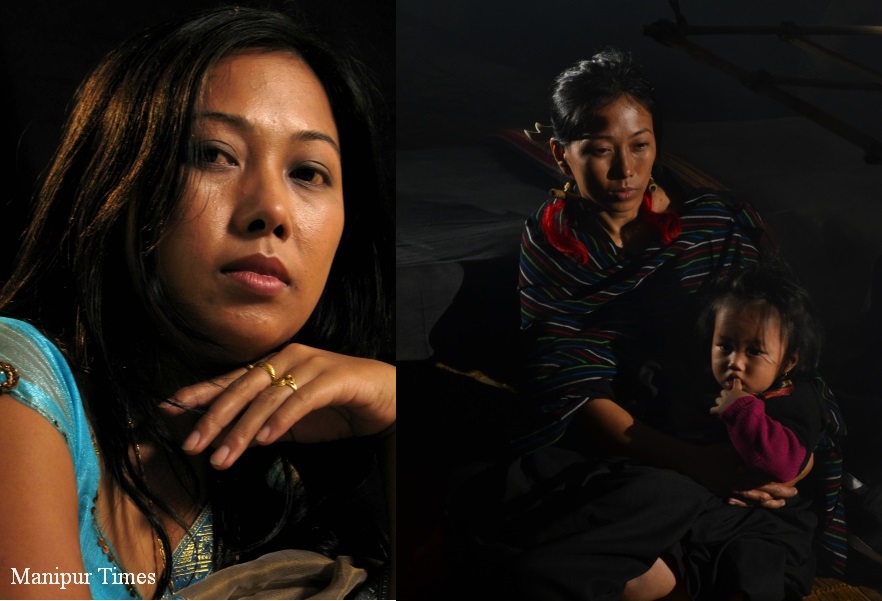 Ningthoujam Rina, wife of Chanam Suraj, a resident of Singjamei Chanam Pukhri Mapal was born in 1975 at Thoubal District Manipur. Her childhood dream was to become what she is now. A talented and determined woman who endured her long cherish dream is a mother of two children.
She is an actor, singer who took the main role in National award winning non feature films like Nongdi Tarak Khidre (Indian Panorama, UNESCO award), Joseph Kee Macha (IFFI) etc
Her venture in the film started with two celluloid films. The first one titled 'Thawai Gi Thawai' in the year 1998 where she played the main role. Yaoshan gi Meiri directed by Bishwamitra is her second celluloid film.
She did the main role in many popular non feature films directed by international acclaimed film maker Aribam Shyam Sharma like Meerang, Asungba Nongjabi etc.
Meerang is a non feature scripted by Arambam Samarendra. The screenplay for Asungba Nongjabi was done byMK Binodini.
Momon Minok, Machetta Loiba, Tomba – a non feature based on child labour directed by renowned filmmaker Ningthouja Lancha could also be mention among popular films where Rina took the role of the main character.
Besides her acting career Rina is also a singer of once top charted songs like 'Wakching Thada Satchabi, Nangna Sahar Da Eina Khunggang Da, etc. She is presently a Journalist working as News Stringer in DDK Imphal.
When asked about different professions she has, 'it's really good to experience in different things' she added. She has played in more than 30 Teleplays, 6 other digital formats so far and 2 Celluloid 35 mm. It is good to learn that her younger daughter sometimes acts with her as child artist and that she feels more comfortable and easy to convince her own child. Rina mostly acts for non-commercial film and it is good to learn that her contribution to the people is much of her charitable intention.
Ningthoujam Rina started to perform on stage during her schooling. She started singing at the age of 3. A graduate in Geography from Manipur University she completed her Post-Graduate in Journalism & Mass Communication through Indira Gandhi National Open University (IGNOU) and also did her Hindi Ratna consecutively.
A brief idea of some of the classic films she has acted so far are :-
Nongdi Tarak Khidre – Based on the true story of a man who one day went to fish in the river and never come back. It was in the midst of Naga-Kuki Ethnic Clash during 1990s. Lunjahao was killed in the clash. The film directed by Lancha is based on Innocent People becoming real victim.
Joseph ki Macha – featuring a mother who lost her beloved son and become mad.
Machetta Loiba – the main character was adopted by her uncle. She was convinced by a hi-fi pretending rich guy to marry him. Post marriage she felt the contradiction. The film is directed by Lancha.
Ashangba Nongjabi – Directed by Shyam Sharma. Keinatombi (Rina) a very simple girl and illiterate folk who endured to admire a popular artist knowing the artist had crush on a rich girl Indu. Keinatombi won the heart of the artists as she appreciates the work of the artist unlike Indu.
'Mammi Sammi – the story of a woman who lost her husband, taken away by some unidentified underground group. Meanwhile she got married to her childhood sweetheart but she became psychic out of confusion when her husband finally returned.
On her successful career as an actress Reena likes to give her credits to eminent personalities like Ninthouja Lancha, Ibotombi, Aribam Shyam, Khetri Rajen, Bobby Wahengbam, Brojesh for their tremendous support.
Rina is a perfect combination of sincerity, Personal integrity, humanity, courtesy, wisdom, above all humility. What makes her a legend is her deep love and devotion to her Profession.
In music she completed her Sangeet Visharad from Bhadkhande Lucknow, she is also an approved artists in vocal from All India Radio, Approved artists in Drama. Approved dramatists from Directorate of Information and Public Relation.
She sang many once popular Manipuri Film songs like Wakching Thada Satchabi, Nangna Sahar Da Eina Khungang Da, etc.
In 2006, she worked as a Correspondent of Naharol Gi Thoudang, News reader in ISTV, Reporter cum announcer in IC TV, Corresponding to Thoubal, IMAGE TV, etc.
Henju Naha and few other non feature films are yet to be released expressed Rina.
When mention about duration of the time spent for a non feature film she continued saying that it depends and sometimes it takes a year with working days numbering almost 60 days.