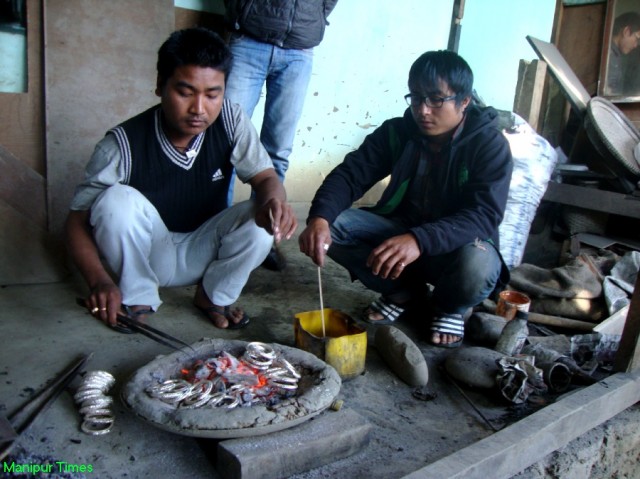 "It was a big challenge for me to manage time for my study on one hand and earning on the other. I had to toil in the workshop when my friends went to college. With the meager earning which I got from the workshop, I was maintaining the needs of my family as well as my study. None of my college mates knew that I was reeling under such a hard life as I never disclosed them about my adversity."
This is how Sorokhaibam Devendro, a silversmith by profession, faced life with great courage and determination and achieved the present status of a successful entrepreneur.
Devendro Silverware Works, which is located at New Checkon, Imphal East, is giving employment to around 20 persons. The work-shed is known for its various types of traditional silver ornaments like khongji, khujipopchaobi, lairen-tangkhai, khuji matum, necklaces (likyang), jantra, pambom fabi, khuchup, khudop (finger ring), nupur andkhwangli etc. 
The ornaments designed and manufactured by this firm are mainly worn by the women and children of Manipur, especially people of Meetei community. 
Sorokhaibam Devendro, proprietor of Devendro Silverware Works said that he set up his firm in 2005 with only three workers and initial investment of about Rs. 60,000. His father Sorokhaibam Budha, who is an 'arangfam' by profession (a managerial job in ritual ceremonies of the Meetei community), could not maintain his family with his small earning. 
Although he was a student, young Devendro tried to contribute to his family income by working in a silverware firm located near his village. From that firm, he learned the expertise of designing various types of silver ornaments. 
Many people of New Checkon area are master designers of traditional silver ornaments. Hence, there are many silver ornament shops at the locality. 
Devendro passed Matriculation from a local school and did Graduation from DM College of Arts, Imphal. He became the Debate and Extension Secretary of the college in 2003. 
In his venture of silverware business, he invested Rs. 60,000 to set up a workshop of his own. At that time, silver price was about Rs. 25,000 per kg. 
So, he could start his firm with only 1 or 2 kg of silver. He also gave training to two local boys. The finished products were sold to local jewellery shops. 
At the initial stage, his products had to face some marketing problems since some popular silverware workshops were dominating the markets at that time. 
But Devendro did lose heart, he applied mind day and night to improve his business. At last he zeroed to the point of 'manual dexterity' to produce ornaments with attractive designs. 
His products are now marketed at the shops located at Wahengbam Leikai, Singjamei, Kakching, Wabgai,Yairipok and so on. Ningol Chakouba, Yaoshang (Holi), Eid, Christmas, Kang (Rathjatra) are the festivals when Devendro does good business of his silver ornaments. Few weeks before these festivals, heavy demands usually knock at the door of his workshop. 
During this time, his men have to work day and night to meet the piling up demands of the jewellery shops. He has to invest up to Rs 6 lakh to buy the raw materials of silver which presently cost Rs. 60,000 a kg. To afford the demands during the peak season, his firm procured about 10 kg of silver from Kolkata. 
Sorokhaibam Devendro's work-shed galllery
The firm is manageable with 3 to 4 kg of silver during normal time. For making a pair of khongji, he pays Rs. 75 to a worker. A worker can earn up to Rs. 400 a day if he works hard. His firm pays the workers on daily basis. Amount of wage depends on their capacity of work. The system of 'More work, more pay and less work, less pay' is adopted in his firm.
The business needs a huge financial investment. Expansion of his business with greater investment and flooding the jewellery shops of Manipur with his products is the dream of Devendro. Although, he is currently having some constraints, he is confident to achieve his aim one day or the other. 
Charcoal is an important component to run a silverware industry. The crude silver needs to be heated so that the designers can shape and design it in the way they like. 
In Manipur, the Meetei community is the main costumer of silver made ornaments. It is the tradition of the people of Meetei community to adorn their babies with silver ornaments like lupagi marik (silver chain), khongji, khuji, jantra, pambomfabi etc. 
A baby is usually adorned with silver ornaments at the time of chak-umba ceremony (ceremony that marks weaning of a baby). 
Nowadays, people from other communities like Meetei Pangals and tribal also use these items as ornaments. In fact, numbers of customers are increasing day by day.
 After paying the wages to the workers, Devendro gets Rs. 40,000 to 50,000 a month as profit. Devendro said that he would welcome everybody who adopts work culture to his firm.  He also expressed his willingness to impart training to those youths who like to earn through this profession.