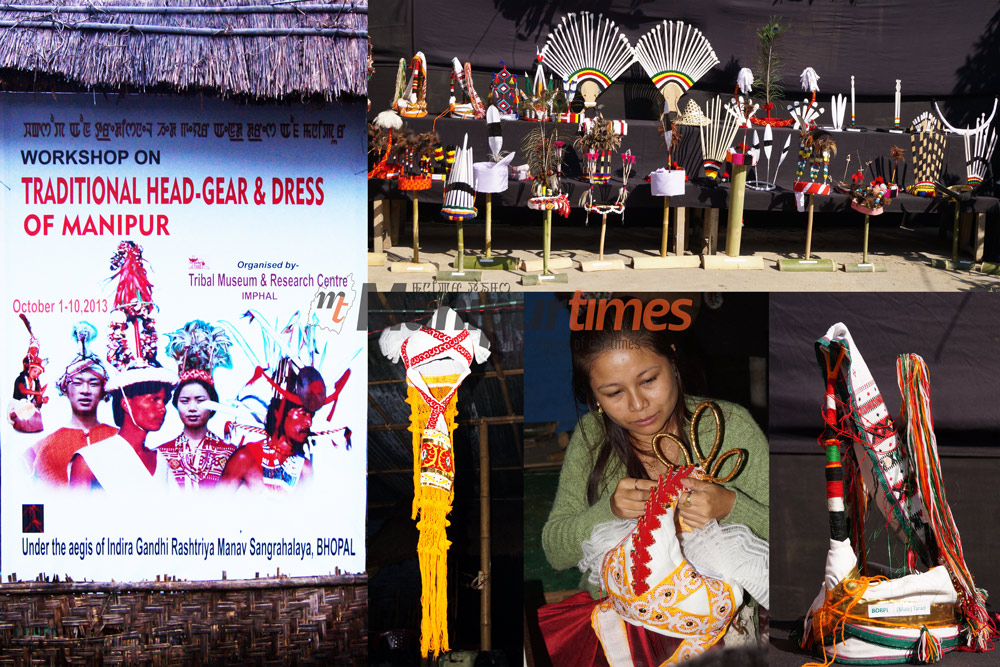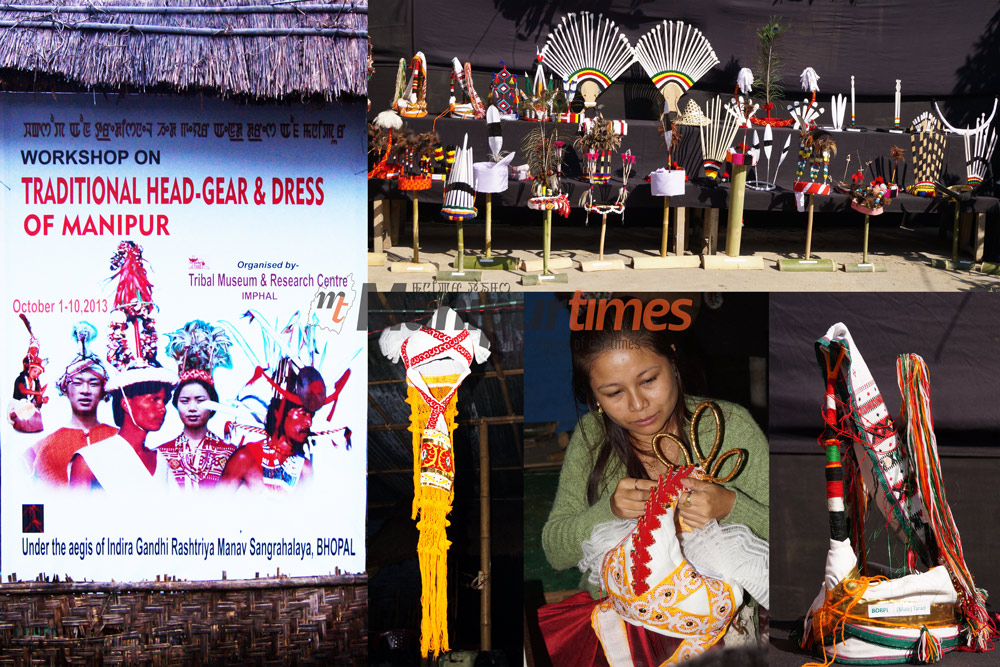 Almost all tribalcommunity have got varieties of head gear in Manipur which is a unique finding unlike the rest of the State in India. Changes and development are there in head gear making in Manipur. The Meitei community has many head gears for different occasions and rituals.
 Individuals wrapping clothes at work like in farming and hunting is also counted as head dresses. Some people wear an umbrella type hat to protect from falling leech atop a tree as they pass through the jungle for their daily work at the interior Hill districts of Manipur.
Head gear is used from ancient time to protect from heat and rain – Primary uses. On Secondary uses it represents community like in a ritual.
The designs of the head gear are developed from the environment and surrounding an ethnic tribe is exposed to. The colours and meaning of the head gear are relatively woven to the surrounding environment. 
Head gears and dresses are used for beautification purpose imitated from the birds and the animals our ancestors see. The concept of head gear differs from one to another.
We have 20 plus koyet in Meitei community. Kings, clans and individual wear, ceremonial coronation, rituals with unique designs and colours. Traditional healers use to wrap around a head gear during their oracular trance. Head is treated as a very special part of the body. Brahmans wear head gear to do away falling of hair during the catering service at a ceremonial feast.
It is like using helmet in modern time. Lady hair is rolled up as it is comfortable at the time of work. And it is safer too. Head Gears and dresses are a very significant one in human civilisation as is associated since time immemorial.
Interestingly a ten days workshop on traditional head gear and head dresses of Manipur concluded on 10th Oct. 2013 at Tribal Museum and Research Centre,Tera. Participants from 29 tribes and Meitei community took part in the workshop. The event is jointly organised by Indira Gandhi Rashtriya Manav Sangrahalaya, Bhopal and Tribal Museum and Research Centre Imphal.
"Promotion and preservation of head gear and head dresses of Manipur are the main motive of the workshop. The head gears exist but it is seldom used now. After conversion to Christianity people have used tie and other modern wear leaving few tribes practicing the native wear" expressed Lai Imo Coordinator of Tribal Museum and Research Centre, Manipur.
Tribal people have started to trace their identity, the importance of minority community in documenting the same in this globalised world have become more significant each passing day. Self-identity in song, dress, costume, food habit, ornament, has become a good source. Among them head gear hold a good source of inherited knowledge in art form and the expression of the ancestors in the designs, textures and colours used in making the items tells the stories of the old days continued Lai Imo.
Nowadays Anal have not used animal skin in making head gear but they have used bamboo and colour to replace the old one. The idea to make the gear is still there but in the later year they may not be able to make it. During the workshop the original people from every tribe is engaged and video documentation is made which enables the organisers to physically prove that the head gear are being made by the people belonging to different tribes in Manipur.
Two pieces of head gear and head dresses are made by a particular tribal participant during the workshop. One sample will be kept at Indira Gandhi Rashtriya Manav Sangrahalaya's National museum of mankind Bhopal where various type of head gear and dresses found in the nation will be displayed. Another piece will be retained at the Tribal Museum and Research Centre, Imphal as told by the organisers to Manipur Times.
"The museum will also have video display as we have documented here. Any anthropologists, research scholars can follow the description and they will search for where it is made and who made it. Eventually they will come to Manipur if they want further research by following the details which is already documented and to be provided at the National museum. This way they can come direct to the village and research work on it" continued the coordinator of the Tribal Museum and Research Centre which is a private undertaking established in the year 1987 with primary objective of studying, researching and documenting the lifestyles, cultural practices and traditions of the tribes in Manipur.
Participants from the lists of community represented during the workshop.
1)AIMOL TRIBE, 2) ANAL TRIBE, 3) CHIRU TRIBE, 4) CHOTHE TRIBE, 5) GANGTE TRIBE, 6) KABUI TRIBE, 7) KOM TRIBE, 8) THADOU KUKI, 9)LAMKANG TRIBE, 10) MAO TRIBE, 11)MARAM TRIBE, 12) MARING TRIBE, 13) MOYON TRIBE, 14) PAITE TRIBE, 15) POUMAI TRIBE, 16) SIMTE TRIBE, 17) TANGKHUL TRIBE, 18) TARAO TRIBE, 19) THANGAL TRIBE, 20) KOIRENG TRIBE, 21) VAIPHEI TRIBE, 22) ZEMEI TRIBE, 23) Meitei – YEMPAK, KOYET (around 22 numbers) and other items are also made during the workshop.
A young participant from Chandel expressed that he learnt the art of making the head gear as they participated in dance troupe and they have to make their own head gear. Another elderly participant who is also a costume designer expressed that he leant the art as he use to design for various ballet performance in Jawaharlal Nehru Dance Academy.
The organisers also expressed that since video documentation is made during the workshop the coming generation can have a view and learn the process of making the head gear and dresses even if the practice of making head gear is lost at one point of time. However Tribal Museum and Research Centre, Imphal will also display the same in their museum which needs more space built up as the number of head gear and dresses is quite a good number. The private undertaking has done a great work in documenting, preserving and promoting the head gear and head dresses of Manipur in collaboration with Indira Gandhi Rashtriya Manav Sangrahalaya, Bhopal and Tribal Museum under Union Ministry of Culture. In fact the display at the national museum of manking Bhopal will draw more attention towards the varied head gear and head dresses made by its creative people living in the region.