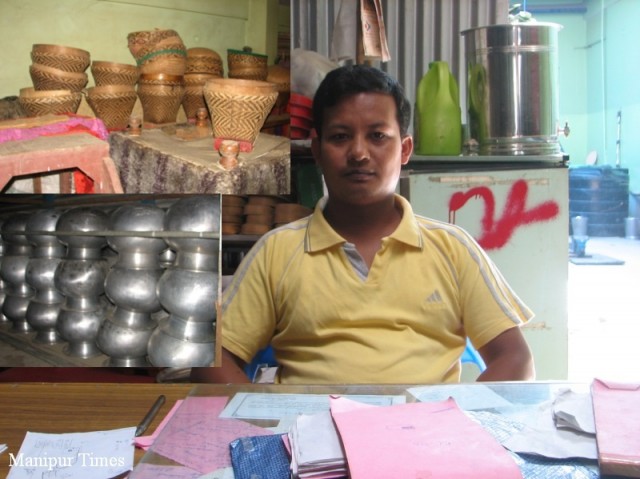 "There was a time when ACGRRU enjoyed good business growth during 1990s. It was because of the fact that number of tent houses was very less at that time. But after 1991, our firm started suffering setbacks in business growth because of mushrooming up of many tent houses and Leikai Marups/Singlups. Nowadays, number of tent houses is increasing rapidly in every locality. Sprouting of many Leikai Marups or Singlups in every locality has also affected the business growth of many big tent houses now. As almost all the Marups/Singlups have their own materials such as karnat, semiana, carpet, and other utensils like korphu, dishes, our customers are decreasing. In such a situation, ACGRRU is trying to maintain its prominence", said Angom Chand, Proprietor of ACGRRU, Wangkhei while sharing the journey of his firm to Manipur Times.
39-year-old Chand said, ACGRRU was established on 'Phairen Panchami', February 1978. ACGRRU is the acronym of the names of five siblings of Angom Nilakomol of Wangkhei Koijam Leikai – Angom Chand, Gope, Rabi, Ramesh and Umabati. 
Starting from the materials needed in stage decoration for musical concerts to marriage ceremonies, utensils for chakkouba (grand feast) and other occasions, ACGRRU is putting in all possible efforts to make available all the necessary items to satisfy the costumers through its service.
Except sound system materials, ACGRRU has semiana, karnat, carpet, mats, tables, chairs, khang, korphu, dish, fijang, glass, wash basins, firuk and so on. All these items are transported up to the residence of the costumers through its home delivery service. This newly introduced service has benefitted the costumers a lot as it saves manpower, time and energy of the costumers. Mandav service is also available at ACGRRU. 
Angom Chand Singh, Proprietor of ACGRRU and who is also the eldest son of Angom family said, "My father Angom Nilakomol who was working as an Accountant in CADA, Government of Manipur, founded the firm. We can boldly claim that ACGRRU, Wangkhei is the second oldest tent house in Manipur next to N Tombi's Tent House, Uripok." 
"Since the inception of the firm, our mother Angom ongbi Kujeshori Devi has been looking after the day to day affairs of the firm. Now we are running the business", eldest son Angom Chand Singh said. Chand is an MBA from Manipur Institute of Management Studies, Manipur University. He is looking after a section of the firm while his other two brothers are looking after another section. Chand passed matriculation from CC Higher Secondary School, Imphal in 1990 and graduated from Modern college in Science stream. 
The business growth of almost all the tent house is witnessed during festival seasons and auspicious days, he said. Starting right from November, the pick business time goes up to March, and it is the time when most of the tent houses in Manipur enjoy good business growth. It is because of the reason that most of the wedding ceremonies, music concerts, festivals take place during this time.  
Recalling why his father set up ACGRRU, he said that a traditional Meetei saving fund in the form of Marup or Singlup inspired his father to establish ACGRRU. As there was no tent house at that time, people used to face many inconveniences in hiring of karnat, semiana, mats, carpets and utensils like korphu, dishes for wedding or shardha ceremony. 
Sensible elders of that time charted out a plan to solve such problems of hiring materials from others. They formed self help groups like Marup or Singlup. Each member contributed some amount as fund of the Singlup. 
Plagiarism or copying culture happens in the field of business as well. However, this copy culture is higher in Manipur. ACGRRU which is among the pioneer tent houses in Manipur introduced fijang (a stage decoration used in wedding ceremonies). 
"My mother Kunjeshori Devi introduced it for the first time in Manipur. When our firm started to bring out it with new designs in public occasions, some other firms or individuals also started lending out fijang. The idea of using fijang in different occasions was derived from ACGRRU in Manipur, claimed Angom Chand while adding that "to be a successful entrepreneur, innovative idea is a must, copy culture must be avoided", he said.
Chand added, "The present conflict situation and bad law and order condition affect business growth a lot. We receive many monetary demands from many UG groups. They pressurize us to fulfill their monetary demand. They need to understand the turn over and the investment of any firm before making a demand. As gun culture exists in the State, almost all the entrepreneurs have to fulfill the demand out of fear. Encouragement to come out many entrepreneurs in a State like Manipur where there are many jobless is the need of the hour. Demanding huge amount of money to the flourishing entrepreneurs is like nipping in the bud."
[ecwid widgets="productbrowser search minicart" categories_per_row="3″ grid="10,3″ list="60″ table="60″ default_category_id="21294227″ category_view="grid" search_view="list" minicart_layout="MiniAttachToProductBrowser"]