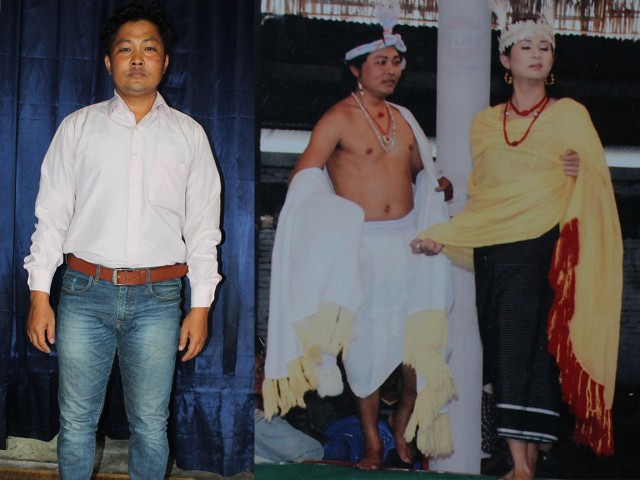 The family suffered complete downfall, all the properties – land and house had to be sold out to meet the medical expenses and payment of compensation for the injured person knocked down by his father's Shaktiman truck.  Having no place to live, they took shelter at a neighbour's house. He never retreated from such hard pressed struggles of life, but managed to survive as a manual workman sawing woods in deep forest with a handsaw in hand, sometimes pulling rickshaw in Imphal.
This is not a dramatic story, but a real tragic story which noted actor Yumnam Nilacandra personally experienced in his life. Success of this actor who rose from a humble and penury driven life background can be credited to his determined effort.
Born on February 1, 1976, Yumnam Nilachandra is the youngest son among five siblings (four sons, one daughter) of late YumnamLal Singh and Mema Devi of Thoubal Kiyam Siphai, Tangjeng. Pramo, Meghachandra, Joychandra, Udhay are his brothers and sisters. He did his primary schooling at Khong Ahanbi Junior High School and passed matriculation from Tangjeng Ningthou High School.
Artistic qualification
Nilachandra has 18 years experience in the field of Shumang Leela art form, 20 years experience in Theatre, 15 years experience in Manipuri cinema and 10 years experience in Music and martial arts.
Award and recognition
Popularly known as Henary Shaba from a role in Shumang Leela play 'Lydicy gi Gulap' , Nilachandra has won popular award 2009 conferred by Manipur State Shumang Leela council, Best actor award 2012 conferred by Manipur State Shumang Leela council, fellowship conferred by Manipur state Kala Academy for the year 2014-2016, Dr Ambedkar Kala Kshetra National award 2014 and excellent international award, 2015.
Shumang Leela he acted
Nilachandra who began his acting career from a small acting role, has acted over 38 Shumang Leela plays of Sana Leibak Nachom Artiste.  Among the plays he acted include Imphalda Amuk halakpada, Ingagi Purnima, Langol Amada, Meigi Ching, Shajibugi Leihao, Memshahepki Shari, Ningol CHakouba, Meitei Pung, World trade centre, Lydicy gi Gulap, Ugandagi Maraibak, Devadas, Nangna Luhongdringei, Tajmahal, Nungshibagi Khudol, Chingnungi Tamna, Ahingsina Loirakpada, Shamballeina Kundo, Gulapki Tingkhang, Anouba Numit, Urirei Madhabi, Luchingba, Anouba Mangal, Loyalamgi Shangbannabi, Sanagi Ching, Ee Mari, Emoinu, Kangleipakta 1709, Maeibak Ningba Koirengsana, Ee Teiraba Thambal, Selgi Taibang, Manguraba Lan, Kolom Shemkhraba Leihao and Shagol Kangjei.
Films he acted
Apart from acting in Shumang Leela, he has acted in over 10 Manipuri digital films including Ireiduda, Dakpham, Shakhangdaba, Shakhenbi Iteima, Japan Landa Imphal, Ahing Mamei and Mami. His passion for art is not limited to Shumang Leela only. He is also learning music and Thangta martial arts.
Unlike other artistes, Nilachandra is such an iconic Shumang Leela actor who never shifts from a party to another. He is still working for Sanaleibak Nachom Artistes Association, the Shumang Leela group he joined for the first time in his acting career.
He has popularized the Manipur Shumang Leela art in many parts of the country including Orissa, Bihar, Assam, New Delhi, Kolkata, Bhopal, Mumbai, Karnataka, Mysore and Kerala. He is the secretary of Sana Leibak Nachom Artiste, one of the most outstanding Shumang Leela groups in the state and joint secretary to Manipur State Shumang Leela Council.
An actor who makes own ladder to climb top of success
Climbing the ladder of success in life is easy for those people born with a silver spoon in their mouth and having sound family background. However, climbing the ladder of success is an uphill task for those with no support and sound family background. Brought up in a penury driven family, Yumnam Nilachandra is an actor who makes his own ladder to climb the pinnacle of success with no support. For Nilachandra, "Life is struggle". He never retreated from the struggle of life when severe frustrations, disappointments and difficulties of life stared him in the face. He challenged everything to achieve the desire goal he likes.
Worked as Rikshaw driver
Leaving aside all the youthful joys and shyness, he began earning for his family by doing whatever available jobs to meet both end meals of the family – as a Rickshaw driver, sometimes as a workman in remote hill areas sawing woods with a handsaw in hand. He left the job and stayed in a rented house at Singjamei to earn for family as a Rickshaw driver.
Nilachandra recalled that his family suffered complete downfall when their family's Shaktiman truck knocked down a person and series of accidents. Almost properties including land and house had to be sold out to meet the medical expenses and compensation payment for the injured person knocked down by their vehicle.  Having no place to live, they took shelter at the house of their brother.
Beginning of journey in art
His passion for acting could be realized when he joined the Tangjeng Ningthou Dramatic Union. He learnt acting skill from theatre director Nongthombam Ibotombi of Tangjeng Ningthou Dramatic Union who helped him climb the ladder of success in the art. Then he met noted Shumang Leela actors Tomba, Prafullo, Chourajit, Hemanta, Ibomcha and Biramangol Mekola and Sanakhya Ibotombi etc.
He joined Sana Leibak Nachom Artiste as an office runner prior to acting.  Initially, he did not get the opportunity for acting in Shumang Leela plays. He began acting in Shumang Leela plays as a substitute artiste when an artiste failed to turn up due to illness or other inconveniences. For the first time, he got a small role of a Kashmir militant in Memsahepki sari.
Shumang Leela is my passion. I will continue acting. Artistes should be well disciplined and regard due respect to the senior. Otherwise, they will not achieve success, he said.