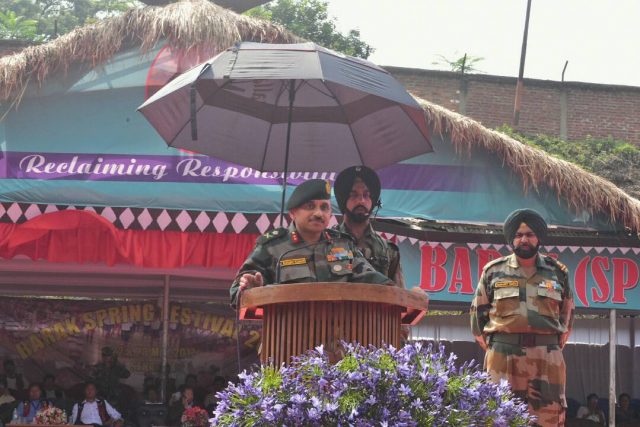 Senapati, May 23, 2017 (DIPR): The two day Barak Spring Festival with theme "Reclaiming the Responsibilities" concludes today amidst the sound of traditional instruments of the different tribes of the district.
The festival was started in the year 2013 to form a common platform and to foster the unity amongst the five different tribes of the Senapati District of Manipur, namely MAO, MARAM, POUMAI, THANGAL and ZELIANRONG.
The closing function was grace by Maj. Gen. U Suresh Kumar, YSM, GOC 57 Mtn. Div. and Mr. Athem Muivah, IAS, DC Senapati as Chief Guest and Guest of Honour respectively.
Speaking as the guest of honour of the function, A Muivah pointed out the relevance of the theme of the festival in today's society and urges to include the younger generations specially the students to involve them in preserving the environment and also congratulated NPO and the organizers for successfully organizing the festival with the limited resources in hand.
In his speech the Chief Guest said that the festival is a testimony of the rich culture and love that binds the different tribes of the state and expressed that it is a symbol of love.
He further congratulates the organizers and said, "The army belongs to you and is committed to bring a peaceful and prosperous state." (DIPR)
[ecwid widgets="productbrowser search minicart" categories_per_row="3″ grid="10,3″ list="60″ table="60″ default_category_id="21294227″ category_view="grid" search_view="list" minicart_layout="MiniAttachToProductBrowser"]