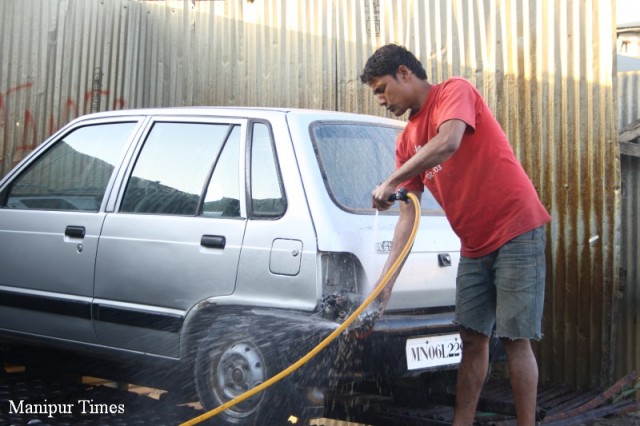 When we talk of offering services, customer satisfaction is the most important aspect. And this applies to big and small business alike.
The energetic and skilful men at car wash points in Manipur can easily satisfy their customers with their services. An owner of a car or a four wheeler is assured that his or her car will be cleaner and shiner if they wash it. And customer satisfaction is what makes their business thrive in Manipur.
There were very few people who could own four wheelers in the state. And naturally there was not much of a need to have car wash points. But nowadays, the lifestyle of the people of Manipur has changed a lot and every household has one or more cars. These vehicles need to be washed and cleaned and everyone who has a car wants to do it. But due to lack of spare time, lesser water bodies and other factors they turn towards car washes.
Manipur Times talked with Bikram, Manager of City Car Wash of Khuman Lampak. During the conversation he revealed that the business only needs quality service so that the customers go back satisfied with the service and with the trust that they will come again.
A car wash hardly takes 30 to 45 minutes to clean a car with machines. While small or medium vehicles take half an hour to 45 minutes. It charges 200 rupees for full wash and 150 rupees for half wash. A full wash means washing of the inner part of the vehicle along with its outer parts. But in case of half wash, only the outer part of the vehicle will be washed. If the owner asks them to polish the vehicle after washing it they charge an extra 100 rupees. The washing charge is 1500 rupees if it is big vehicles like truck and bus and it takes about 2 hours to wash it. For two wheelers,  the washing charge is 100 rupees.
The equipments used in this business are servicing motor and water cannon. The Servicing Motor needs electricity for functioning. If there is no electricity, a generator is used to function the Servicing Motor.
City Car Wash, Khuman Lampak Gallery
Most of the car wash points in and around Khuman Lampak used the water sources around Khuman Lampak.  As of now there are two employees in City Car Wash. This car wash point earns around 2000 rupees a day on an average. Earlier, car wash points used to earn lot of money when there was less number of such points. Nowadays the number of car wash points has increased tremendously and there are more than 15 car wash points in and around Khuman Lampak.
With the increasing number of vehicles many other business minded people are setting up new other car wash points in different locations. They are coming up with innovative ideas to become self-employed as well as a job provider which is a good sign.