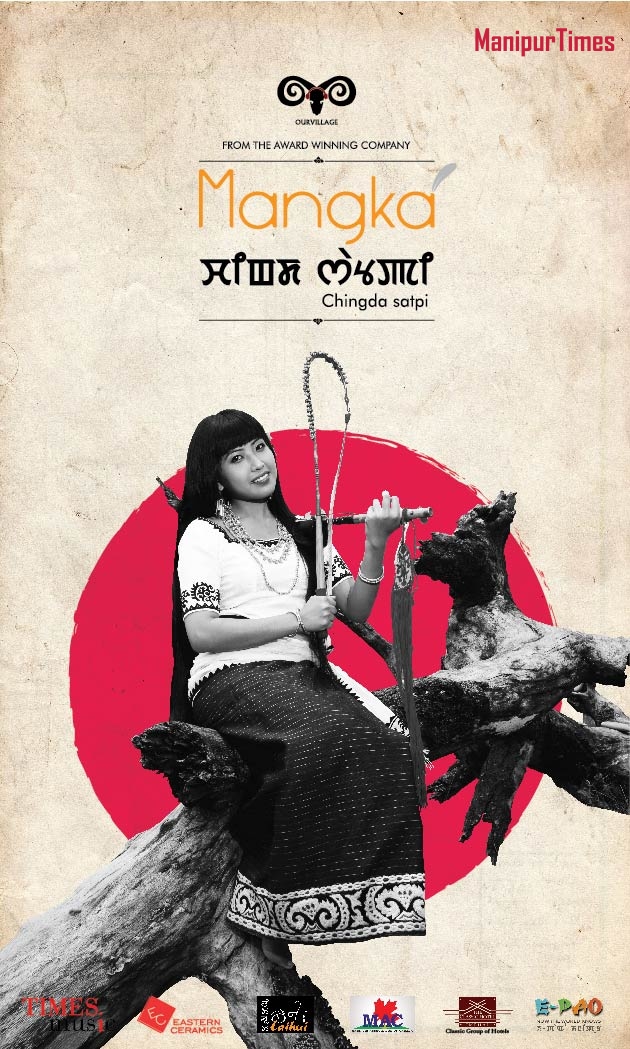 Manipuri folk /traditional artist Mangka's debut album 'chingda satpi' which is being produced by award winning filmmaker Oinam Doren will be released on 1st april 2015 in Imphal Hotel by the Classic.
The album which has taken almost a year to complete is a collection of 10 tracks which have been sourced from some of the finest unforgettable folk melodies of Manipur. Mangka's own father who is also the artistic director of Laihui, a Imphal based traditional music ensemble has given music to the album. The album comes in a CD+DVD package exquisitely designed by Design Stash, a premium design house from Nagaland.  "Folk music is generally not composed. They are a spontaneous reaction to our environment or our work culture. We have tried to resonate a feeling of nostalgia through the imageries and illustrations. I was surprised when the talented young Naga designers brought 3 books on Manipuri traditional textiles for reference," says the exalted producer Doren. He is also collaborating with Kok Designs Imphal trying to create a different ambient for the launch event. 
Chingda satpi has been produced by raising funds through pre-order and generous support from friends in India and around the world. The revenue from music sales is almost marginal now due to piracy and free sharing of music and the producer thought it best to follow such a strategy to cover the production cost. Ourvillage, the production company of Oinam Doren has also tied up with other organisations to give the launch a grand scale. Epao.net as media partner, Northeast Buzz as online partner, Classic Group of Hotels as Venue partner, Manipuri Association of Canada & Eastern ceramics as associate sponsor, Times Music (a division of Bennett, Coleman & Co Ltd) as digital partner and Laihui as music partner and executive producer.
Padmashree Heisnam Sabitri (international theatre personality), Guru Rewben Mashangva(national award winning folk musician) and Somi Roy (founder, managing director of Emasi foundation) will grace the event as Chief Guest, Guest of Honor and President respectively. Mangka and incredible kids from Laihui will entertain the crowd during the event.