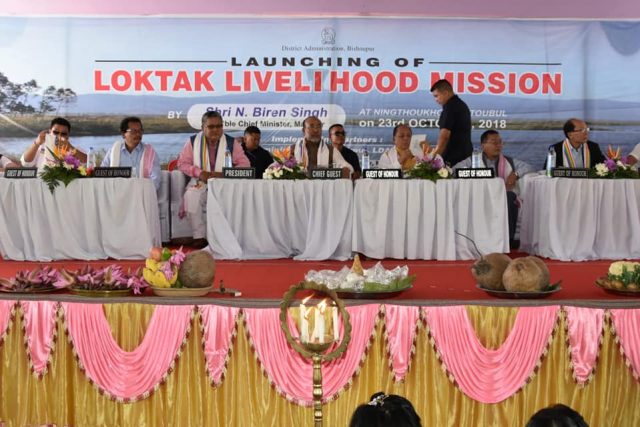 AROUND 1000 HECTARES AREA IDENTIFIED FOR PISCICULTURE: CM
Imphal, October 23, 2018 (DIPR): To protect the largest Freshwater Lake of the NorthEast India and to provide employment opportunities to fish farmers and youths of the State, Chief Minister Shri N. Biren Singh today launched the Loktak Livelihood Mission. The launching function was held at Ningthoukhong, Bishnupur District today.
Speaking as Chief Guest of the function, Chief Minister said that our State is spending of about Rs 400 crores annually for the procurement of fish from outside the State, Chief Minister assured that State would have self sufficient fish production by 2020. Farmers would be encouraged to take up pisciculture, he added. Altogether around 1000 hectares of land have been identified in areas like Mayang Imphal, Bishnupur, Wangoi and Thanga for fish farming, he added. With such cage culture farming, fishes would be matured and can be produced in three months, he added.
Chief Minister spoke elaborately on the harmful effects of fertilizers and other chemicals on human health. He mentioned that prolonged usage of such chemicals and fertilizers are the main cause of various deadly diseases among the people of the State. Mentioning the advantages of organic fertilizers and vermicompost during farming, Chief Minister said that it will benefit in two ways i.e. cost effective and healthy living. He said that Self Help groups would be formed in villages to prepare vermicompost and other organic fertilizers.
Chief Minister said that people of the State want a government that is result oriented and the present government is committed to fulfil the aspirations of the people and wouldn't give any false promises. The government is committed to work at grassroots and uplift the lives of the poor people. The government has introduced various welfare programmes such as CHMT, CMST, and Start-up Policy etc. Encouraging the farmers and unemployed people of the State to apply Manipur Start-up Policy, Chief Minister said that subsidized loans have been given to hundreds of unemployed youths, entrepreneurs recently. He mentioned that he had sacrificed the rest of his life for the welfare of the people of the State.
While delivering his Presidential address, Minister for CAF&PD Shri Karam Shyam said that it is the bounden duty of the people of the State to protect and preserve Loktak Lake. Stressing on the Loktak Livelihood Mission, Minister said that the farmers and unemployed youths should seize the opportunity. Mentioning various initiatives of the government, Minister said that the Cabinet decision to institute Lok Ayukta in the State is a clear stand of the present government to bring transparency in governance and root out corruption.
Minister for Agriculture Shri V. Hangkhanlian, Minister for PHED Shri Losii Dikho, Chairman Manipur Pollution Control Board Shri L. Radhakishore, Chairman PDA Shri T. Robindro, Deputy Speaker Shri K. Robindro, Chip Whip, Government of Manipur Shri P. Sharatchandra, MLA Sekmai AC Shri H. Dingo, MLA Yaiskul AC Shri Th. Satyabrata, Former Union Minister Shri Th. Chaoba, Addl. Chief Secretary Dr. Suhel Akhtar, DC and SP Bishnupur and others attended the function.