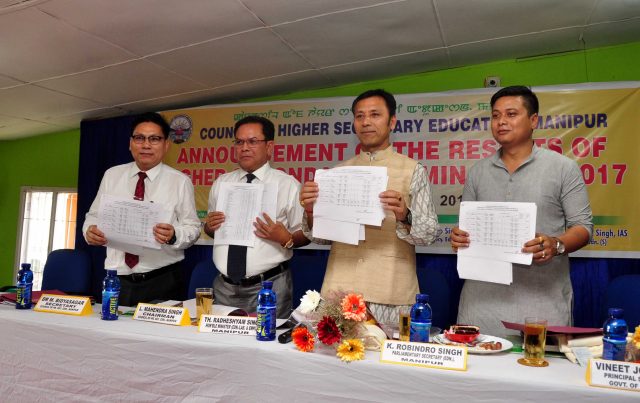 Imphal, 23rd May 2017 (DIPR): Education Minister, Th. Radheshyam declared the examination result of Higher Secondary Examination, 2017 conducted by the Council of Higher Secondary Education, Manipur (COHSEM), today. This year's overall passed percentage is 68.81 higher than the examination passed percentage of 2015 and 2016 which recorded 61.09 % and 65.22 % respectively.
Altogether 17987 students passed in arts, science and commerce stream from the total number of 26139 students appeared. In the arts stream 6322 students appeared the examination out of which 4416 passed the exam. For the science stream 19252 appeared the examination of which 13198 students got through the examination while in the commerce stream out of 565 students appeared 373 students passed the examination.
District wise Imphal West records 9480 students, the highest appearing for the examination with 6810 passing the exam. While the district with the lowest number of only 172 students appearing for the examination is the Tengnoupal District with 165 students passing the examination. The lowest passing percentage is 29.97% of the Kangpokpi district in which only 297 passed, out of 991 students appeared for the examination in the state. This year the Government institution records 57.16% while the Non – Government recorded 73.5 % passing percentage.
Declaring the result Th. Radheshyam thanked and congratulated the Council of Higher Secondary Education, Manipur (COHSEM) officials, teachers and those whoever involved, for their relentless effort, timely conduct and declaration of the Higher Secondary Examination, 2017 result.
In the announcement of the result of the Higher Secondary Examination, 2017 held at the office of COHSEM, Parliamentary Secretary, Education K. Robindro Singh, Chairman, COHSEM, L. Mahendra Singh, Secretary, COHSEM, Dr. M. Bidyasagar and principals of the different higher secondary schools were also present. (DIPR)
[ecwid widgets="productbrowser search minicart" categories_per_row="3″ grid="10,3″ list="60″ table="60″ default_category_id="21294227″ category_view="grid" search_view="list" minicart_layout="MiniAttachToProductBrowser"]