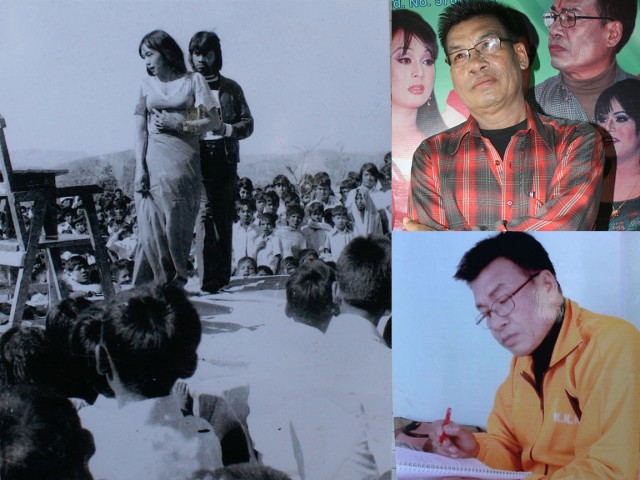 Thiyam Chinglen is a veteran and multifaceted artiste filled with artistic talents a person could possibly imagine. He is still popularly known as "Commando Chinglen", a villain role from one of his Shumang Leela plays"Thawaina Punsigidamak" wherein he appeared as an aggressive police commando. Shumang Leela viewers, the woman and children in particular still hate Chinglen for his villain role of "police commando" which rather signifies the artistic success for him.
Beginning of career in Shumang Leela Art
 Born in a poor family of late Thiyam Babu and Thiyam Ongbi Merajaobi of Konthoujam Makha Leikai on March 1, 1954 as second son among three siblings, Thiyam Chinglen discovered his love for acting in the year 1962, for the first time in his life he got the opportunity to be part of a play during a sports meet in his locality where he was given a role of an old man. Since then coupled with his college studies, he joined Young Popular Artiste Union of oja BYC Sharma Hodam Leirak in 1972. He made his debut in a stage play titled "Imaton" and begins his career. His popularity gain overnight and it is far from over and one of the popular characters of him till date known to everyone is as "Commando Chinglen".
He started learning the art form at his Mamang Shangoi (house) under the guidance of one Oja Laishram Shyam of Uripok Huidrom Leikai.
Chinglen learnt acting under the feet of various prominent Gurus like M Binod (Jagat Singh Shaba), L Ibotombi Sharma (Birsingh Shaba), S Jugeshor Sharma (Cheitei Shaba), K Achou (Jamnisana Shaba) and L Kunjaraj (Gouro Shaba). Further, he also learnt acting skill from Mayudhaja (Ningthemjao), Maibam Ramcharan, Birjit Ngangomba etc
Hardship life journey
Talking about his hardship life journey of yesteryears to Manipur Times, the 61-years old veteran Actor said, "My life story is just like a story of a film or play. In my family, I have three brothers born to different mothers but same father. Mother of youngest brother is from Hojai Assam. Now all our mothers have passed away. Eldest brother late Thiyam Biramangol was a prominent Meetei Pungyeiba (drummer). Once my pregnant mother got divorced with father out of a family squabble and returned to her maternal home at Konthoujam Makha Leikai in 1953 where I was born and brought up there. My late mother used to narrate me about her hardship life with tears shedding in her eyes.
"If you ask me who among the Mother and Father I love the most, I would reply "Mother" as I had never seen and experienced the love of my father. When I was just four years old, a local elder once requested my mother to take me to my father's place who was in dead bed by then, but mother declined the request. I have never cried for my father's death as I was brought up by my poor mother and maternal grandmother who helped me in my studies with the meager income from selling fish. I am still indebted to these two generous ladies who did whatever they could to bring me up, he said.
When Chinglen was 15 years, he started helping his mother by engaging himself  in laborious tasks such as digging earth in the Tulihal Airport as a manual labourer. However, his mother who wanted her son to be well educated someday prevented him from working and advised him to focus on his studies instead. He passed matric from O Gokulchand High school.
Achievement
In his acting career in Shumang Leela right from 1984 to 2000, he has won four times as supporting actor, acted in around nine Manipuri celluloid and 40 digital films till date. He has won senior fellowship 2015  in Shumang Leela conferred by Manipur state Kala Academy; best lyricists award 2015 in the Manipur state Shumang Leela festival organized by  Manipur state Kala Academy . He has staged Shumang Leela plays in various parts of the country including Allahabad, Bihar, Bangalore, Mysore, Hyderabad, Bangaladesh, Cashar, Hojai.
A good lyricist and director too
Acting is not the only limits of his artistic talents. He is also an approved AIR lyricist and a director and pushing his career further with it.  He has written over hundreds of songs for Sumang Leela.  As a director, he has directed around 20 Shumang Leela plays of three different Shumang Leela parties namely Naharol Khongthang Artiste Association (7 plays), Sangai Artistes Association (eight plays) and Iramdam Manipur Artistes Association (5 plays).
Memorable Experience
Recalling a shocking incident that took place while he was ready for a play, Chinglen said that he was dressed up as a police commando, his popular character, with fake weapons waiting for his turn to be on the main stage. Standing just besides him was a mother carrying her child on her back waiting for the play. On seeing him the child started to cry out loud subsequently the mother poured out her anger using impolite words on him for his aggressive looks that scared the child.
Apart from his popular aggressive role of a police commando in Shumang Leela plays, Chinglen could win high public accolades for his comedian role of a fanatic Brahmin in "Keisamthong Thoibi" (a play which was later converted into film).   Unlike his aggressive roles, in real life, he is very much like his comedian character. He loves playing with kids, pets especially dogs. He loves dogs so much that he gave two of his dogs his surname one "Moti Thiyam" and the other "Balu Thiyam".
Message
Chinglen said that talking too much is bad. Achieving success in life demands great determination and hard effort.  He said that he does not want to disturb any one, and believes in mutual understanding and respects to very individual or communities. Spirit of sacrifice, forgiveness, mercy and understanding value of time are essential traits of human being. As we cannot buy the past moments by paying crores of rupees, we should know the value of time. Chinglen said that he has no problems working with any one and comfortable with all the directors, actor, actress etc. in the Manipur film industry