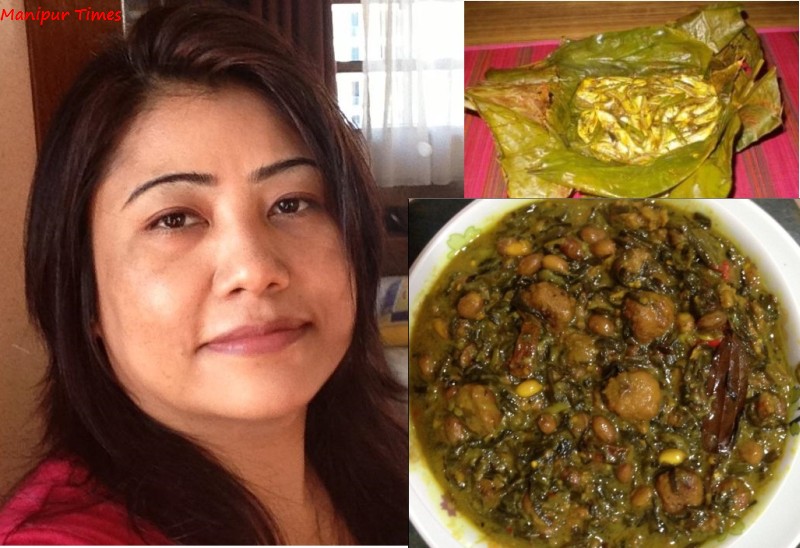 In Collaboration with FindingTheVoices.com
Every Manipuri is well aware of Nganam, an authentic food of Manipur and every housewife knows how to make it. But its taste may vary in spite of using the same recipes. A good cook will ensure that the fish's excellent taste is retained. This dish is not only relished in Manipur but in other states of the country as well. Bobby Soram, born and brought up at the heart of Imphal, Uripok, is a woman who cooks Nganam like no other.
Bobby is a mother of two kids and wife of Romi Sharma who is working in a Malaysian based telecom Software Company. She lived with her family at Ghaziabad, Delhi NCR for years and has moved to Malaysia. She studied at Little Flower School, Imphal and post graduated from Rajasthan University. Her skill in cooking comes from her mother, she says. Her mother is from Meghalaya and she would cook good and tasty authentic cuisines of the state. And it's from her mother that she learned to cook Meghalaya food. Food authentic to Meghalaya is mainly non-vegetarian and grounded rice is also cooked with chicken and some herbs, sometime with Sougri. In due course of time her mother too learned the recipes of our various cuisines. She tells that her mother is her master.
While in Delhi, Bobby's Nganum was known to many Manipuris. She follows the traditional way of baking Nganum but she steams her fish to cook it faster and tastier. She steams the ingredients including the small fish before baking.
Photo Credit: Bobby Soram
Bobby shares this recipe of making nganum. This authentic food can be baked in 40 to 45 minutes. The ingredients we usually need for Nganum are small fish- mukkak nga or nga- sang or any small fish- 250 gms, Turmeric leaves- 4/5, Banana leaves, Maroi napaakpi (a small bunch) or onion/spring onion- cut into small pieces, 4-5 green chillies sliced into halves, Turmeric powder- one teaspoon, Mustard oil (so that the fish does not to stick together and is optional), salt to taste.
In the procedure the fishes are washed gently and thoroughly at first and the excess water is drained. Neatly cleaned banana and turmeric leaves are spread on a plate, laying turmeric leaves on top of the banana leaves. In the meantime, some water is boiled in a rice cooker putting the steamer on top. The fishes are mixed gently with the other ingredients – cut chillies, maroi napakpi or onions, turmeric powder and salt to taste. We can pour a teaspoon of mustard oil so that the fishes do not stick to each other.
After mixing all the required ingredients the mixture is spread on the well set up leaves. Then it is wrapped properly and put on a steel or aluminum quarter plate. Place the plate with the wrapped fishes on the steamer and close the lid. The mixture is steamed for about 15 minutes. The uniqueness of Nganum is the flavor of turmeric leaf. Remove the wrapped fish from the steamer and place it on a tawa orfrying pan on the gas stove. Place a heavy utensil or object like toksu on top of it then heat it on low flame for about 15 minutes to each side, turning sides carefully. This is to remove excess water from the leaves. Now open the wrapped fish and check. The aromatic Nganum is ready to serve.
This popular authentic food is also called as Nga-toppa in some part of Manipur and instead of maroi-napaakpi some use maroi-nakuppi. There is no strict rule to follow in using the ingredients that we can try this recipe with fresh Mackerel, Tuna, Hilsa, Elisha fish or Pomphret too. For big fishes we can either cut into pieces or make it without cutting.
Bobby is so fortunate that she has a Manipuri family neighbor next to her place and the ingredients like maroi, turmeric leaves and banana leaves grow there. She has shared another recipe here of Maroi Bori Thongba.
Recipe of maroi ( Chinese chives)- bori thongba– ( Serves 2)
1. Bori- one handful
2.Maroi Nakuppi– 3 big bunches(500gm) chopped  in equal fine length about 1/2 inch
3.ginger- one big piece grounded
4.green chillies- 15 or more if you want it hot ( cut lengthwise)
5. Heiribob– 2-3 long pieces (Dried ones preferred)
6. Turmeric powder- 1 teaspoon
7. Tejpatta (bay leaves) – 2
8.Maru- marang (cumin n coriander powder) – 1 and 1/2teaspoon
9.Besan (gram flour) – 1 teaspoon
10.Salt to taste
11.Oil- 4-5 tablespoon
12.Fenugreek seeds- 1 teaspoon
13.Peanuts (badaam) 4-5 tablespoon.

Heat some oil in a Small pan. Fry the bori until its light brown and keep aside
Next fry the peanuts till its brown and keep it aside
Heat oil in a wok.
Add tejpatta fry till it is blackened
Add  fenugreek seeds to the hot oil.
Put the chopped chives or maroi nakuppi  in the wok and stir.
Now add the grounded ginger stir and add the turmeric powder, cumin and coriander powder
Keep frying in low flame stirring continuously until the water from the nakuppi evaporates. Make sure it doesn't get get burned
Now  add the green chillies  and salt.
Pour 4-5 cups of water into it and bring it to a boil.
Please note, maroi nakuppi takes a longer time to get cooked.
To make it easier I cook in a pressure cooker and let it steam and wait for 4-5 whistles and I immediately open.
Now add the bori and peanuts and simmer for another 15 minutes until it blends .
Now add the besan mixed with a little water.
Keep stirring and simmer for few more minutes.
When it's done, serve with hot rice.
Please note that maroi has to be fried and cooked properly. It looks easy but if not cooked well you will not get the exact taste of maroi bori thongba.
The recipe may slightly differ from person to person according to their taste and preferences. One can choose these as the main ingredients Maroi and bori, Maroi and peanuts, Maroi, potatoes and thangjing or Maroi and thangjing only.

Managing Manipuri authentic dishes in Malaysia, Bobby Soram writes from Kuala Lumpur
Malaysia is like a second home to me because of the many similarities in our food habit. Its food are quite different from other south East Asian food like Chinese, Korean or Japanese. They eat more like the Meteis like soups( khangsoi) and fried foods .  Of course, the tastes and the way of cooking is completely different.
What I like here the most, is the availability of fresh vegetables like the ones we get back home. Maori nakuppi napaakpi, tengnongmanbi, fresh yongchaak, hawaimaton, soidon, usoi, hawai mana, peroop, comprek, yainganglaa, chenkroop, dashkush,  yaingang manaa, etc are available in the market.
Malaysian meal is not complete without sambaal which is similar to morok metpa (Hot chilly chutney with dried fermented fish). They like fried dry baby fishes which looks similar to mukaaknga ayaiba. And like Meiteis they are very fond of peanut fry. It's a part of their most popular platter- Nasi  lemask ( rice, fried peanuts, fried dry baby fishes, sambaal, fried chicken pieces). This is one of my favourite too.
When I came here I packed most of the authentic dry and wet ingredients from home which can be preserved for long. Bori, hawaijaar akangba, kanglayen, heiribob, Saogri  akangba soibum, ngari, nga ayaiba etc. I don't think I can ever live without these stocks. And this is true for most of the Meiteis living outside Manipur.
I love cooking Meitei authentic foods whenever I can and I need my morok metpa everyday in my meal at home.
Due to the availability of fresh leaves and veggies, dishes like chagempomba,  maroi thongba can be cooked at ease here in Malaysia.I would say I am quite fortunate to be in Malaysia because of the similarity in our looks and food habit. Now, I don't have to worry about the aromas of my authentic dishes like I used to when I was in Delhi India.
Original Podcast is available at Finding the Voices by Monica Ingudam Episode 8 
[ecwid widgets="productbrowser search minicart" categories_per_row="3″ grid="10,3″ list="60″ table="60″ default_category_id="21294227″ category_view="grid" search_view="list" minicart_layout="MiniAttachToProductBrowser"]