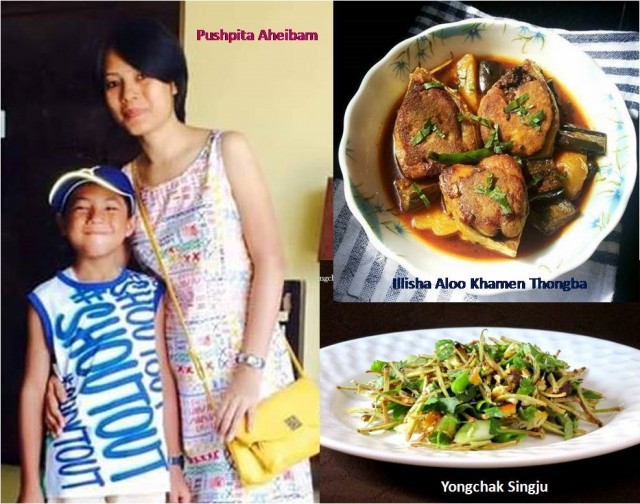 Pushpita Aheibam, a freelance feature writer by profession, a food blogger by passion, a food enthusiast and a full-time mother to a nine year old boy hails from the state of Tripura. The eldest among her sibling, she was born to a now retired electrical engineer father who has worked with the state Power Department, Tripura and a home-maker mother. She belongs to a service background family.
A Post-Graduate in Economics, she is currently pursuing her Master's in Population Studies from IIPS, Mumbai. She has started her career as a Research Associate with Indica Research Pvt. Ltd., Mumbai and worked as a Sales Research Analyst with Brightest Circle Jewellery Pvt. Ltd (Gitanjali Group), Mumbai before taking a break as a full-time home-maker.
She has started her freelance writing career few years ago. This has helped her start her food blog "eigichakhum.wordpress.com" to carry forth her passion of cooking. A traditional food lover, she has been writing and sharing about various traditional cuisines on her blog regularly. Currently residing in Vadodara, Gujarat, she is contributing for FOODIE, The Indian Express as a Featured Writer. She also regularly shares her food recipes at Facebook Chakhum group.
Learning about and experimenting with new recipes has always been a vital part of her culinary journey, an added advantage being her multicultural background. (She has started cooking as a 2nd Grader it seems! Making tea for guests visiting her place, as told to her by her Aunt).
She is making an attempt in reviving and sharing some inherited authentic recipes (her very own community cuisines, Manipuri cuisine), along with fusion and regional culinary delights with locally available ingredients.
She strongly believes that food is about satiating the taste buds and the tummy, wonderful eating experiences and sweet memories.
Inspired by her Ima (mother in Manipuri language), a food connoisseur herself and motivated by two of her driving forces- her foodie son & husband, she intends to extend her culinary journey beyond the regular cooking.