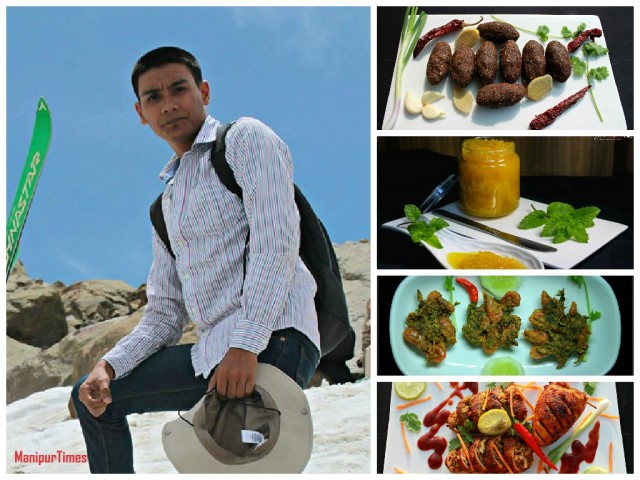 Nirjen Sharma, by profession is a full time Software engineer, and by passion, a cook, platter designer & a food photographer.
Currently, he is working as a Senior Member Technical Staff in NEC Technologies India, Noida. He was born and brought up at his ancestral home in Brahmapur Nahabam, Imphal till he moved out to pursue for Bachelor's n Master's Degrees in Mangalore in the year 2001.
Since he started staying alone far from home, cooking became an indispensable part of his life.  Only then, he started discovering the beauty and joy of cooking. He learnt cooking not just for the sake of cooking but to explore the art of enjoying the fine taste in cooking and it became his hobby. Few of his recipes are original and some are researched from YouTube and other sites. He feels joy being in his kitchen on weekends and love experimenting new dishes on Seafood and meat items. Many a times he have tried to cook seafood cuisines in Manipuri style of preparation and some of the dishes have come out to be splendid. His recipes are more inclined towards the traditional Manipuri cooking pattern.
He does enjoy food styling and food photography as well. Whenever he wants to take a photograph of the food he usually plans all the necessary ingredients well ahead and keeps everything ready. Once the foodis done, depending on the food items I prepare, selection of  the appropriate bowl/serving dishes is done. Yes, it does take time and effort to carefully arrange the food and sometimes we do ended up having cold food while trying to click the photos. But I believe that presentation attracts the people to get a flavor of the dish.
He regularly contributes for Manipur Photography Club and Chakhum Facebook groups and is also dedicated admin for both the groups.
Food recipes of the following food items and more will be indexed at Manipurtimes soon.