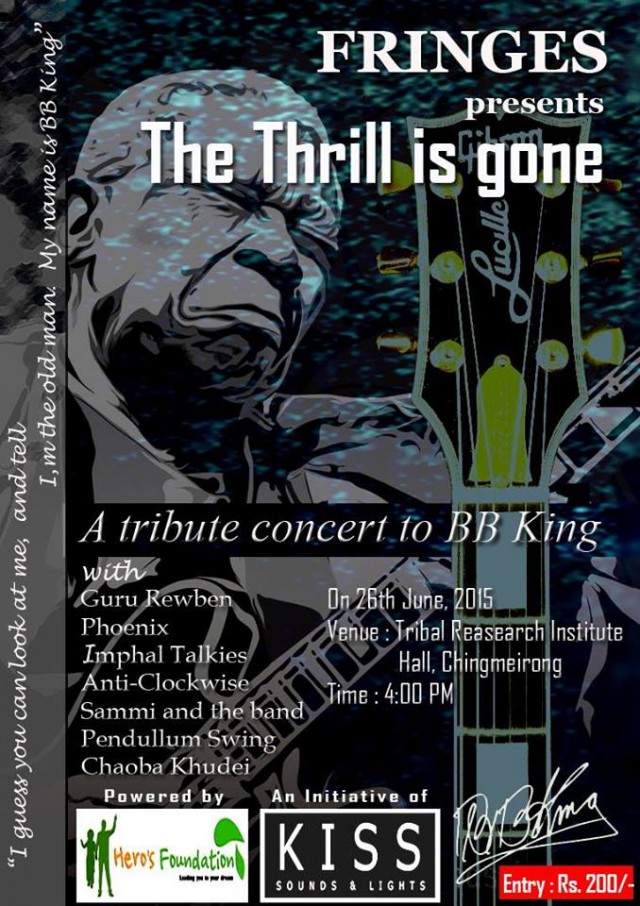 Fringes, the blues rock band of Manipur, with various artists of Manipur cutting across musical genres culminates to organize the musical tribute to B.B. King "The Thrill is Gone". The event named after his most famous song, will be held on 26th June, 2015 at Tribal Research Institute Auditorium, Chingmeirong to commemorate the musical genius. The artists which will be performing at the show are Guru Rewben Mashangva, Sammi and the Band, The Fringes, Anticlockwise, Imphal Talkies, Alfred and Friends, Pendulum Swing, Chaoba Khudei. Veteran rock band Pheonix/ Phynyx will also be performing at the event. The organizer appeals to all music lovers to attend the musical extravaganza and also to tender solidarity to the musical legend, B.B. King.
Riley B. King (September 16, 1925 – May 14, 2015), known by his stage name B.B. King, was an American blues singer, songwriter, and guitarist. B.B. King's early life personified the blues. He was born to dirt-poor sharecroppers in the cotton country of the Mississippi Delta and left alone by the deaths of his mother and grandmother when he was a child. But he never let those circumstances hold him back or define him.
King was inducted into the Rock and Roll Hall of Fame in 1987 and is considered one of the most influential blues musicians of all time, earning the nickname "The King of the Blues". King's influence is "a sophisticated style of soloing based on fluid string bending and shimmering vibrato that would influence virtually every electric blues guitarist that followed." King died at the age of 89 in Las Vegas, Nevada on May 14, 2015.
– An initiative by Fringes