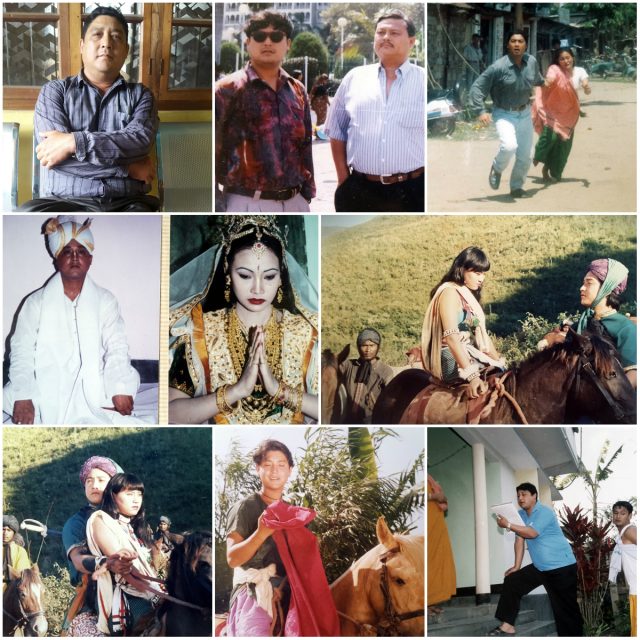 Diya Khwairakpam is a multifaceted actor who needs no introduction. He was a favorite and handsome hero for many fans, who could win high public accolades during the days of Manipuri celluloid films. Youngest son among nine siblings (four sons, five daughters) born to Khwairakpam Momon and Khwairakpam Ongbi Bormani of Yumnam Leikai Imphal west, Diya was motivated into the world of theatre since his childhood as  he was brought up in the family of a great theatre environment. His father was a senior drama artiste and director of Rupmahal theatre. His great Grandfather Nabakishore was also a theatre activist who introduced drama in Manipur for the first time.
His theatre career
The 49-years old actor Diya began his acting journey after he joined Panthoibi Natya Mandir at Yumnam Leikai as child artiste when he studied at class III standard. As child artiste of the theatre group, he joined many dramas staged in many States like Karnataka, Mumbai, Delhi, Patna, Allahabad and North East States. He acted in around 10 plays including Chekhairabi Malem, Lai Khutshangbi, Ningolgi Tengthakhol Roshni, Purakle Paojel and Murti, Dharmagi Kshetra etc under Panthoibi Natya Mandir. His theatre group could win many awards in State and National level competitions.
He is still working as lifetime member of Panthoibi Natya Mandir.
He started his primary education from Yumjao Lairembi LP School. He studied at CC Higher Secondary School and Johnstone Higher Secondary School from which he passed matriculation and class XII, respectively. Then he studied graduate at DM College, Imphal. But he shifted to Thoubal College and passed his graduation degree.
His entry in celluloid film
He learnt theatre under the feet of Shyamdhoni whom Diya still regards his first Guru in his theatre career. Later on, he also learnt theatre from Khaidem Bihari, Yumnam Rajendra (Sangeet Natak Akademy Awardee), Oja Manaobi MDU director etc who introduced Diya in the arena of film. With the help these Gurus, Diya could reach Eigya Naran. They suggested Diya to join films and he was brought to the house of Eiyga Naran who selected Diya to act a lead role in Manipuri feature film  "Kombirei".
His debut film 
Diya made his debut in Manipuri celluloid film "Lamphelpatki Kombirei" as lead role with Nirmala as heroine. He had acted leading role in about 18 Manipuri celluloid films.  Among the actors, Diya is the only Manipuri actor who had acted maximum lead roles in as many as 18 Manipuri celluloid films. His last Manipuri celluloid film is "Laibak".
The films he acted are Kombirei, Ingalei, Thambal, Sanamanibi Snarei, Meiri, Hayengna Kanagino, Meiri Ama, Opertaion Sangai, Amambasu Anganbani, Madhabee, Kanaga Hinghougani, Shiroi Lily, Eidi Thadoklabini, Meichak Meichak, Eigi Punsi, Amuba Chandan, Helloi, Leiyi Ama, Laibak among others.
He also acted in some Manipuri digital films like Mathang Mapokta, Tumba Chaba Khangdana, Hu Chage, Warukak.
He said that Devala, Seema, Nirmala were his best actresses with whom he found comfortable while co-acting in films.
Diya won two times best actor award in the Manipuri film Eigi Punsi. Almost films of Diya were screened in the cinema halls of Manipuri for many days due to pubic demand. Satisfied with Diya's films which lasted many days in cinema halls, Proprietor of Sankar Talkies once awarded him cash award of Rs 5,000 and a citation.
"During celluloid days, some films were screened for many days and months, say 100 days due to public demand. Nowadays, the fate of Manipuri films is uncertain. A newly released Manipuri digital film cannot last more than two three weeks. It very unfortunate", Diya lamented.
His works as director-producer
He has directed more than 30 Manipuri digital films. He directed the Manipuri digital film Phairenthagi Angaoba Leichil for the first time. He also joined many tele-films.
Diya has produced some Manipuri digital films under the Diya Film Production banner. He has now many film assignments, but is unable to actively take part in film activities due to his other personal works. He wishes to produce one or two quality films one in a year under his films banner.
His memorable experiences with fans
The fans of Diya are many. Once Diya and his team was blocked by the locals of Khundrakpam on the road when the film team came back home after film shooting there. The people demanded that Diya shoud get down from the vehicle and show his face to them. When Diya got down from his vehicle and showed his face, the team was finally allowed to go.
Once, a college girl friend who happened to be a daughter of Manipur Chief Minister asked Diya to make a treat at the college canteen. Diya, who had only Rs 5 in his pocket, was apprehensive of the possible embarrassment he was about to face as he had no enough money to pay the hotel bill. He secretly requested the hotel owner that he had no money enough to pay the bill and to allow him to clear the bill the next day.
Sometimes, some of his college friends in DM College locked up the cycle of Diya after his college time was over. Besides this, some of his fans also snatched his pass port photo which he was carrying from home to use in form fill up for the BA examination.
Became an AIR approved artiste 20 years back, but never receive any assignment
He said that he became an approved artiste of All India Radio Imphal before 20 years back, but he has not been given any assignment for any Radio plays as of now. Diya lamented while appealing to the AIR Imphal authority not to indulge in malpractices while giving assignments to artistes.
"Manipur is popular for its rich heritage of art and culture. If there exists malpractices, favoritism and nepotism, Manipuri art and culture cannot be promoted", he observed.
He married with Thokchom Ningol Anjali Devi from Thangmeiband. Diya met her during a film shooting at Thangmeiband. Later on, they fell in love and got married. He has been a father of two daughters and one son.
His message
In Manipur, there was a great movement of movie goers in cinema halls. With the movement of cine goers lessening and coming up of more private satellite cable channels, Manipuri film industry has been greatly affected and many cinema halls have vanished and converted to school or colleges. During celluloid days, a Manipuri film was screened for more than 100 days and people watched films in cinema halls till last shows. Nowadays, it doesn't happen to digital films of today. Not to talk of 100 days, it is hard for a digital film to go screening for even one or two weeks. If such trend goes on, digital films will perish too from the soil of the state, except some short and documentary films. If there is one thing that keeps Manipuri digital films alive more than anything else, then it is the sheer love of the art by its patrons and filmmakers.
The paucity of screening halls is caused by the decline in the exhibition business during the celluloid days when there were few films to show because of low rate of production. The balance sheets of the exhibitors were understandably in the red. Many theatres had to shut down and turn into schools, shopping plaza and offices. Government needs to initiate some measures to revive Manipuri films, he said.