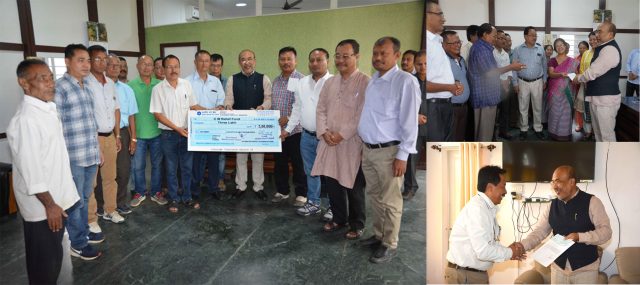 Imphal, July 18, 2017 (DIPR): Donations to Chief Minister's Relief Fund (CMRF) for the flood victims are still coming in.
Local cable television network ISTV, Central Agricultural University (CAU) and S. Kula Women's College donated Rs. 3 lakh, Rs. 2 lakh and Rs. 50,000 respectively today.
These amounts were handed over to Chief Minister Shri N. Biren Singh at a simple ceremony held at Chief Minister's Secretariat.
Shri N. Biren expressed his profound gratitude to the donors for showing concern for the woes endured by the flood affected people.
He also expressed hope that more organisations and people would put up their hands to help rehabilitate the flood victims. (DIPR)
[ecwid widgets="productbrowser search minicart" categories_per_row="3″ grid="10,3″ list="60″ table="60″ default_category_id="21294227″ category_view="table" search_view="list" minicart_layout="MiniAttachToProductBrowser"]