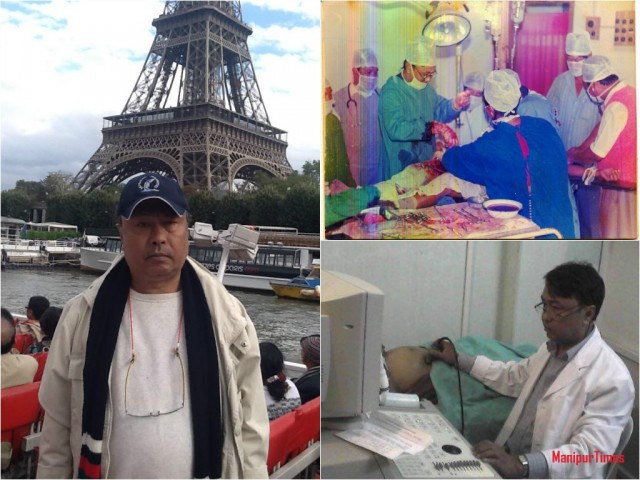 CONNECTION WITH KAKCHING
Dr Nabakanta experienced lots of 'first times' and 'first batches' in his life. He is one of the doctors who got MD from RIMS in the first batch in 1991. After he got MD, his first posting was at Kakching CHC and he stayed there for around seven years – that is up to 1997. At Kakching, Dr Nabakanta was known for handling many tasks at a time.
He remembered, "I was not only the MO, but also a Family Planning specialist/officer and a Gynecologist." I was doing causality duty, Looking after Family Planning Unit and Doing a specialist job as an Obstetrician.
Dr Nabakanta had helped hundreds of women deliver babies during his seven-year-long stint in Kakching. One may find hard to believe, but it is a truth – around 25 years ago, Dr Nabakanta performed the first Caesarean Section at CHC Kakching single handedly without any proper equipment and assistants. At that time, there was no enough government supply of medicines and Dr Nabakanta prescribed medicines and materials for around Rs 250 to perform a Caesarean Section.
Within a few months of his posting, Dr Nabakanta became a household name in the field of child delivery in Kakching. Many expecting mothers and couple thronged CHC Kakching to consult Dr Nabakanta from 1991 to 1997.
He said, "At that time there was no regular power and water supplies. So I had a Chinese rechargeable lamp and water was drawn from a hand pump."
Dr Nabakanta Sharma Part II Gallery
"Kakching is my second home. Every time, when I went out to buy vegetables, women vegetable vendors refused to take money from me. Whenever I go to market with ten Rupees in my pocket it return back untouched, Everybody give something to me fish, vegetable, egg etc. In their Kakching tone whenever I enter labor room they usually say EIGYA LAKHRE ANGANG PUTHOROKANI, Many girl children who were born in Kakching CHC during my initial years of posting have become mothers now. I have got retirement now, however many mothers who know me during my Kakching days bring their daughters to my place for consultation. That's the connection I have with Kakching. I still cherish the sweet memories of Kakching", Dr Nabakanta said.
After staying in Kakching for seven years, Dr Nabakanta was brought back to Imphal as the Deputy Director of State Family Welfare Department in 1998. Soon after he joined his office, he started taking active part in Reproductive and Child Health (RCH) Project.
NO-SCALPEL VASECTOMY
During an All India Postpartum Medical Officers' Conference held Hyderabad House Delhi, he met Dr RC Kaza of Lok Nayak Jai Prakash Narayan (LNJP) Medical College, Delhi. It was Dr Kaza who provided information and knowledge about 'no-scalpel vasectomy' to Dr Nabakanta.
Dr Nabakanta personally went to LNJP Hospital to learn more about no-scalpel vasectomy, which means 'no pain, no cut, no bleeding and no stitching'. After he became fully acquainted with the newly acquired technique, he requested the Ministry of Health Government of India to sanction some money for taking up a project of no-scalpel vasectomy in Manipur.
Although a bit hesitant in the beginning, Government of India gave him Rs 60,000 for the project. With this amount, he performed no-scalpel vasectomy on around 60 patients at Old District Hospital and around 100 patients at RIMS hospital for the first time in Manipur. Dr Nabakanta also gave training to many doctors during this time.
With this project, Dr Nabakanta became a noted figure in this field not only in Manipur but also in the country. In 1999, he along with 11 other doctors from different parts of the country were selected for a WHO funded program at Sichuan Reproductive Health Institute, Chengdu (China).
During his one and a half month's stay at Chengdu, Dr Nabakanta got the rare opportunity of meeting DR Lee Quang, the founder of no-scalpel vasectomy and performing operation together at China. After this training program, Dr Nabakanta became an unbeatable expert in no-scalpel vasectomy in Manipur. And with this new and modern technique, he revolutionized family planning in Manipur.
MASTER IN REPRODUCTIVE HEALTH CARE MANAGEMENT"
One fine day in January 2000, Commissioner (Health) DV Singh informed Dr Nabakanta about a year-long assignment to Europe. As Dr Nabakanta did not believe that he would ever get any such chance in his life, DV Singh told him, "Come here and believe your eyes". When Dr Nabakanta reached DV Singh's office chamber, he threw the World Health Organisation (WHO) scholarship call letter to Dr Nabakanta and said, "Make 100 photocopies of this paper, Manipur is notorious for losing such types of papers." Under the scholarship, WHO bore all the expenses of Dr Nabakanta's year-long Master Degree in Health Care Management at Post Graduate Institute of Medical Science, Rome (Italy).
In Europe, he faced many surprises and uphill task too. He was a computer illiterate, but in Europe one has to run everything through IT. The first three months was miserable, but God was all the time with his side. A young Italian dental surgeon came to his rescue. Her name was Romina and she was doing her master course in Pregnancy and Childbirth among the immigrant women in Rome (Public Health). Her background was dentistry so she needed help of a gynaecologist. So Romina was helping Dr Nabakanta in learning computer and she learnt about problems of pregnancy and childbirth from Dr Nabakanta. Later, they became good friends. She came to India and Dr Nabakanta also went frequently to Europe.
After coming back from Europe, Dr Nabakanta conducted surveys at Kakching, Sora and Irengband villages. National Family Health Survey appointed Dr Nabakanta as the advisor of KAP Study of Family Planning at Manipur. Manipur AIDS Control Society (MACS) also associated with his research work on prevention of transmission of mother to child transmission of AIDS.
Later he joined JN Hospital (now known as Jawaharlal Nehru Institute of Medical Science, JNIMS). Dr Nabakanta stayed at the campus of the hospital so that he could attain all the emergencies of childbirth related problems. He also looked after the family planning operations for the whole Manipur state.
RETIREMENT
After serving the state government for around 34 years, Dr Nabakanta retired as a senior gynecologist from JNIMS in 2013. However, retirement never deters him serving the people. Soon after his service superannuation, JNIMS appointed Dr Nabakanta as an OSD of the institute. Moreover, he is also working as a visiting faculty of University of Kathmandu and MD examiner of the university. The WHO fellowship became Field Marshal Status of his career in Health care endeavor of his life!
For the best interest of the general public of Manipur State, Dr Nabakanta Sharma is available for free online consulting on Obstetrics & Gynecology and childbirth issues via his email ID [email protected]