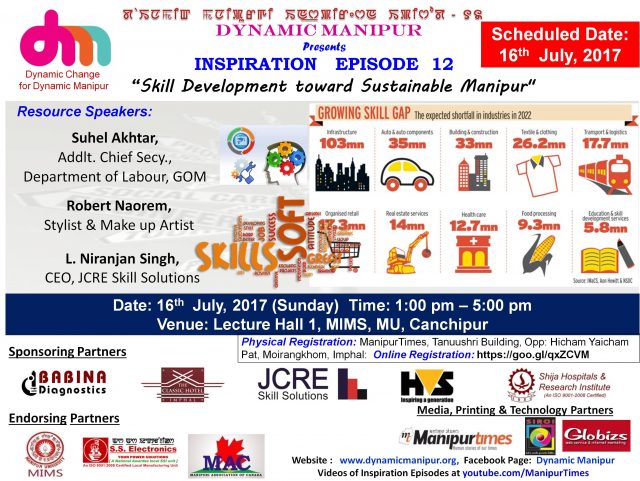 Dynamic Manipur will be organizing Inspiration Episode 12 on 16 April 2017 (Sunday) at MIMS Conference Hall-1, Manipur University. The theme of the episode will be "Skill Development toward Sustainable Manipur"
After successfully completing 11 (eleven) inspiration episodes, we are organizing the 12th episode focusing on skill development and its prospect in Manipur. There will be inspirational talks and discussion cum interaction session between the audience and the speakers.
The speakers who will be delivering talks are:
Suhel Akhtar, Additional Chief Secretary, Labor Department, Government of Manipu
L. Niranjan Singh, CEO & Director, JCRE Skill Solutions
Robert Naorem, Fashion designer and Celebrity make-up Artist
Registration Fee: FREE
Offline registration: Manipurtimes, Tanuushri Building, Opp: Hicham Yaicham Pat, Moirangkhom, Imphal
Online registration: https://goo.gl/qxZCVM
The four hour program will begin at 1:00 PM and registration of participants will be open by 12:30 PM.
Program Schedule:
12:30 pm – Registration opens
01:00 pm – Welcome message & Introduction
01:15 pm – L. Niranjan Singh, CEO, JCRE Skill Solutions
02:00 pm – Q & A
02:15 pm – Suhel Akhtar, Addlt. Chief Secy., Labour Dept., GOM
03:00 pm – Q & A
03:15 pm – Tea break & Group photo Session with speakers and audiences
03:45 pm – Robert Naorem, Stylist & Make up Artist
04:30 pm – Q & A
04:45 pm – 4:55 pm – Open Discussion & Closing remarks
DM believes that the Inspiration Episodes will generate strong positive vibes amongst the youths of Manipur thereby motivating them to excel in their personal and social pursuits toward creating a prosperous Manipur.
For latest update on Dynamic Manipur, follow at