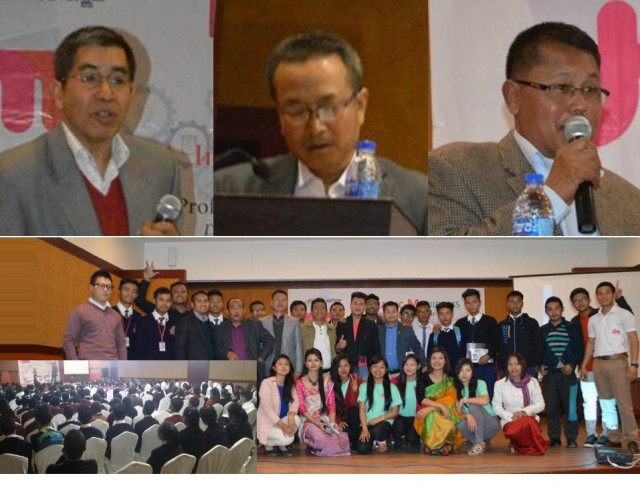 IMPHAL, Jan 29: Science is the systematic way of learning and understanding the law of nature. The comforts life we enjoy in this sophisticated world is the gift of science and technology which has converted the vast world into a small global village, said Prof. Sh. Dorendrajit Singh, Dept. of Physics, MU. While delivering his resourceful talk on "Science for society & Career counseling" during the inspiration workshop organized by Dynamic Manipur with the theme "Promoting Science and technology" at Hotel Imphal, Prof. Sh. Dorendrajit said that the contribution of scientists in the world is very big. "Great Scientists are always remembered on the earth even after their death," he added.
While motivating the students gathered at the jam packed Sangai hall, the Physics Professor said that poor students need not worry for study science as government has introduced many schemes like INSPIRE award to bear the expenses of students in their studies. "In past, poor students could not study in dept knowledge of science as they could not afford expenses. Today's students are fortunate as government has come out for their support. Government has introduced INSPIRE scheme which provides a financial assistance of Rs 80,000 to a talented student for science study", he said.
RK Tennedy, Science Promotion Officer, Education Dept, Government of Manipur said that lamented that many schools in the state do not take interest in the science exhibition organized by the government, which is the best platform science enthusiasts could expose their creativity. Asserting that Manipuri students have enormous talents, the officer said that students from the state excel in science when they are exposed to outside. He, however, said that most students from the state are timid to express their talents despite having great potential. He urged the students not to skip Mathematics as the particular subject is part and parcel in studies of science. "Mathematics provides us the skill of logical reasoning which is indispensable for science studies", he maintained.
Dr. L Dinachandra Singh, Sr. Scientific Officer, MASTEC, in his speech, said that all the technological developments we see today are due to miracles of science. Maintaining that great scientists in the world became famous by their sheer effort, dedication and own creativity, he said that students of the state can be great scientists if they work with dedication.
The talk event was organized by Dynamic Manipur with Sponsoring Partners of Babina Diagnostics, Globizs Web Solutions, HVS Constructions Materials Pvt. Ltd., LRS INDIA, Manipur Creations, Shija Hospitals & Research Institute, S. S. Electronics, The Classic Hotel, Imphal. Green Biotech, CC Tea – The Sui Generis, MIMS, Manipur University, Korea Manipuri Association (KMA), Manipuri Association of Canada (MAC), North American Manipur Association (NAMA), Likla – Thangjam Agro Industries Pvt. Ltd., Imphal, WiseWorld Immigration & Education Consultants, Toronto, Canada supported the event as Endorsing Partners. WOL Media, Siroi Offset Printers, Thoubal, Globizs Web Solutions were the advertising, Printing and Technology Partners while E-pao, Impact TV, Manipur Times, The Peoples' Chronicle were Media Partners respectively.