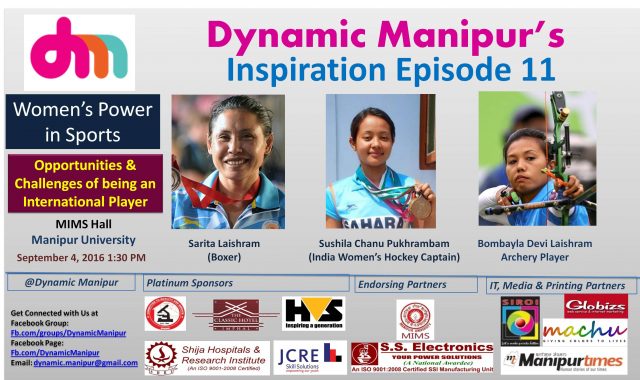 September 3, 2016: Dynamic Manipur is a non-profit organization with a Motto of "Dynamic Change for Dynamic Manipur!" and vision of "Inspire and Empower the Youths; Create a Prosperous Manipur!" The society aims to promote and nurture the concept of dynamic change by inspiring the youths, stirring the minds of thinkers and spurring the actions of the entire population toward uplifting of Manipur.
Dynamic Manipur is organizing the 11th Episode of Inspiration series on the 4th of September, 2016 at MIMS Hall, Manipur University, Canchipur at 1:30 pm. This episode is about an inspirational talk on awakening the passion of sports among the youth of Manipur.
Theme: Women's Power in Sports:  Opportunities & Challenges of being an International Player
Three resource persons have been invited to present their talks for the seminar namely Sarita Laishram (Boxer),  Sushila Chanu Pukhrambam (Hockey Player ) and Bombayla Devi Laishram (Archery Player)
Program Schedule ( Register online @  http://goo.gl/ghgaQp )
1:30  – 1:45 pm – Registration
1:45 – 2:00 pm – Welcome Address and DM Introduction
2:00 – 2:50 pm –  Talk by Sarita Laishram (Boxer, Arjuna Awardee)
2:50 – 3:20 pm – Break and Photo Session
3:20 – 4:00 pm – Bombayla Devi Laishram (Archery Player, Olympian)
4:00 – 4:50 pm – Sushila Chanu Pukhrambam (India Women's Hockey Captain, Olympian)
4:50 – 5:10 pm – Thank You note and Open Interaction Session.
Platinum Sponsors
Babina Diagnostics
Hotel Classic
Shija Hospitals & Research Institute
JCRE Skill Solutions
HVS Constructions Materials Pvt. Ltd
IT, Media and Printing Partners
Globizs Web Solutions
Siroi Offset Printers, Thoubal
Machu
Manipurtimes
You are cordially invited
Facebook Event Page: https://www.facebook.com/events/1743835735873306/
Latest Updates of Dynamic Manipur
Page: https://www.facebook.com/DynamicManipur
Group: https://www.facebook.com/groups/DynamicManipur