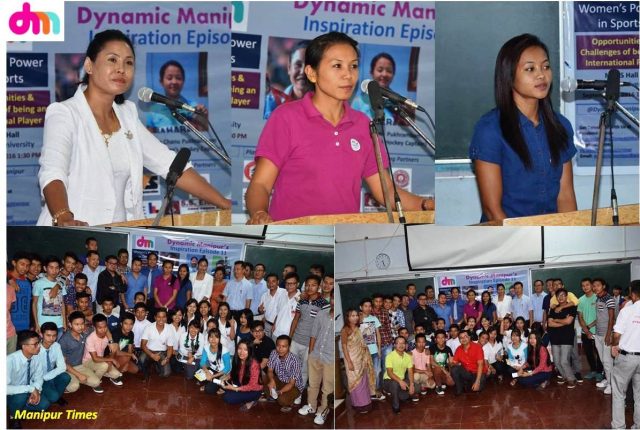 IMPHAL, Sept 4, 2016: "I was disqualified in the boxing trial for Rio Olympics 2016 as a result of the Asian games controversy. However, this doesn't discourage me. I am preparing for the next Olympic games to bring a medal for the country," said pugilist Laishram Sarita.
She stated this while speaking as a resource person during the Inspiration workshop episode -11 organized by Dynamic Manipur held at Hall, Manipur University, Canchipur on Sunday.
Laishram Sarita, an international boxer who rose from a humble living in the Thoubal Khunou village, showed her gratitude to the people of Manipur for the moral and physical support extended to her in the hour of her need and difficulties.
Sharing the hardships of her yester-years, Sarita recalled that she was brought up in a humble family in Thoubal Khunou. Her late father was an employee serving in IOC and mother a simple housewife.
Initially, she began her sports career in Tae-Kwando and Kung-fu. Later on, she opted for Boxing and underwent training under  oja Ibomcha.
Brought up in a penury driven family, she faced financial problems while taking part in boxing championships held outside. She even earned money working in the field and collecting advanced wages locally known as Khutlangsel to afford her expenses while participating in boxing championships, recalled Sarita, an Arjuna Awardee.
She said that she even thought of leaving sports due to the brunt of financial constraint in the family. However, winning bronze medal in international boxing championship 2005 held in Russia was a turning point to her sports career. Financial constraint in the family was gradually improved to some extent when Manipur government offered her  Sub-Inspector post in Manipur police, she said.
The inspiration workshop was held with the theme "Women's Power in Sports:  Opportunities & Challenges of being an International Player". Olympians – Sushila Chanu Pukhrambam (Indian woman Hockey team captain ) and Laishram Bombayla (Archery Player) also spoke as resource person.
Speaking to the gathering, Pukhrambam Sushila Chanu who led the Indian woman hockey team in Rio Olympic said that her team missed medal in the game as all the players were young and taking part in the Olympic for the first time.
"Rio games was a great experience to us", she said adding her team would give better performance in next Olympic Games and bring medal for the nation.
She observed that Indian women hockey needs to work more on speed, physical toughness and endurance.  Most countries play very fast hockey these days, so Indian team need to work more on speed as well.
Archer Laishram Bombayla while expressing regret for not bringing any medal for the state in the Rio games said that she would work more for the forthcoming Olympic Games.
The inspiration workshop was held with the theme "Women's Power in Sports:  Opportunities & Challenges of being an International Player". Babina Diagnostics Hotel Classic, Shija Hospitals & Research Institute, JCRE Skill Solutions, HVS Constructions Materials Pvt. Ltd endorsed the event as Platinum Sponsors while MIMS, MU and S. S. Electronics as Endorsing Partners. Globizs Web Solutions, Siroi Offset Printers, Thoubal, Machu and Manipurtimes are the IT, Printing and Media Partners.
Dynamic Manipur's Inspiration Episode 11