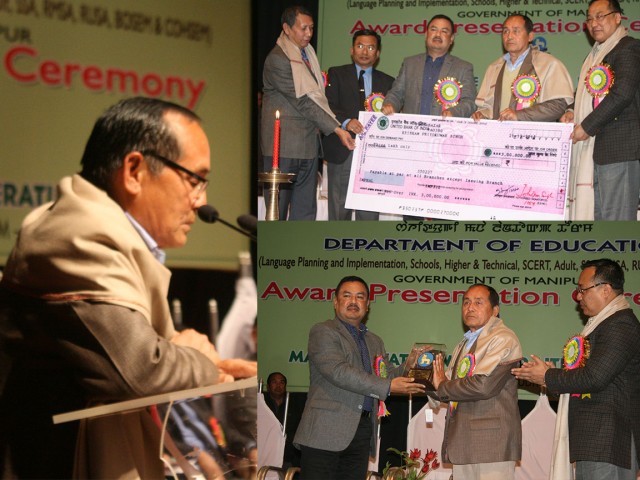 Literature indeed reflects the society, its good values and its ills. In its corrective function, literature mirrors the ills of the society with a view to making the society realize its mistakes and make amends. It also projects the virtues or good values in the society for people to emulate. Literature, as an imitation of human action, often presents a picture of what people think, say and do in the society. For a conflict ridden state like Manipur, the role of writers who would depict the ills and good values of society and penetrate into the minds of people is becoming important.
Among the prominent Manipuri writers, the contribution of Keisham Priyokumar to enrich the heritage of Manipuri literature cannot be ignored. In recognition of his contribution in Manipur literature, he has been conferred with the prestigious 7th Manipur State Award for Literature, the highest official recognition for Manipuri literature in the State, for the year 2014.
His award winning book "Nongkhong Tamna"  
The 65-year-old writer was honored with the state literature award for his book Nongkhong Tamna, a collection of short stories published in 2013. Priyokumar was selected for the award by a board of eminent persons set up by the Manipur Government. He was the unanimous choice of the three-member jury among three writers shortlisted by the 15-member panel experts.
His award winning short story book "Nongkhong Tamna" fondly depicts the different aspects of life in-depth.
The writer expressed his deep concern for the increasing trend of violence against woman, woman and child trafficking, rape, insurgency, cyber crime, unemployment, corruption, favotism, nepotism. "I do not deserve for the award as I can't depict all such unwanted happenings through my literary works. I have many miles to go before I sleep", Priyokumar said after receiving the award.
Brief life sketch
Born on July 23, 1949 to Keisham Dwijen Singh and Keisham Ongbi Padmabati Devi Tera Khuraijam Leikai in Imphal West as fourth son among six siblings, Keisham Priyokumar was brought up in a penury ridden family with no proper home to take shelter. His poor parents strived to maintain family and send their children to school with their meager income.
Unlike his brothers, young Priyokumar was a lazy boy who did not take much interest in his studies. As such, parents worried for their son Priyokumar. In high school days, he spent most of his days in reading out-books rather his school textbooks. Right from his early days of his life, Priyokumar became a card holder of district library (now central library) where he left no stone unturned in reading many books on Manipuri literature written by the prominent writers. It inspired young Priyokumar to be a writer and thus began his journey of creative writing.
In 1970, he along with some of his college mates like Dr Lamabam Gojen (today's noted scholar, writer) and Dr Thokchom Ibohanbi etc., he published a monthly journal "Eraokhol". However, he had to leave the journal as he had to continue his further studies at Shillong from 1971 to 1974.
As an engineer in Shillong
Priyokumar, who got selected as junior engineer by the Meghalaya Public Service Commission, served as engineer of Public Health Engineering Department, Government of Meghalaya from 1975 to 1976. However, he left the job at Meghalaya and returned to his home state Manipur. Here, he appeared in the MPSC exam in which he got selected as Section Officer of Irrigation and Flood Control Department, Government of Manipur. He retired from service as engineer of IFCD.
His literary works
Despite his entire busy schedule as a government employee, Priyokumar, being a member of Naharol Sahitya Premi Samiti and Manipuri Sahitya Parishad Imphal, started contributing his role to enrich the assets of Manipuri literature. He became editor of quarterly journal "Wakhal" published by Naharol Sahitya Premi Samiti and "Sahitygi Pao" published by  Manipuri Sahitya Parishad Imphal.
He is currently serving as editor of quarterly "Sahitygi Pao" published by Writers' Forum, Imphal.
Awards and Achievement in literature
He is also a recipient of Sahitya Akademi Award (1998) for his book "Nongdi Tarakkhidare" which is another collection of short stories published in 1995 apart from winning Dr. Khoirom Tomchou Memorial award (Manipur Sahitya Parishad Bishnupur) in 1997, Telem Abir Singh award 1997 Manipur Sahitya Parishad), Dineshori Sahitya award (Cultural Forum) 1998, Manpur State Kala Academy award 1998 and Sahitya Akademi Award (1998). Priyokumar's book 'Ahing Ama' received 'Katha Award' in 1999, and 'Lan amasung Mang' got the Rajkumari Muktasana Memorial Award (Manipur Sahitya Samiti Thoubal in 2002.
His other works are 'Awaoba Punshi' 1971, 'Eikhoi Yumlonnaba' 1990. Writer Keisham Priyokumar was the editor of 'Sahitya' published by Manipur Sahitya Parishad and 'Wakhal' published by Narahol Sahitya Premi Samiti. Associated with a number of literature organizations, he is at present the editor of 'Sahityagi Pao' published by Writers' Forum Imphal.
State Literature Award is sponsored by the State Government since 2008 with a view to honour writers in recognition of their contributions in the field of Manipuri literature. At present, the award includes a plaque, a citation, a cash component of Rs 3 lakh and a shawl.