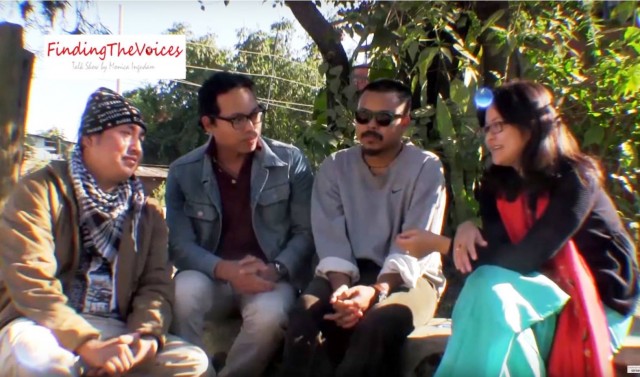 S02E04 FindingTheVoices: Imphal Talkies, The folk rock band from Imphal, Manipur.
Guest Speakers: Irom Singthoi, Sachidananda Angom, Akhu Chingangbam
Interview Location: Imphal, Manipur, India.
Language: Podcast in English.
Many of our listeners have requested to have Imphal Talkies in our show and it took us more than a year to finally coordinate the show. It was really nice to meet the team and hear their story.
Imphal Talkies was formed in 2008 by Akhu Chingangbam with Sachidananda Angom and Riki Chingangbam. The band released its debut album Tiddim Road in 2009. The band releases its music under its own record label Oomorock Records. Raju Athokpam, a software engineer, joined the band in 2009 March. The band dedicated a song "Eche" in 2010 to Irom Sharmila, a lady who has been on hunger strike since November 2000 as an act protest demanding the repeal of the draconian act, Armed Forces Special Powers Act, 1958. The Imphal Music Project was conceived by Akhu to create a platform among artists from Indian sub continent. Irom Singthoi is the latest addition to the band.
This article was originally posted at FindingTheVoices.com