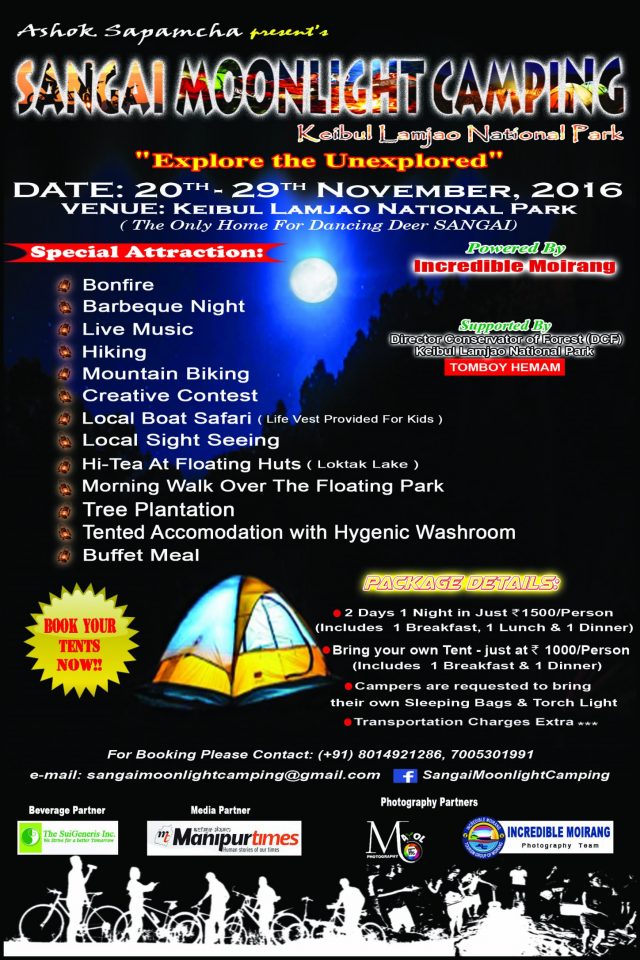 New schedule of SANGAI MOONLIGHT CAMPING: 13th To 20th December, 2016.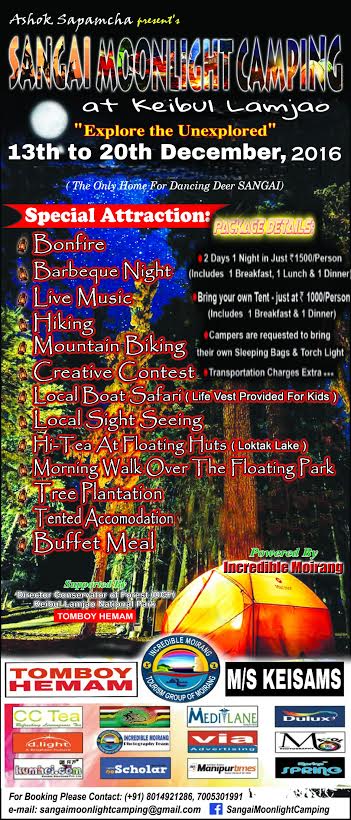 Update: November 4, 2016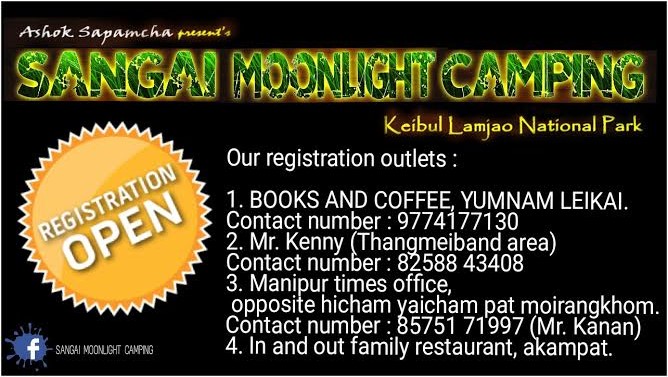 Presenting Ashok Sapamcha's " Sangai Moonlight Camping" a never happened before camping event is all set for the event. Powered by Incredible Moirang and supported by Tomboy Hemam and  Director Conservator of Forest,  KLNP. The Sui Generis Inc. (cctea)  will be the beverage partner of the event and Manipur Times as media partner of the event.Salai Paddlers will act as partner and Mountain Bike operator.
The objective of putting up such event is to enhance Manipur Tourism prospect and to extract the unexplored potentials to create a lively and adventurous environment for the internal as well external tourist. More over for the locals to get the benefits of tourism in extending one's economy.
Main activities of the event are:
* Tent accommodation
*Hiking
*Bonfire
*Live Music
*Mountain Biking
*Local boat safari
*Morning walk over the floating vegetable mat
*Local sightseeing
*Daily creative contest
*Tree plantation &
*Lots of interesting camping games
Well known artists and music bands will be giving live performances every day.
Package Details :
*Rs. 1500 per person/day( includes breakfast, lunch and dinner with tent)
* Extra fee charges for transportation and travel
Rs. 1000 (person with own tent includes breakfast, lunch and dinner)
Interested persons may book their seats of their preferred days within 20th to 29th of November. Limited number of campers will be taken.
Lovers of nature and adventure come and enjoy this never happened event to create an adventurous history in your live.