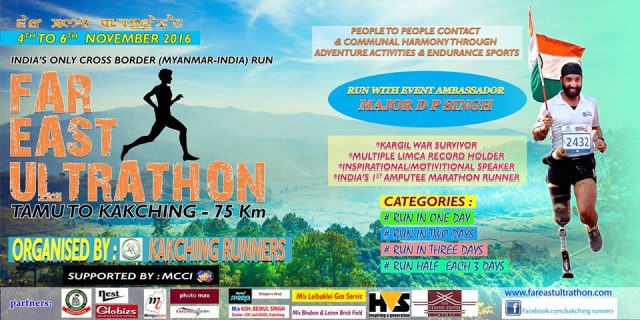 "Far East Ultra – Hills of Rising Sun" India's only Cross-Border Ultra, ensuring the most memorable run to cherish for a lifetime
Watch the sunrise before rest of Indian does at Buddhist Monastery, Tamu, Myanmar before the start.Run over Indo-Myanmar bridge (named Friendship Bridge) at the border crossing, pass through border town of Moreh, India's gateway to South East Asia Up climbs through Teak tree lined Asian Highway No. 1, just before it leaves Indian soil, leading to Thailand, leaving behind hot and humid but enchanting Kabaw Valley at Myanmar border. And then follow the footsteps of a Japanese Soldier on a route which witnessed numerous fiercely fought battles (Senam Saddle and Tengnoupal) between Allied Forces and Japanese Army, as it advanced to capture Imphal in WW-II. Exotic, unexplored natural beauty and numerous hill-valley view along the way. Enjoy the pure oxygen of virgin forests and humbleness and innocence of small tribal hamlets along the route, covering a distance of 75 Kms. Halt at Assam Rifles garrisons and feel the pulses of our soldiers serving at these remote locations, far from home and cut off from civilization. Enjoy the tribal dances and feel the lifestyle of different tribes dwelling in the border areas, contributing to the rich cultural heritage of Manipur.
Categories:
(a) SuperMen/Women – Run in One Day.
(b) ToughNuts – Run in Two Days.
(c) StrongWills – Run in Three Days.
(d) FutureToughNuts – Run Half Each Three days.
Registration Fees (Registration closes on 28 October, 2016):
(a) SuperMen/Women – Rs.2,000/- (Rs.1500/- for Manipur residents).
(b) ToughNuts – Rs.2,500/- (Rs.2000/- for Manipur residents).
(c) StrongWills & FutureToughNuts – Rs.3,000/- (Rs.2500/- for Manipur residents).
Payment Details :
Bank Account Details:
Account Name – Kakching Runners.
Bank & Branch – Allahabad Bank, Kakching Branch.
Account Number – 50354294530.
IFSC – ALLA0(zero)213392.
Registration form available for download at http://www.fareastultrathon.com/download/
Online registration at https://goo.gl/Dk6gfX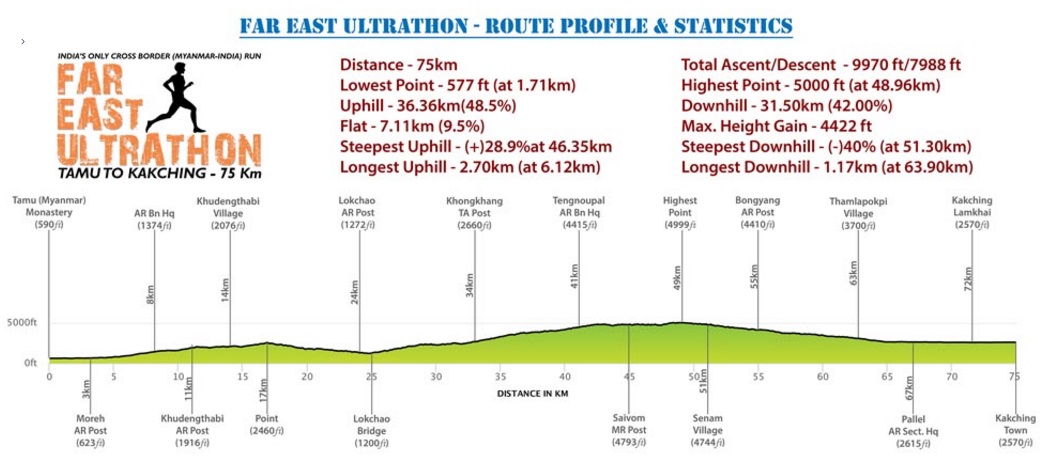 Race registration Fee includes:
1. Pick up & Transportation from Imphal to night halt place (Moreh) a day prior to Run, Bib/Tee shirt collection at Moreh.
2. All meals and refreshments including Breakfast on departure day (day after end of race). Aid Stations at every 5-10 kms.
3. Medical aids at Approx. every 10 Kms + Ambulance vehicles.
4. Marshals on Motor Bikes and MTBs.
5. 4 Main Stations at Lokchao, Tengnoupal, Bongyang and Pallel.
6. 3 Mid Station at Khudengthabi, Khongkhang, and Saivom.
7. Start Point – Tamu Monastery, Myanmar.
8. One Night stay at Moreh Assam Rifles Bn HQ/Trade Centre /Ellora Hotel.
9. 1st Night Halt for StrongWills & FutureSupermen at Lokchao Assam Rifles Post which is their Start Point for 2nd
10. 1st Night Halt for ToughNuts & 2nd Night Halt for StrongWills & FutureSupermen at Tengnoupal AR Bn HQ.
11. Night stay at Kakching, the finish point, Party, Music, BBq and Camping (@ extra payment of Rs. 1000/- per head / Drop to Imphal)
12. Visit Kakching Garden, click pic followed by Breakfast.
13. Drop back to Imphal Airport/Bus or Winger Parking.
Add Ons
1. Tee shirts for extra payment of Rs. 300/-.
2. Water/Aid stations would be well stocked with oranges, banana, boiled eggs, biscuits, boiled potatoes/sweet potatoes, electrolytes, chocolates, Peanut Chikkis & juices.
3. Finishers Memento/Medal and certificate for all finishers.
4. Book your family for night stay at Moreh
Price : Rs.1500 – 2000 twin sharing basis, kids upto 12 yrs free. Extra beds @Rs.500.
5. Warm Clothing & Sleeping bag/Blanket (available at Moreh) for all runners as it will be cold in night.
Contact Details:
+91 – 9612626482 / 8014048242 / 7010274139
[email protected] / [email protected]
Website: http://www.fareastultrathon.com/