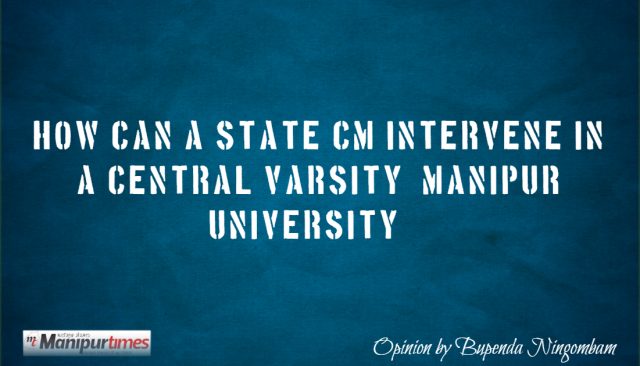 Manipur University is a central university like any other central university in India. Manipur University is not exclusively meant for students and teachers who have their domicile in the stateof Manipur only. It, besides welcoming foreign students and teachers, is for any Indian citizen who is eligible to be either a student or a teacher in the university. It is a centre of excellence for mankind to flourish to cherish humanity.
Reading a news report which states about the interference – by giving directives which are reportedly taken seriously by the authority of Manipur University – by Manipur's Chief Minister in the affairs of Manipur University has brought out two issues. Firstly, can a state Chief Minister interfere or intervene in the internal affairs or issues related to admission, academic engagements, etc. of a central university? Secondly, under which rules of a central university act state that a state Chief Minister can give directives and such directives are to be received seriously by the authority of the central university?
Manipur University is not a university of the people, by the people and for the people of Manipur only. It is a central university of India. It is also the nation's central university which welcomes any foreign student from across the globe. It is indeed India's central university which plays a significant role in India's relationships with South East Asia. The socio-economic and political conflicts of Manipur must not be used to exploit the continual flow of intellectually engaging academic environment of Manipur University because Manipur University is neither a state university nor a private university set up by a trust based in Manipur. The state's local issues shall not destroy the beauty of a central university called Manipur University.
If a state Chief Minister is worried about law and order of the state which could be affected by whatever event or events happening in a central university, then it is the onus of the state's machinery to ensure a peaceful conduct under the rules which are all laid down in writing. The concern for state's law and order should not become a cause to maneuver or make an attempt to interfere in any event which happens inside the campus of Manipur University or in any issue whose jurisdiction comes under the powers and responsibilities of the central university's Vice Chancellor. Academic institutions like central universities cannot run under a directive of an elected leader of a state called Chief Minister. The best that any Chief Minister could do would be to suggest his or her idea to the President of India who is the Visitor of the central university. It is stated, in a newspaper in Imphal, that the state Chief Minister has given his directives. The 2 questions are: in what ways has the Chief Minister given his directive? Was the directive sent in a written form or a verbal mode of communication? Did the directive come from Chief Minister's Secretariat? Again, it is also interesting to note that, in the same newspaper's report, the authority of Manipur University has taken the Chief Minister's directives seriously. In what way, can a central university's authority take and accept the directive from a state Chief Minister? If the news report is true, then both the Chief Minister and the authority of Manipur University have reduced the status of central university, which is enjoyed by Manipur University, to a level of state university.
An additional question is: in the presence of Home Minister of a state of Manipur, how has the Chief Minister taken care of the responsibility of law and order of the state of Manipur?
What is decided by Academic Council or Executive Council or finally accepted by Vice Chancellor of a central university could be discussed further, as any academia flourishes through debates and exchange of ideas. But, any act of violence or a forceful coercion of ideas that a particular notion must be accepted is not only detrimental to the health of any academia but it also reflects the silence of Union Human Resources Development Ministry, in this regard.
The Visitor of Manipur University, based on the rules which are laid down for the central universities of India, has to decide on any issue related to any central university including Manipur University. Manipur University cannot be given a differential treatment by making different rules for the university. Like University of Delhi, Jawaharlal Nehru University, etc. which are central universities, Manipur University shall also be treated and honoured. Politics shall not eclipse the independence and freedom of academic. Destroying the peacefully existing and intellectually vibrant academic environment of Manipur University is doing an unprecedented harm to not only India but also to humanity, at large, in today's 21 st century.
The writer is Ningombam Bupenda Meitei.