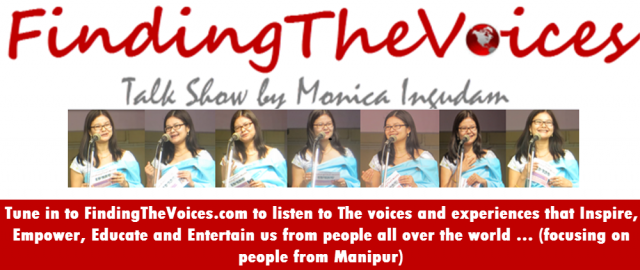 Welcome to FindingTheVoices.com, Khurumjari, mityeng tabiriba punamakpu taramna okchari.
I am Monica Ingudam, IT Professional, Freelance interpreter for Manipuri (Meitei Lon) Language, proud to be a Manipuri, blessed to be playing different roles and wearing multiple hats in my life. Becoming a Mother is the best role I could have ever asked and I love wearing the hat of a podcaster FindingTheVoices , searching for voices which should be heard and shared with everyone 🙂
In my spare time (If I have it at all, 24 Hrs. a day is not enough !!), mostly during my drive to work in my car, enjoying the scenic route of GW Parkway in Washington DC (or diffusing the frustration of traffic !!), I love to talk and hear the voices of my family, friends and people to talk about things I believe in (Yes, I am using handsfree for my calls in the car), and this is where the idea and discussion for each episode of my podcasting began …
I will be focusing on talking with guest speakers about:
Life in general, focusing on inspiring voices/story, empowering Women and Men supporting it.

Promoting people, talents and culture of Manipur and the north-eastern part of India including the Fun and entertainment, YES we do have Fun and entertainment ! And NO, no politics !!

Different Career and Job options to widen the young minds of Manipur to hear about other line of work. I have spoken to many students and the general perception of career option are to become a Doctor, Engineer or IAS officer. In fact some or many students would study, join extensive coaching classes and wait for 2 to 4 years to get into the medical entrance exam. And within this span, there are many who would become depressed with low self-esteem, lose focus and stray away.

Food and Cooking in general, a subject closest to me and I am sure to most people. Who doesn't enjoy good food ? I started capturing my journey of cooking in my blog Monica Gi Chakhum (Monica's Kitchen) as I was struggling to deal with everyday cooking after I got married. I am still struggling after 8 years !! You would think it gets better with experience!!.

Raising kids and the whole package that comes with it. I am not sure how my Mom and Dad did it raising 4 of us. I beleive in EEMUL (Ema Epa Mitna Uba Laini meaning Parents are living God) and appreciate more and more of what they have done and the sacrifices they have made in making me what I am today.

Healthcare, Technologies and how it changes our lifestyle.
and the list will go on and on …
I will be presenting podcasting in English as well as in Manipuri (with the possibility to translate in English) to cater to a global audience.
Please feel free to send me any feedback or comments. Suggestions as to who to interview are most welcome. If you believe in what I am doing and want to contribute in any way, please contact me. This is your show to voice what you stand for, what you believe in, what you want people to know and talk about …
And If you enjoy the show, share it to your friends and please come back again to http://FindingTheVoices.com.
Thank you for listening and sharing my journey of finding the voices.Yamna Nungaijare