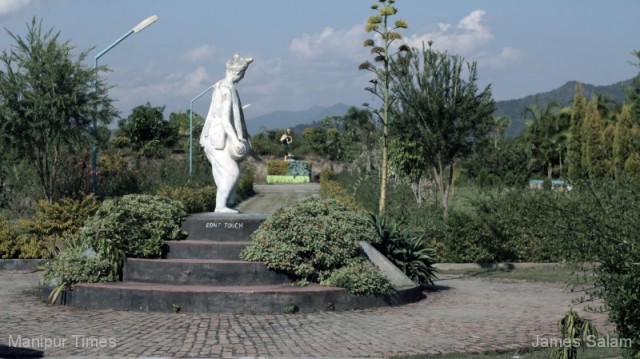 Although running private parks is relatively a new concept, many people have roped into the business and started earning good returns in Manipur.
One among such people who have a nose for creative gardening is Ayekpam Joychandra of Tera Loukrakpam Leikai of Imphal West District. Joychandra runs his private park, 'Heaven Garden' at Tharoijam Mayai Leikai, near Lamshang of the same district.
Joychandra shares his thoughts on gardening as a means of self-employment in a recent interview with the Manipur Times.
The master gardener said, "Instead of wasting time, youths can generate self-employment through the hobby of planting flowers. Right now we are importing various ornamental and flower bearing plants from other States. If the youths of Manipur work in this field we can export the plants instead of importing it".
Joychandra aims at adding Manipuri traditional touch in his garden. One can see traditional structures like the posture of a man who plays Meitei Pung (traditional Meitei drum), a woman who grinds paddy in the traditional Manipuri grinder called Shumbal and the dragon head called Chinglai along with varieties of flowers and orchids in his garden.
This garden is situated about 12 kilometres away from the heart of Imphal towards the western side of Lamshang of Imphal West district.
One can also see varieties of trees and flowers which are categorised as endangered species in Manipur like Nganap, Awang Hei, Makha Hei, Maning Hei etc. Plants and flowers like bottle plant, acacia, silver pine and red pine are also abundantly decorated in his park.
 Ayekpam Joychandra was born in 1967 at Tera Loukrakpam Leikai. His father's name is Ayekpam Ibomcha and mother's name is Ayekpam ongbi Ibemhal. He is a BSc. Graduate. He is married with Ayekpam ongbi Joymati and has a daughter. He loves gardening since his childhood days and started planting saplings. But he did not have any plan or dream to establish a garden.
In 1987 he planted about 250 flowers at home in pots. However, a tragedy struck to these lovely plants and flowers at one point of time as he left the plants unattended for some time when he went to Guwahati.
When he returned home, most of the flower plants were found drying-up. He was very disappointed seeing the flowers and started nurturing the remaining flowers in his fields located at Tharoijam Mayai Leikai. Later he decided to convert the field to a garden. He struggled about five years to establish the garden.
Heaven Garden came into existence on 26th December, 2011 at Tharoijam Mayai Leikai. With the existence of this garden his dream is partially achieved but he has to do a lot. He said that he wants to build a big aquarium inside the garden and add the items for children like toy-train. He has invested about Rupees 1 crore till now.
He observes, "Gardening will help in moral cleansing of youths. Boys and girls can meet in gardens instead of sitting inside the dark cabins of restaurants. It can prevent the society from many unwanted situations."
"To me gardening is a good profession. It keeps my mind cool and relaxed. The happiness I feel when I see the flowers growing day by day is equal to the happiness when I see child growing day by day.
"So I spend all my time and effort in gardening. Since the opening of this garden I reach the garden early in the morning when the birds chirp and I leave the garden late in the evening when the dogs bark", Joychandra says.
Many visitors are coming regularly to spend time at the garden. Some of them appreciated me after seeing the garden. But it will take some more time to become a full-fledged garden. The earning capacity of the garden as of now is about Rs 1 lakh per month. But the monthly income is being invested in garden maintenance as of now.
The garden charges Rupees 10 per visitor to adults and Rupees 5 to children. The garden is currently giving employment to 11 people. Out of them, 5 are permanent employees and 6 are casual employees.
He hopes that the time will come soon when the gardening industry booms in Manipur. Lots of our State citizen does not bother spending Rupees 200-300 in parks and gardens in other States.
This culture will surely be seen in Manipur as well one day. At that time, this industry can give a lot of job opportunities to the youths of Manipur, he added.