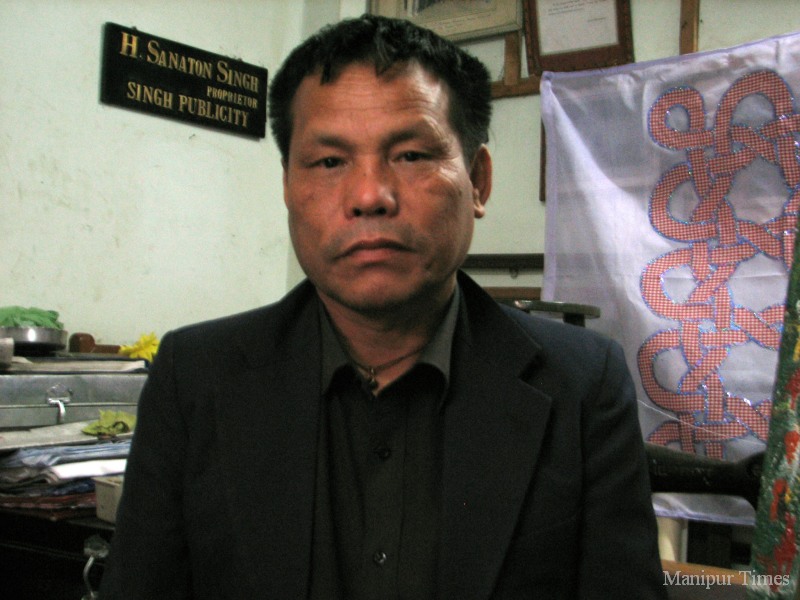 "When I visited the State Museum of Manipur for the first time, I was very disappointed. I came to Manipur with a dream to see the sketches and photos of some important kings of Manipur. But I could fulfil my dream when I reached Manipur in 1986. I thought there must be other people who wanted to see such kind of pictures and they too might be disappointed when they could not see the same. That's why I decided to preserve the sketches of important kings and other eminent persons of Manipur. As a result of this objective, Singh Portrait Gallery was born in 1999. There are around 300 portraits of various eminent persons of Manipur in this gallery now," said Haobam Sanaton.
"Singh Portrait Gallery was not born overnight. It was the result of the effort of more than 10 tough years. I established Singh Publicity, a popular advertising agency at New Checkon in Imphal in 1988 and started painting on buses like number plates and portraits. I maintained small savings from the money which I earned through Singh Publicity. In 1998, I organised the First Oil Painting Portraits Exhibition at RDS School premises. The exhibition was inaugurated by the then Governor of Manipur O.N. Srivastava. In May 1999 Singh Portrait Gallery, the first portrait gallery of Manipur was opened at Purana Rajbari-I."
This is the story of how Singh Portrait Gallery was established as narrated by Haobam Sanaton, the founder president of this gallery to Manipur Times in a recent interview.
Haobam Sanaton was born in a Manipuri family on February 2, 1959 at Bhandari Gaon, Bhanugachk of Silhet District in Bangladesh. 
After the death of his father, Haobam Dhaballo Singh, his family moved to Manipur in 1986. He learned painting at Chittagong from a Bengali artist namely, William.
He also got support from Sister Eva, An and Timika.
After he settled in Manipur, he roamed all over Manipur with a camera and took the photographs of various eminent persons and important places. His aim was to outline the images of those photographs and to preserve them so that the younger generation could see them. 
He collected photographs of eminent persons in various fields like Arts and Culture, Literature, Social Work and photographs of important kings of Manipur and made portraits of them. He was helped by his four students namely Jiten, Paomilen, Leishemba and Rojen in his work.
One can see the portraits of Dr. Lamabam Kamal, Kwairakpam Chaoba, Rani Gaidinglu, Ima Sabi and many other personalities in Singh Portrait Gallery without spending a single penny.
The artist said that he would not charge anything from the visitors who are coming to see the portraits of their forefathers and kings of Manipur.
"Painting a portrait takes a minimum of 15 days. The charge of painting a portrait ranges from Rs 4500 to 10,000. The charge differs according to the size of the portrait as well. Since it is different from the normal paintings, portrait should be maintained properly. During winter we need to keep the room warm.", he said
Satisfied with his work the then Governor of Manipur Mr. O.N. Srivastava presented him a Minolta camera worth Rs 20,000. Padmashri Raghu Rai, an eminent photographer of India praised him after seeing his photographs.
He said that the importance of a painter was increasing day by day. This art will not extinct from this world. A painter can earn at least Rs 20,000 per month. So, one can shape up his/her career in painting without any doubt. In order the meet the demand, other forms of paintings have been introduced.
But all forms of paintings need painters, Sanaton points out.